"Which Lloyd's is that?": Exploring the many versions of 'Lloyd's'
The name 'Lloyd's' is known worldwide and will be familiar to anyone interested in maritime history, but with so many different uses of this name, confusion can occur. Because the name was an asset, it was even freely adopted by organisations worldwide. Many of the examples that are mentioned here owe their existence to Lloyd's Coffee House in the City of London. Lloyds Bank (no apostrophe), one of the 'Big Four' British clearing banks, can be discounted. It was founded in 1765 as Taylors & Lloyds, a private bank in Birmingham.
Lloyd's Coffee House
It all began in Tower Street, a haunt of seafarers, with the first clue being given by The London Gazette in February 1688: 'Mr. Edw. Loyds Coffee House in Tower-street'. In 1691 the coffee house moved to Lombard Street, close to the Post Office and the Royal Exchange commercial centre. It attracted merchants, shipowners and those connected with shipping and marine insurance, and it also held regular auction sales. The proprietor, Mr Edward Lloyd, provided his customers with any shipping intelligence he could obtain. He died in 1713, and by 1769 the coffee house was in decline, which caused many of the customers to move to a New Lloyd's Coffee House in nearby Pope's Head Alley.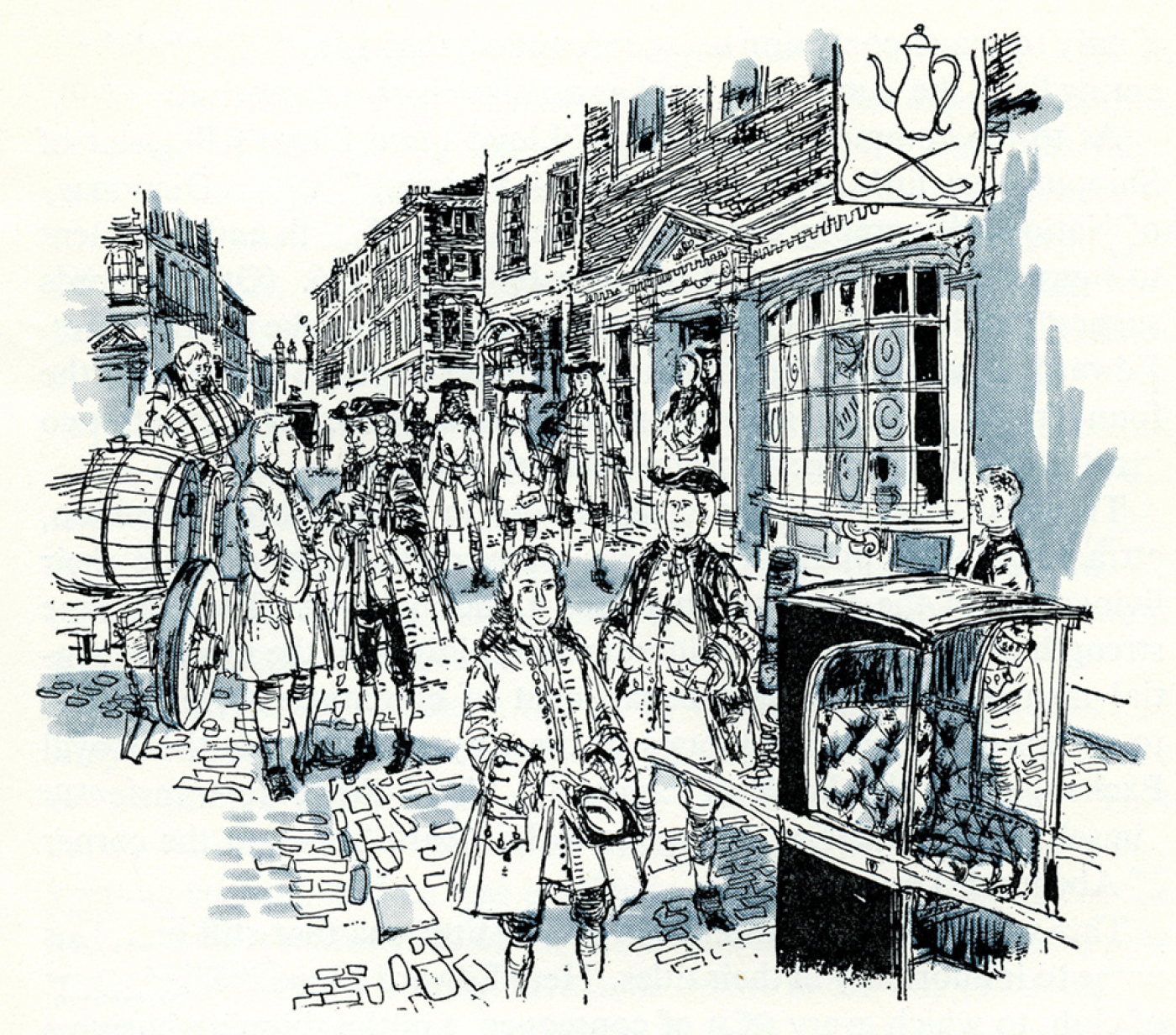 An artistic representation of the Lloyd's Coffee House in the 18th century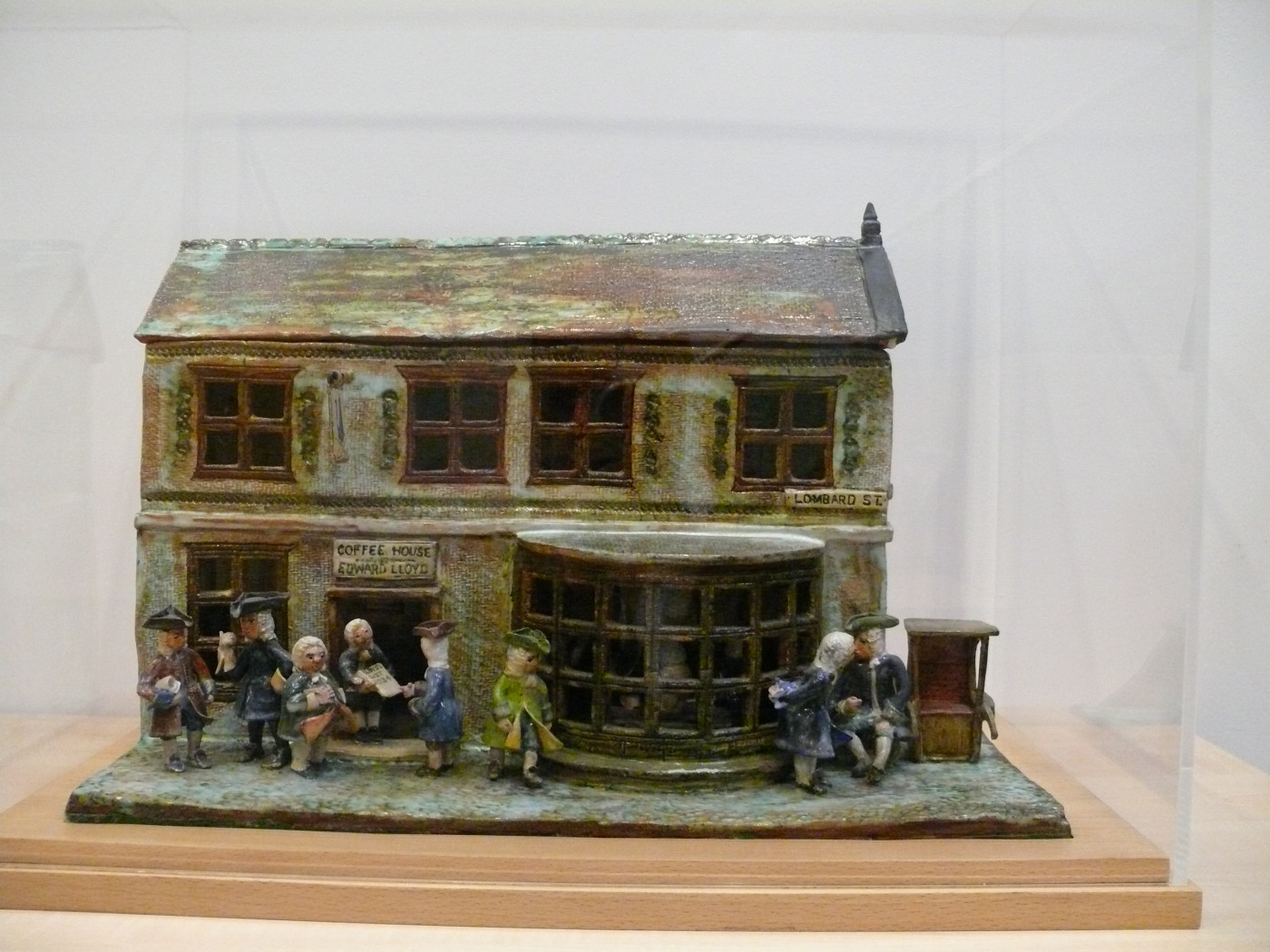 A model of the Lloyd's Coffee House
Lloyd's of London
Lloyd's of London began as an association of underwriters who met in Lloyd's Coffee House and later on in the New Lloyd's Coffee House, but when that became too cramped, an agreement was made in December 1771 by 79 of the customers – merchants, bankers, shipowners, underwriters and brokers – to subscribe to their own premises. This marked the foundation of the insurers known as the Society of Lloyd's of London. It was only in 1774 that they moved into spacious rooms in the Royal Exchange in Cornhill, conducting business solely as underwriters. The name Lloyd's was retained.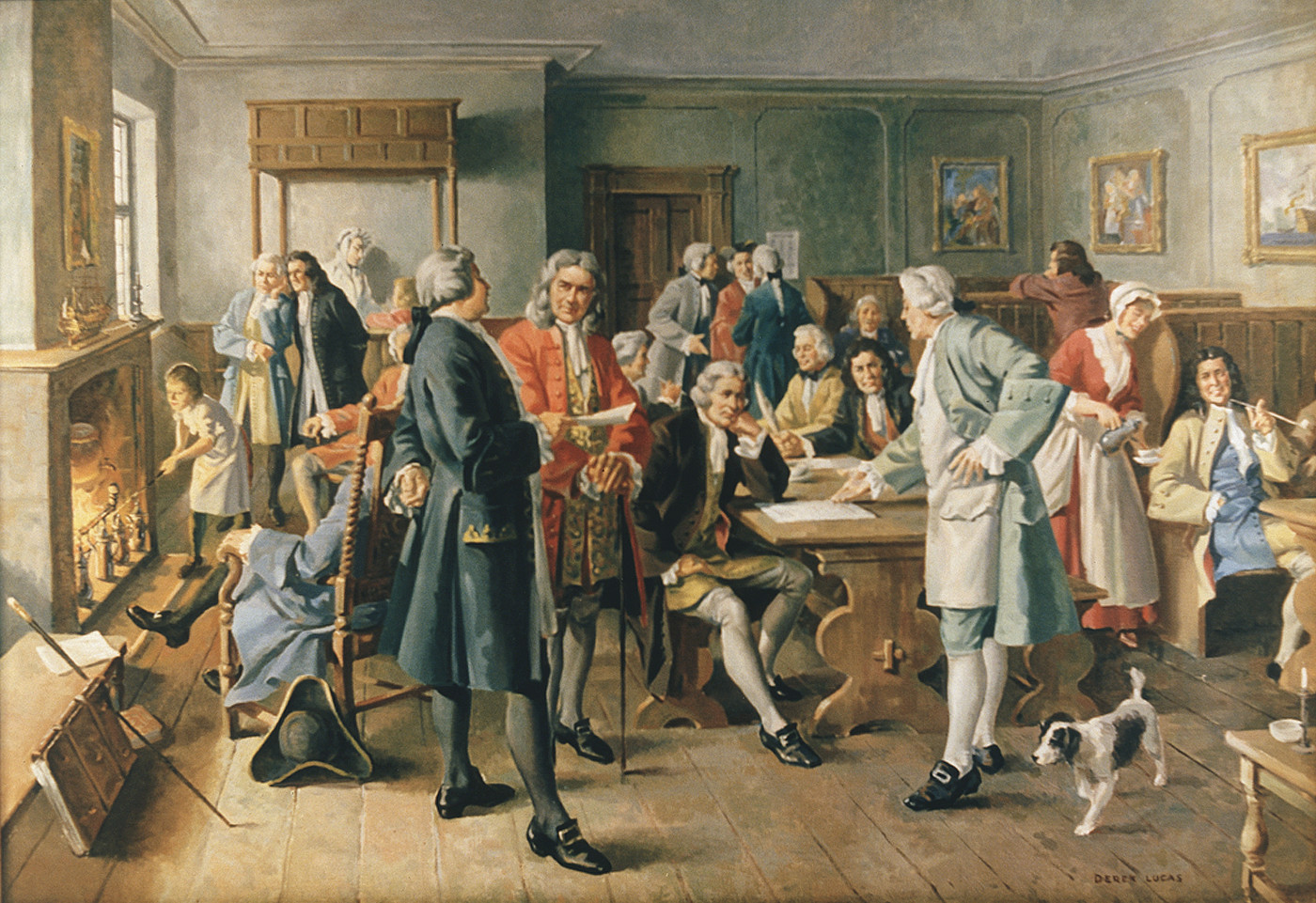 A Derek Lucas painting of Lloyd's Coffee House
Until the late 19th century, their focus was marine insurance, while the chartered corporations concentrated on fire and life insurance. Over time, Lloyd's built up a sophisticated network of agents for gathering shipping intelligence. Disaster struck on 10 January 1838, when the Royal Exchange was burned down by a fire that started in the Lloyd's rooms. They moved back after it was rebuilt in 1844. See more on their history here.
Lloyd's News
From 1692, Edward Lloyd sold at his coffee house a weekly bulletin with lists of ships arriving at or departing from ports, and the bulletins were also read aloud by a waiter. Details were supplied by his network of correspondents. A surviving sheet of 1702 includes the names of missing ships that had sailed from England to India and China. From 1696 Lloyd also produced Lloyd's News, a single sheet of general news, but it only lasted a few months.
Lloyd's List
In 1734 Thomas Jemson, the new owner of Lloyd's Coffee House, started Lloyd's List, a weekly newspaper devoted to shipping intelligence, mostly the arrivals and departures of vessels at different ports. A financial agreement was made for correspondents to send information free-of-charge to the Post Office branch in Lombard Street, addressed simply to Lloyd's. From 1735 Lloyd's List became twice-weekly. In 1769, shortly after the New Lloyd's Coffee House opened in Pope's Head Alley, a rival New Lloyd's List was issued with a similar Post Office agreement (the word 'New' was soon dropped when the original List ceased).
The correspondents, who were later called agents, transmitted information from ports all over the world. In time, Lloyd's List was published daily (except Sunday), and in 1884 it merged with the Shipping and Mercantile Gazette. It is one of the oldest continuously published newspapers in the world and may even have developed from Edward Lloyd's original 1692 bulletin. Since 2013 it has been digital only.
Lloyd's Patriotic Fund
This was officially established by Lloyd's of London in 1803 to give financial aid to seafarers injured in action while protecting their country, to assist the relatives of those killed, and to make presentations (such as swords) to people who distinguished themselves in battle. It originated in 1782, when money was raised at Lloyd's Coffee House to help widows and children after the 100-gun warship Royal George sank at Spithead while preparing to relieve Gibraltar.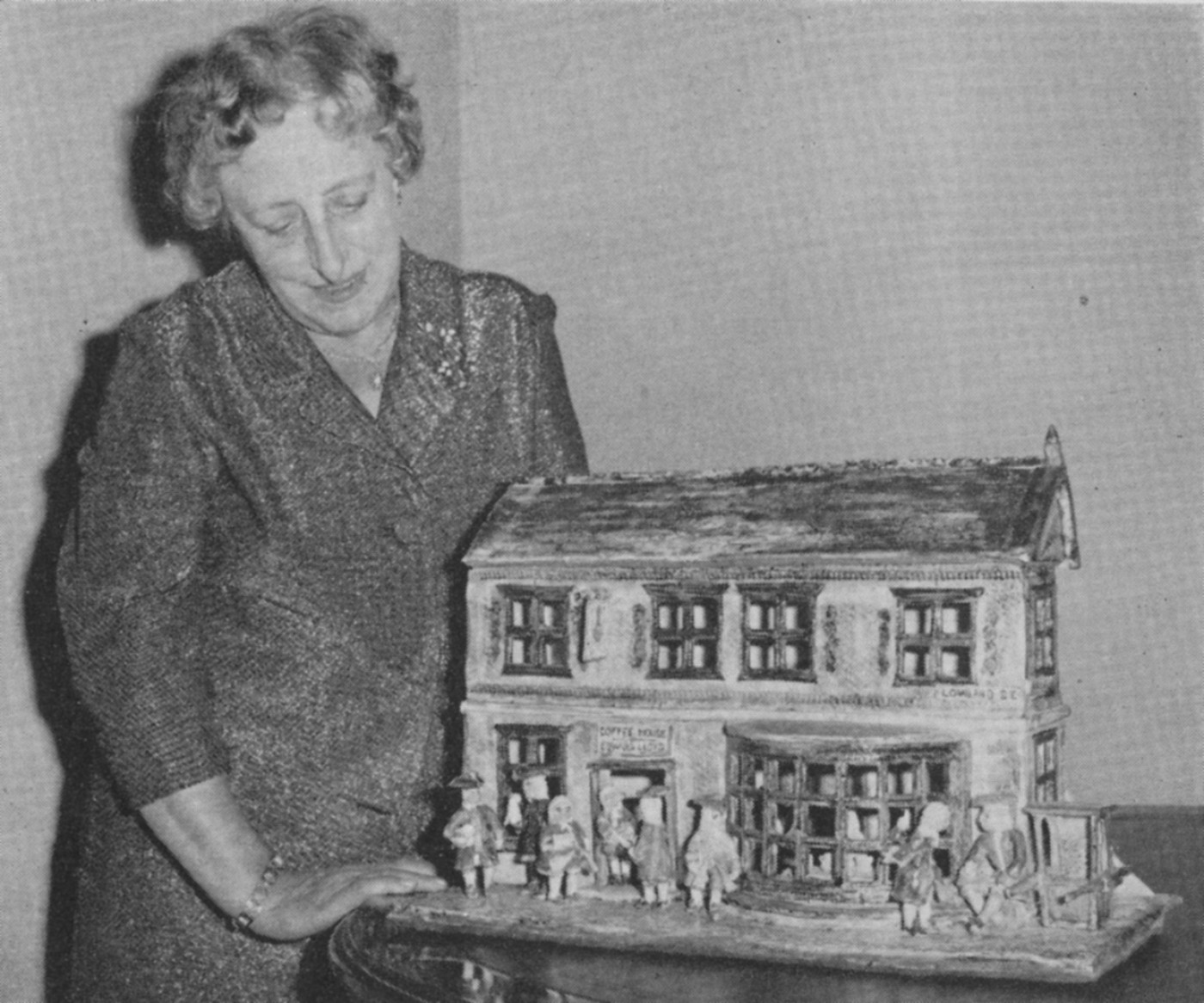 The model of the Lloyd's Coffee House being presented in 1964 by Mrs G A Campbell (the wife of Lloyd's Register employee and Arts Guild member, J F Campbell)
Lloyd's Register
Lloyd's Register (LR) is the world's first marine classification society. It was established at Lloyd's Coffee House in Lombard Street in 1760 as The Society for the Registry of Shipping, because of the need for merchants and underwriters to know about the quality of ships and the likelihood of safe voyages. Early on, surveyors based at several ports regularly inspected vessels in order to rate (or 'class') them. That information was constantly updated in annual registers of shipping paid for by subscribers. From 1812, surveyors began to be appointed outside Britain.
Disputes about the classification system led to a rival body being set up in London in 1799, known as the Society of Merchants, Shipowners and Underwriters. In 1834 agreement was finally reached, and the two bodies merged to become the Lloyd's Register of British and Foreign Shipping. They took offices at White Lion Court in Cornhill, and in 1901 moved into a new head office at 71 Fenchurch Street. In 1914, with much of the world's shipping being classed by Lloyd's Register, the name was changed to Lloyd's Register of Shipping.
Today Lloyd's Register is a global professional services company specialising in engineering and technology for the maritime industry and is wholly owned by the Lloyd's Register Foundation, a registered charity, working together for a safer world.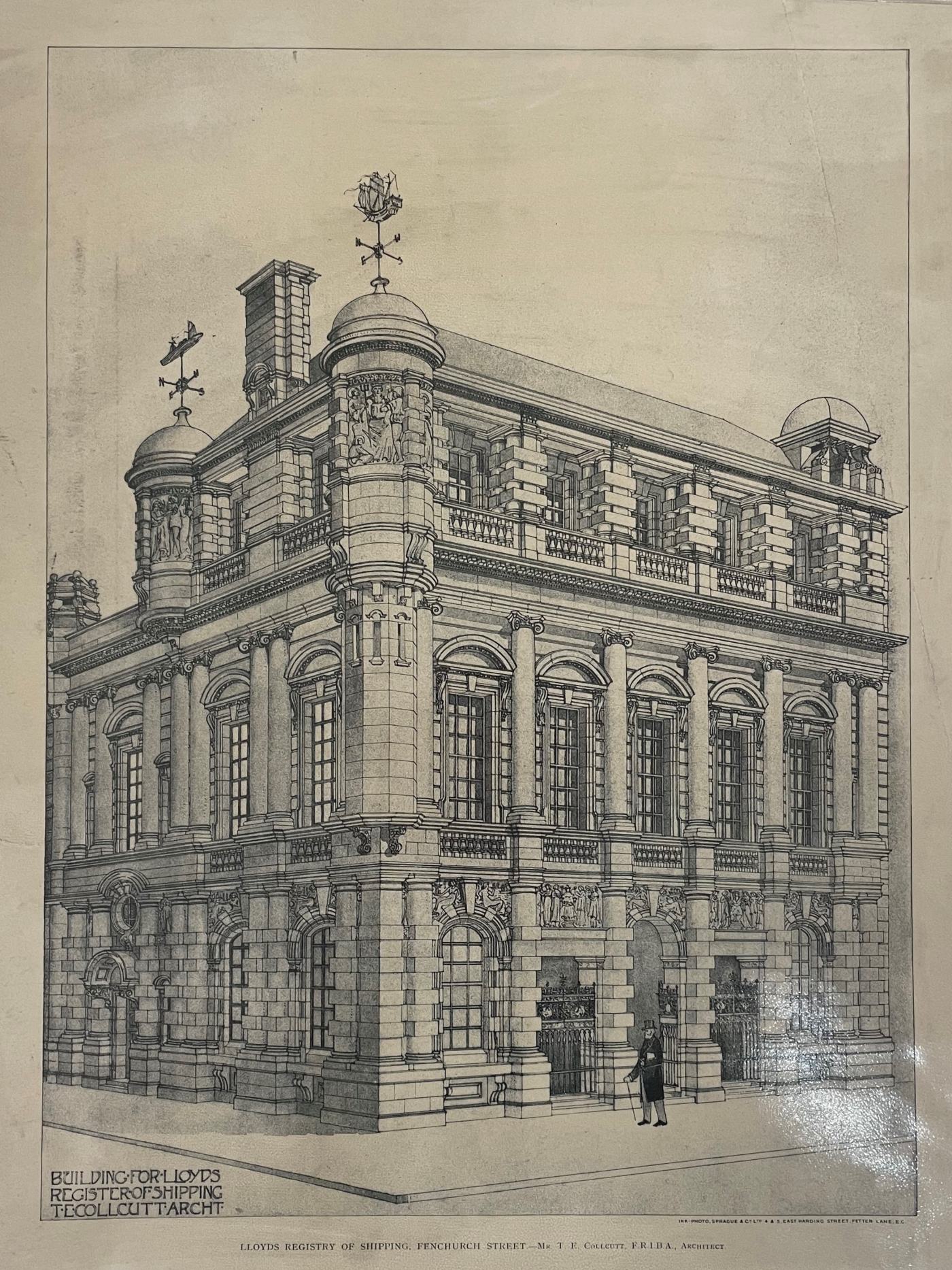 The architect Thomas Collcutt's drawing of the new Lloyd's Register building at 71 Fenchurch Street, 1901
Lloyd's Register of Ships
The first Lloyd's Register of Ships (also known as the Register Book) is believed to have appeared in 1760 and consisted of handwritten details of vessels. The first surviving printed copy dates to 1764. Right from the start, it supplied the ship's name, former names, master, port, tons, guns, where built and when, with alphabetical letters (using the letters of the vowels) denoting the state (or class) of the ship. From 1799 the register was also known as the Underwriters' Register or Green Book from the colour of the cover. The rival register from 1799 to 1833 was called the New Register Book of Shipping, also referred to as the Shipowners' Register or the Red Book. Explore Lloyd's Register of Ships online here.
Lloyd's Register Foundation Heritage and Education Centre
Lloyd's Register Foundation (LRF) was established in 2012 and is a politically and financially independent global charity that aims to engineer a safer world through promoting safety and education. Its Heritage and Education Centre (HEC) has an extensive maritime archive, with a focus on learning from the past to help the future and on increasing the understanding and importance of maritime safety. At present, the visitor centre at 71 Fenchurch Street in London is closed for refurbishment, but much material is available online and is of particular interest to maritime, industrial history and family history researchers. For those new to this archive, you could start with the Information Sheets.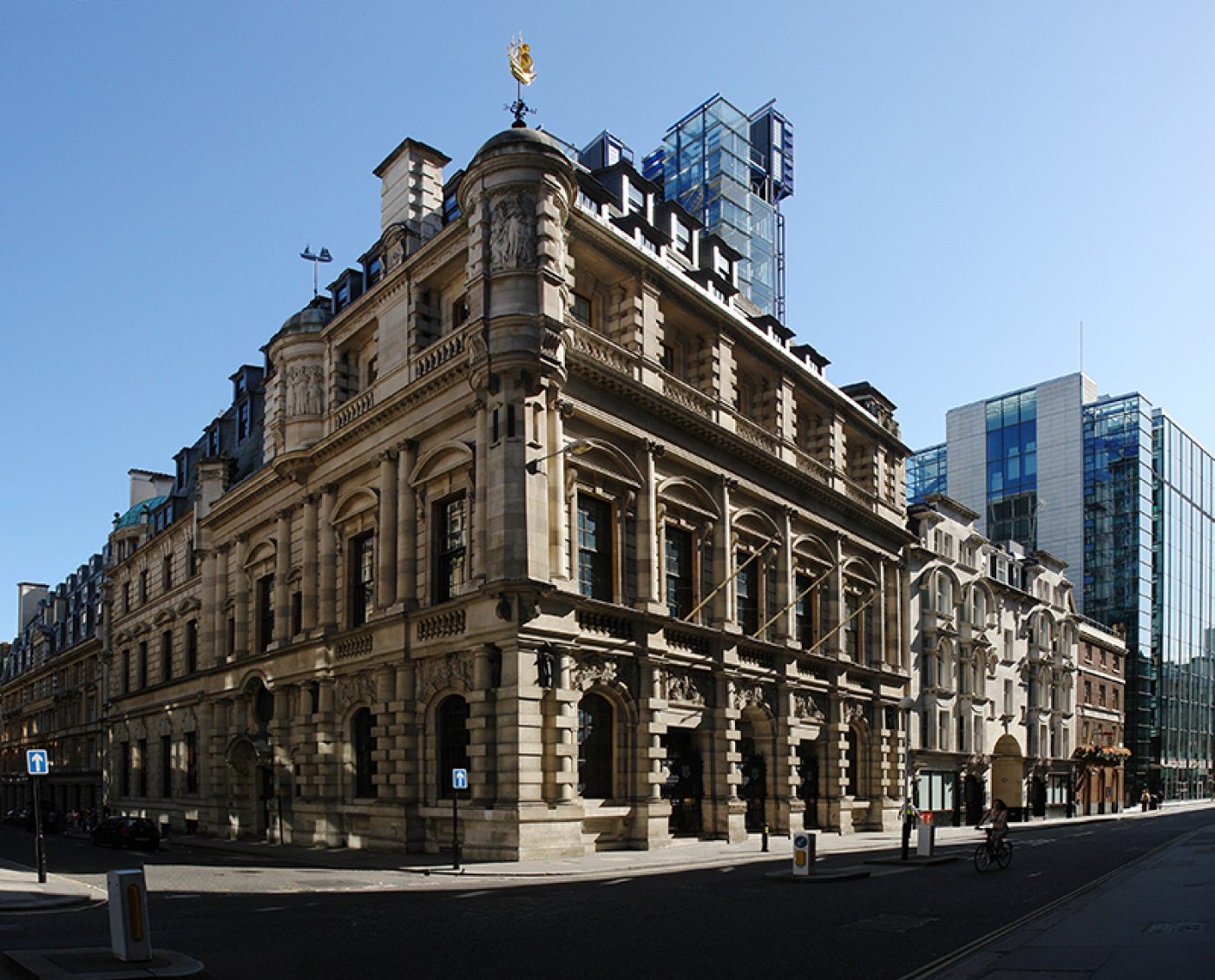 A modern-day photograph of the exterior of 71 Fenchurch Street