Storying the Life and Career of Ronald F. Munro through Material Culture
The recently catalogued Ronald F Munro collection covers the working life of a Lloyd's Register (LR) surveyor from his apprenticeship with an engine manufacturer, through to life after retirement from Lloyd's Register.
Ronald Fraser Munro began his career as an apprentice for David Rowan & Co in Glasgow, working there from 1937 until 1942. He then progressed from junior engineer to chief engineer, working for Anchor Line, J & J Denholm, and P Henderson before becoming a surveyor for Lloyd's Register of Shipping in 1952.
As an LR surveyor, Munro worked in Glasgow, Bremen, Cardiff, Winterthur and Denmark. He then served as Principal Surveyor in Specification Services from 1973 to 1981, and then as Principal Surveyor in Classification Reports. He became Senior Principal Surveyor in Classification Surveys in 1982 and retired from LR in 1985. Munro was also an active member of the Institute of Marine Engineers throughout his career and was nominated to serve on their council in 1982.
Merchant Navy
The collection includes material from Munro's time in the Merchant Navy including his letters of recommendation and character reports, medals and a diary that Munro kept during his service in 1943.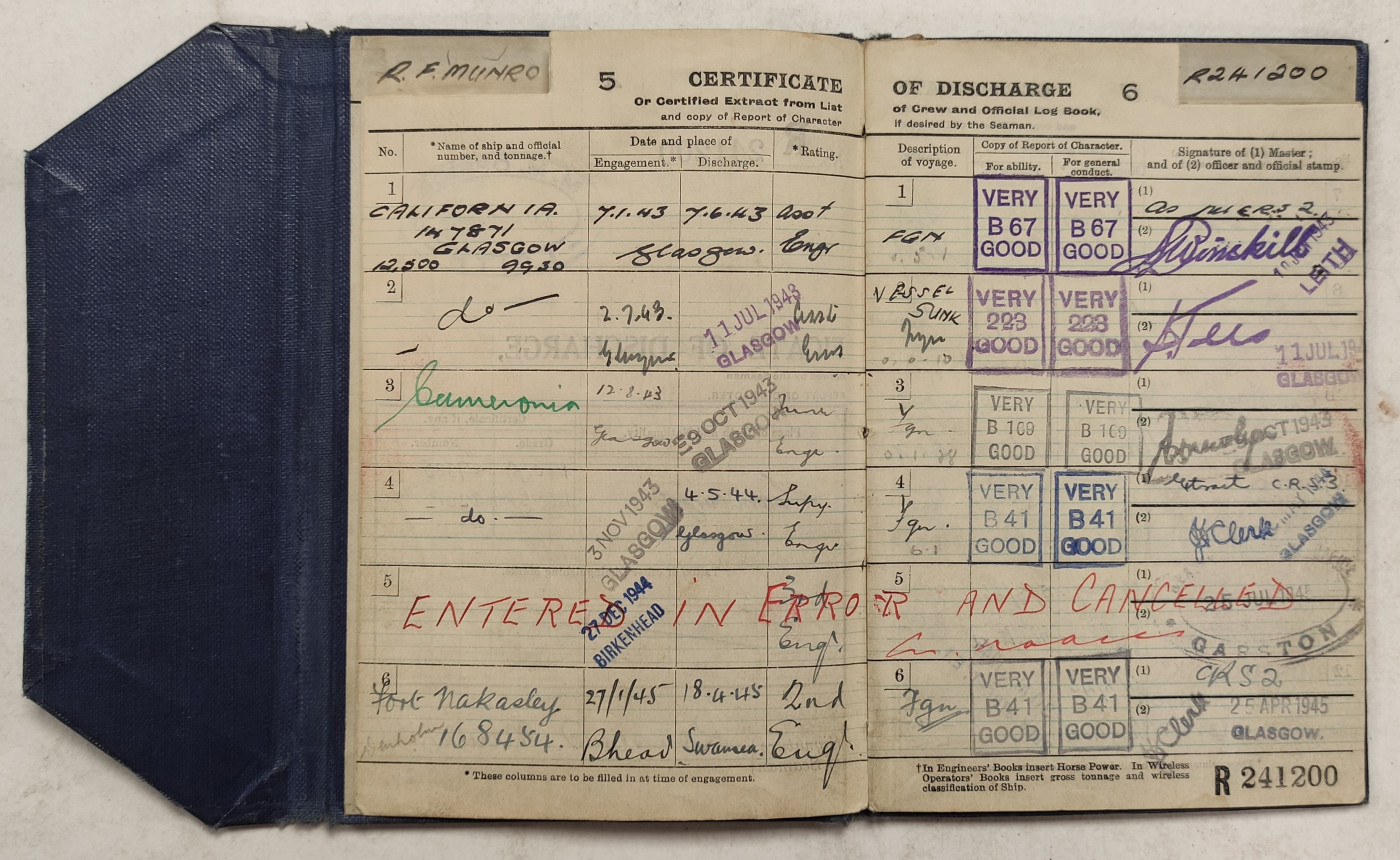 RFM/2/1/4 Continuous certificate of discharge for R F Munro indicates his good conduct and that he served on a vessel that sank.
Munro's war diary is especially unique. Munro describes life aboard the vessel California and the ports that he visits. The California sank on 11 July 1943 and Munro's detailed first-hand account is fascinating to read.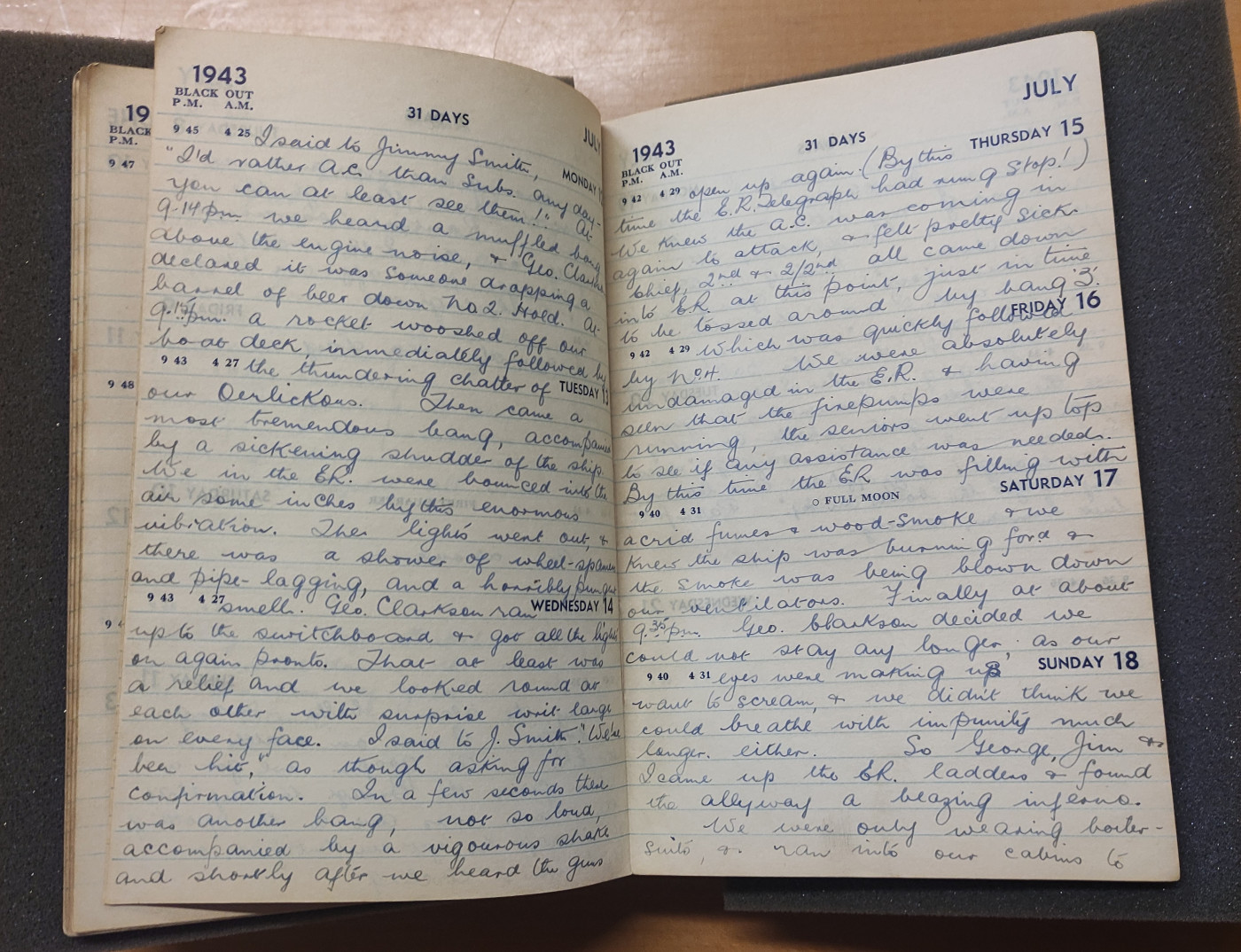 RFM/4/1 1943 war diary open on Munro's account of the sinking of the California.
The collection also includes Munro's medals for his service in the Merchant Navy. It is rare to have service medals in a publicly accessible archive and we are very grateful to R F Munro's family for this generous donation.
RFM/2/2/1 miniature dress Merchant Navy medals. From left to right dress miniatures of the 1939-45 Star, Atlantic Star, Italy Star and War Medal 1939-45.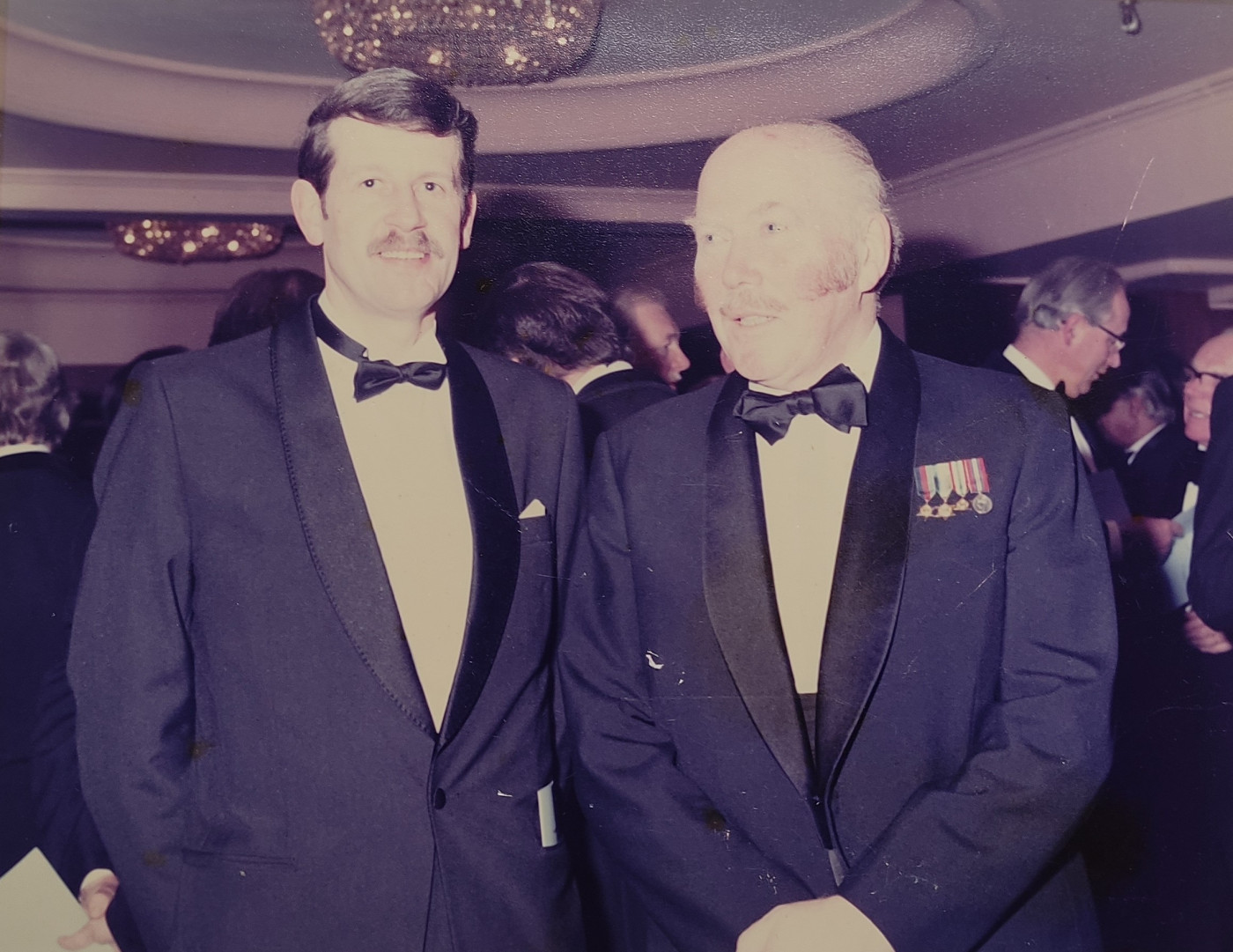 RFM/3/0/3 is a photograph showing R F Munro on the right wearing his dress miniature medals.
Munro also kept postcards and photographs of vessels that he served on, such as Cape Clear and Lylepark.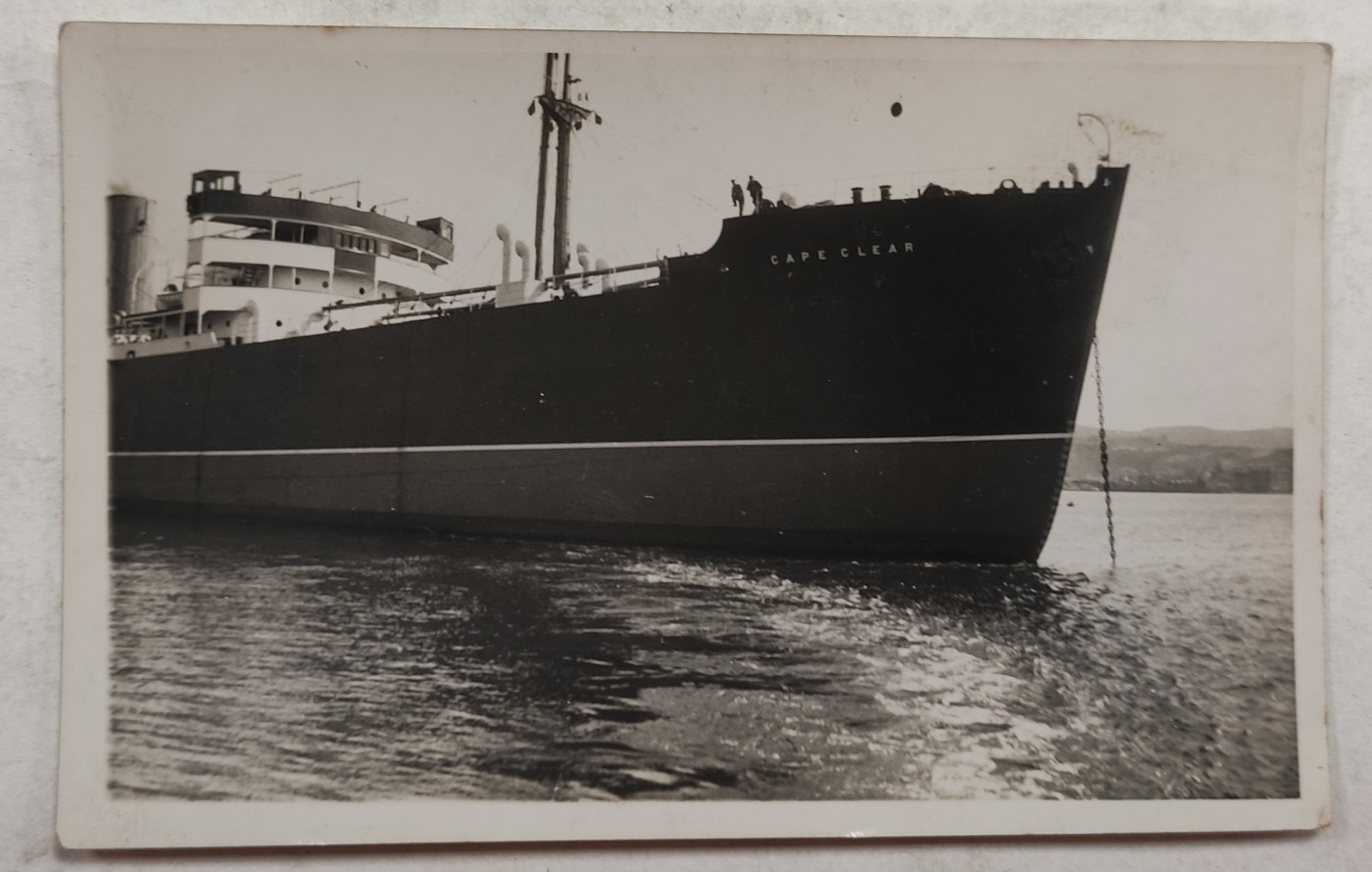 RFM/3/1/2 Cape Clear postcard
His photograph of the fitting out of Lylepark offers an insight into the work marine engineers did. Munro's detailed annotations on the back of many of the photographs in his collection help to understand more about him as well as each image. For instance, on the back of a postcard depicting the vessel Cape Clear Munro writes 'tail o' the bank', the name for the anchorage in the upper Firth of Clyde between Inverclyde and Argyll and Bute. This description offers context for the photograph as well as insight into the areas of Scotland that Munro knew well.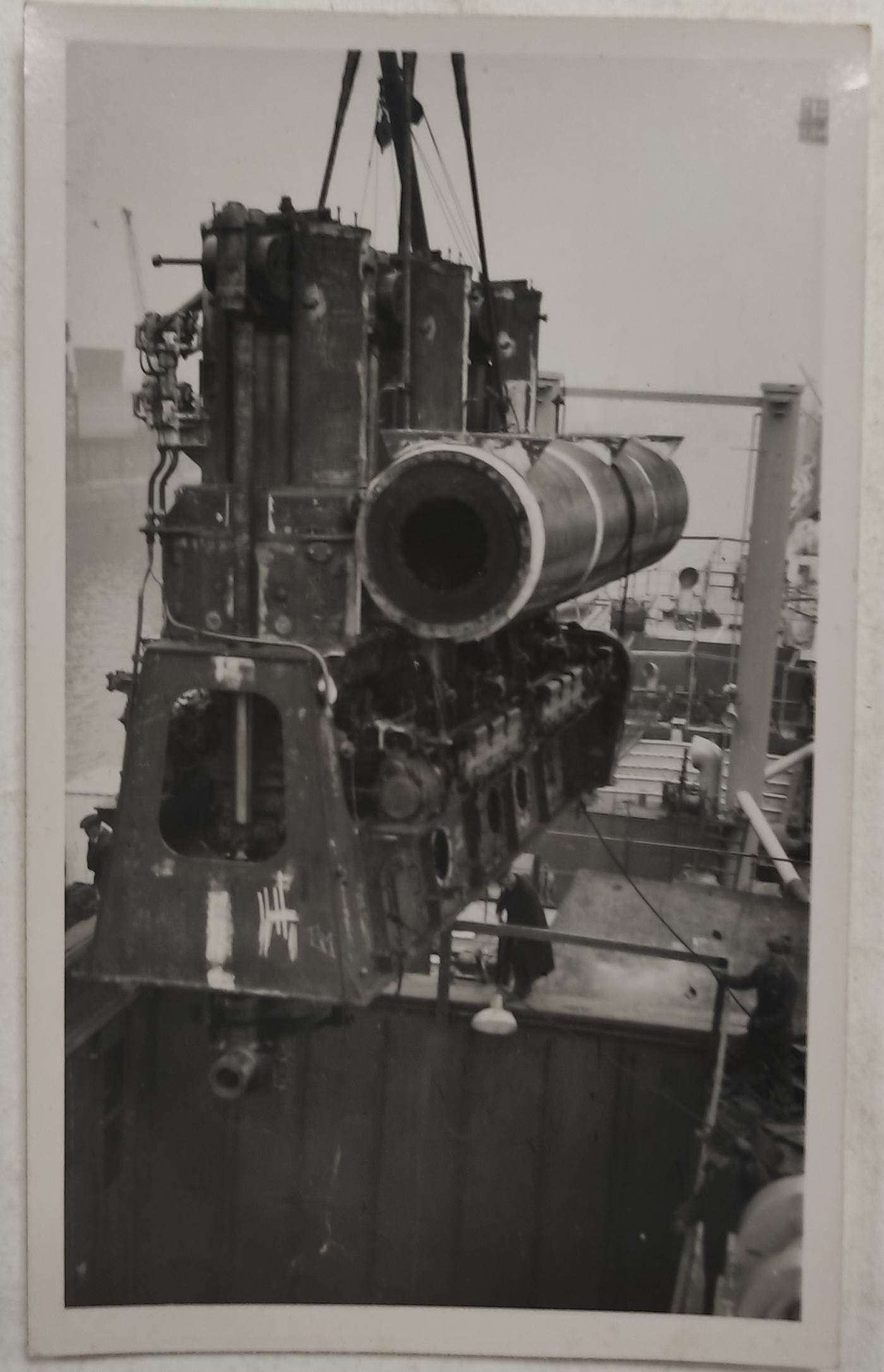 RFM/3/1/7 shows Lylepark fitting out.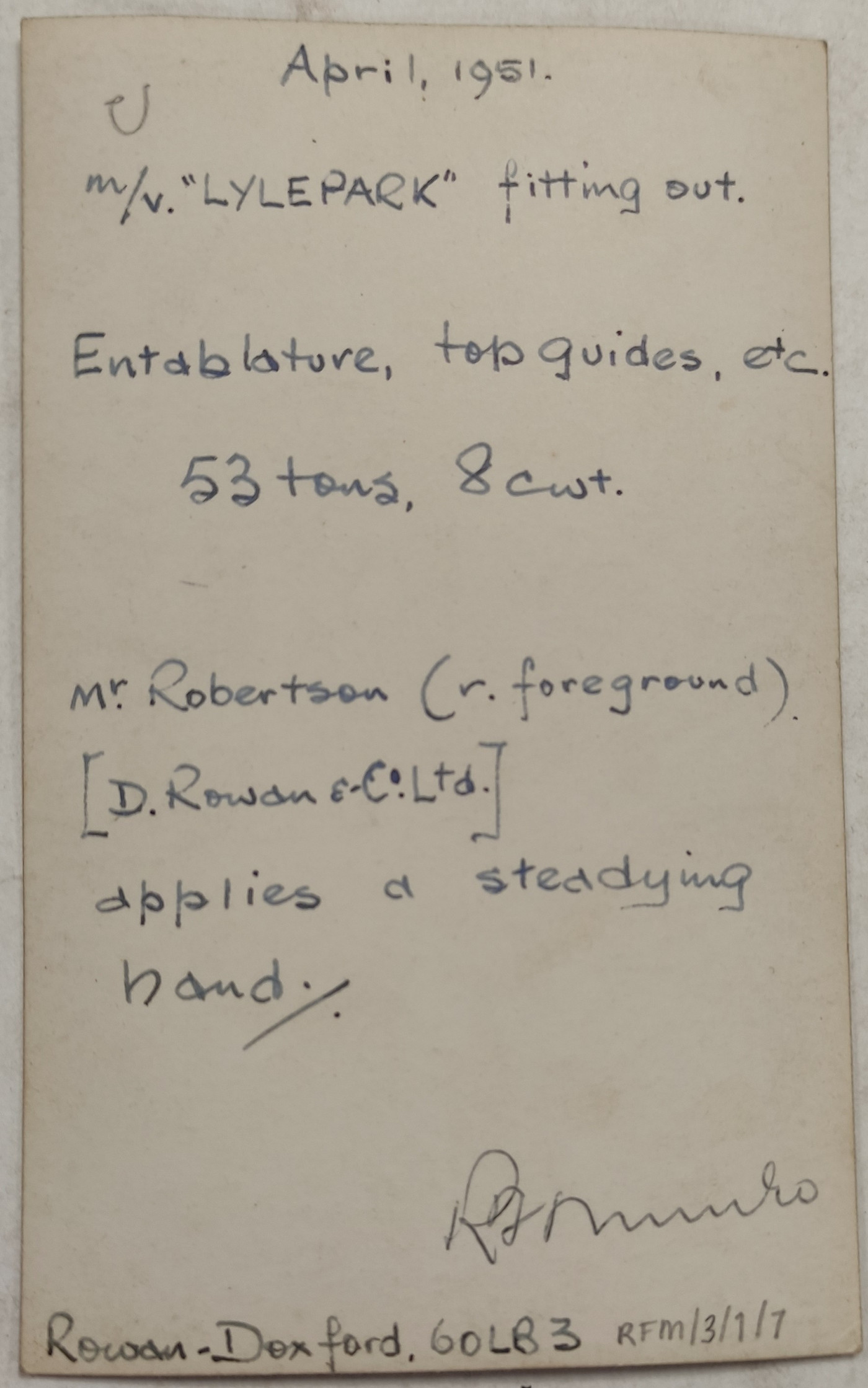 RFM/3/1/7 Munro's annotations on the back of the photograph offer some useful context.
Britannia
Munro's pride in taking part in the survey of the Royal Yacht Britannia can be seen in the correspondence he kept. Munro not only retained two letters sent to him from on board the vessel and a telegram thanking surveyors who assisted in classing the vessel, but also made copies of correspondence concerning the classing of Britannia. These are likely the only copies of these records to survive and effectively tell the story of the rush to class the vessel in time for the publication of the register book.
RFM/1/2/1 is a letter congratulating Munro for his work to help classify Britannia.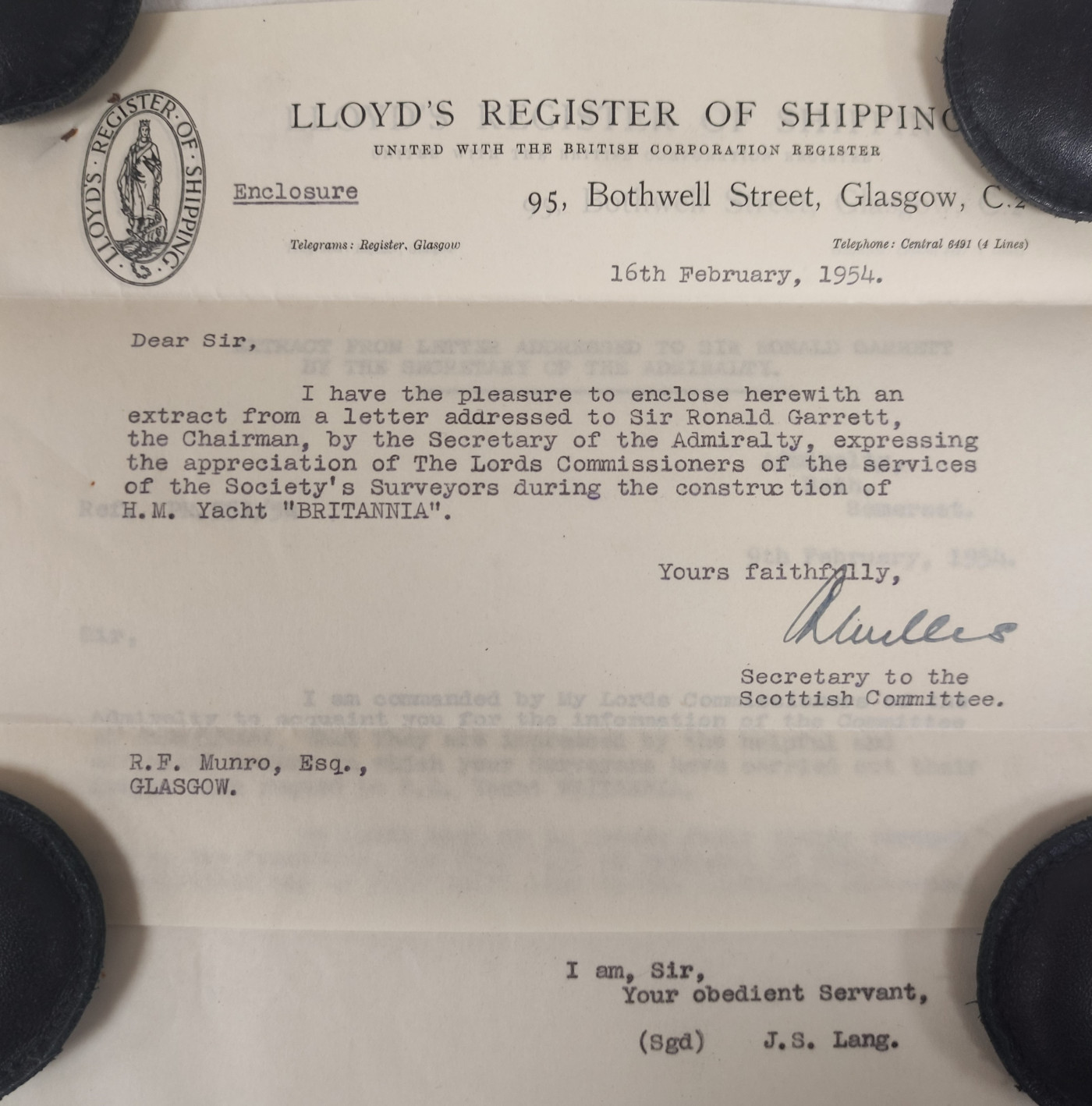 RFM/1/2/2 is a letter Munro received from Britannia.
Surveyor overseas
The photographs in Munro's collection capture his life working as a Lloyd's Register surveyor overseas. He kept photographs of vessels he saw during trial trips, dinners and events he attended while working as a surveyor overseas and mementos of the countries that he lived in. For instance, among his papers is a speech written in German where Munro describes his experiences as a surveyor in Winterthur and his understanding of Swiss people.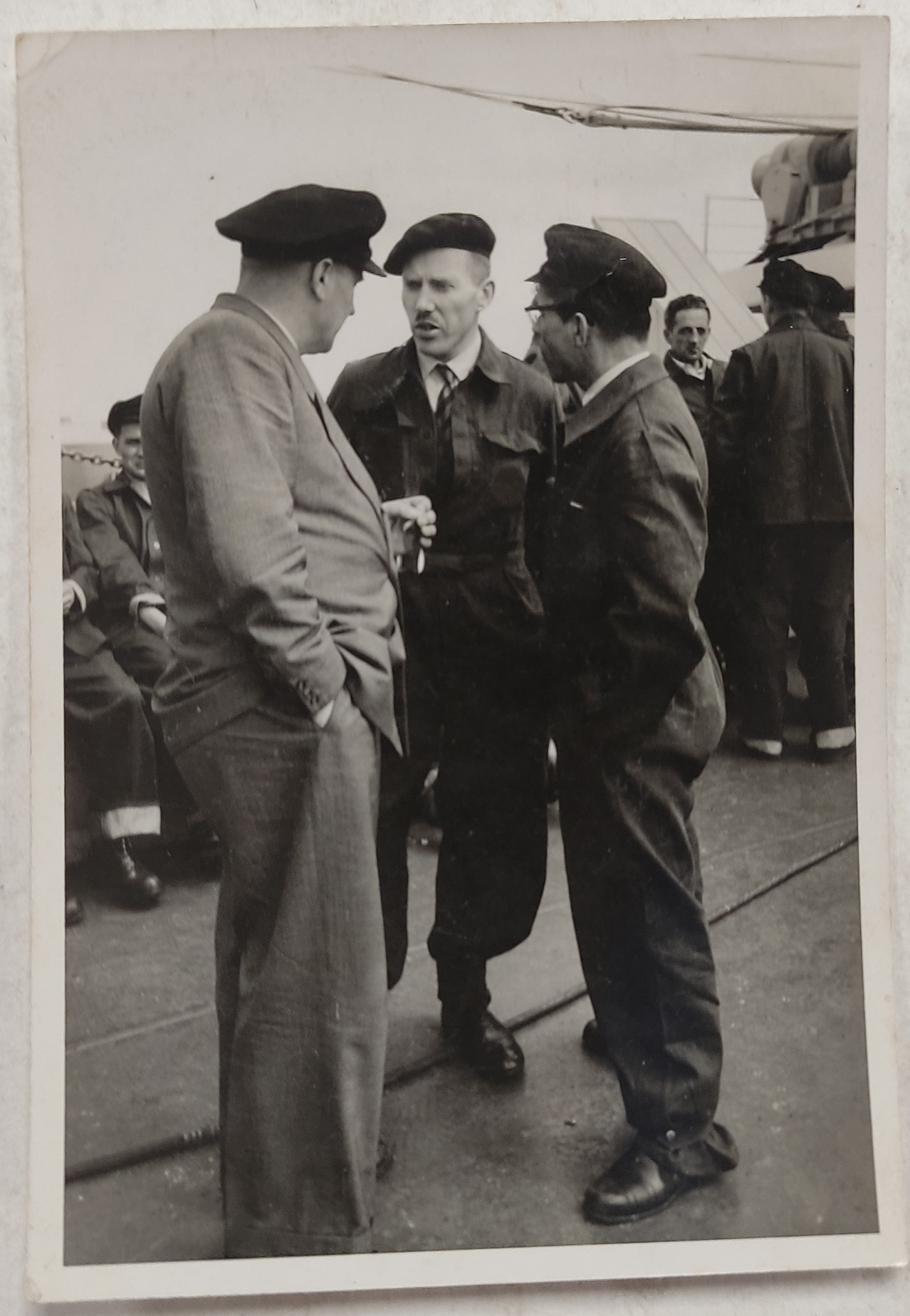 RFM/3/1/9 shows Munro in discussion during the handing over ceremony on board M.V. Chris.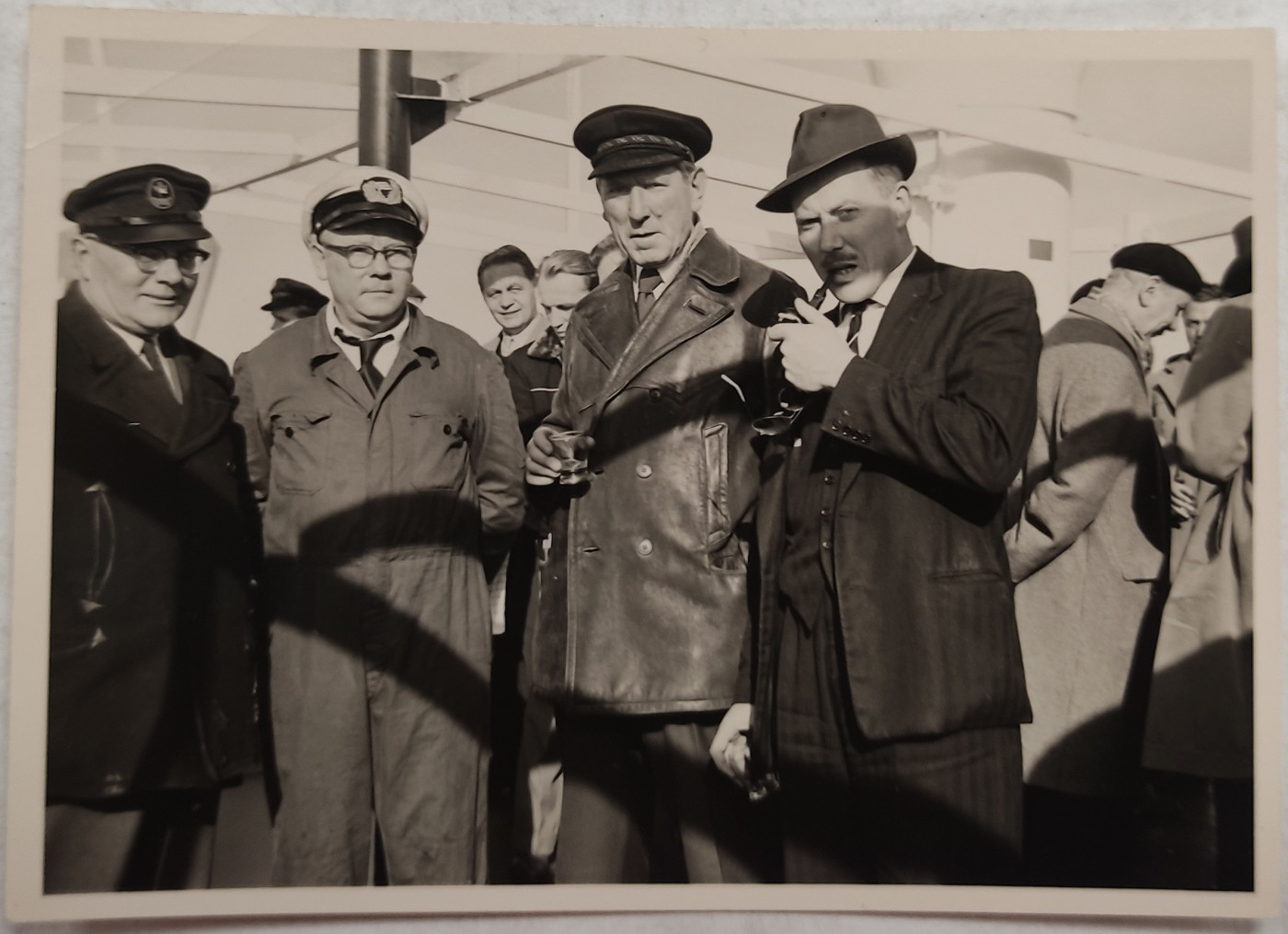 RFM/3/2/5 shows Munro smoking a pipe with Misaelis, the chief engineer and Spiekermann aboard Alondra for a trail trip on the Weser River.
Maritime machinery failures paper and retirement
Material in the collection related to Munro's paper and lecture 'Some marine machinery failures and their causes' covers three decades from 1978-1993. This includes published articles and papers on the topic, correspondence, presentation notes and slides and certificates and awards for the paper. Munro advocated to be able to present on machinery failures and maritime safety across the UK and overseas and retained letters praising his talks to justify his work to Lloyd's Register.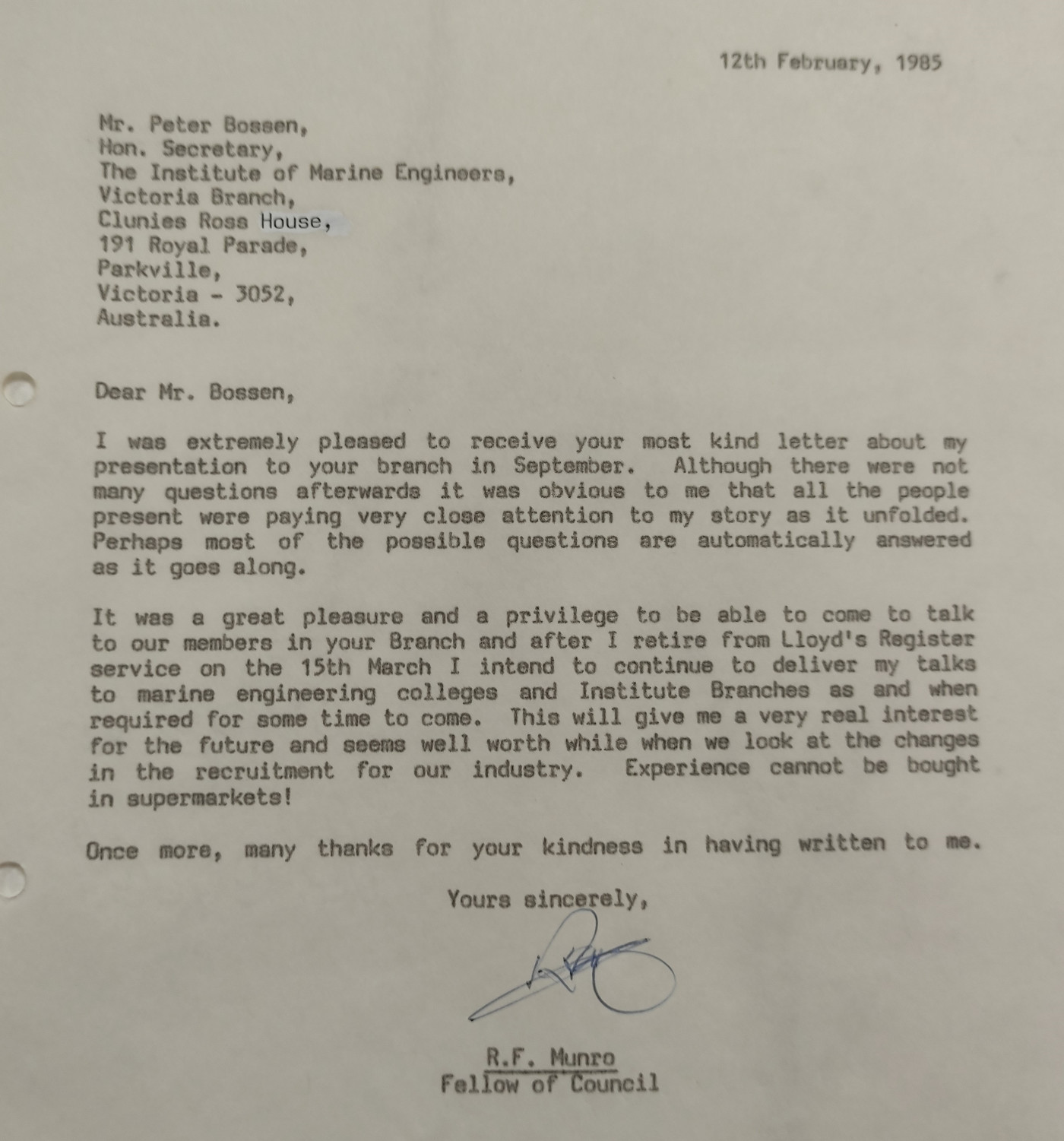 RFM/1/5/24 letter from R F Munro to Peter Bossen discusses his plans to continue giving talks after his retirement.
This work was a major part of Munro's plan for his life following retirement from Lloyd's Register as a means of maintaining contact with the sector and having an interest for the future. Following his retirement Munro also remained an active member of the Institute for Marine Engineers, become an honorary vice president of the organisation in 1995.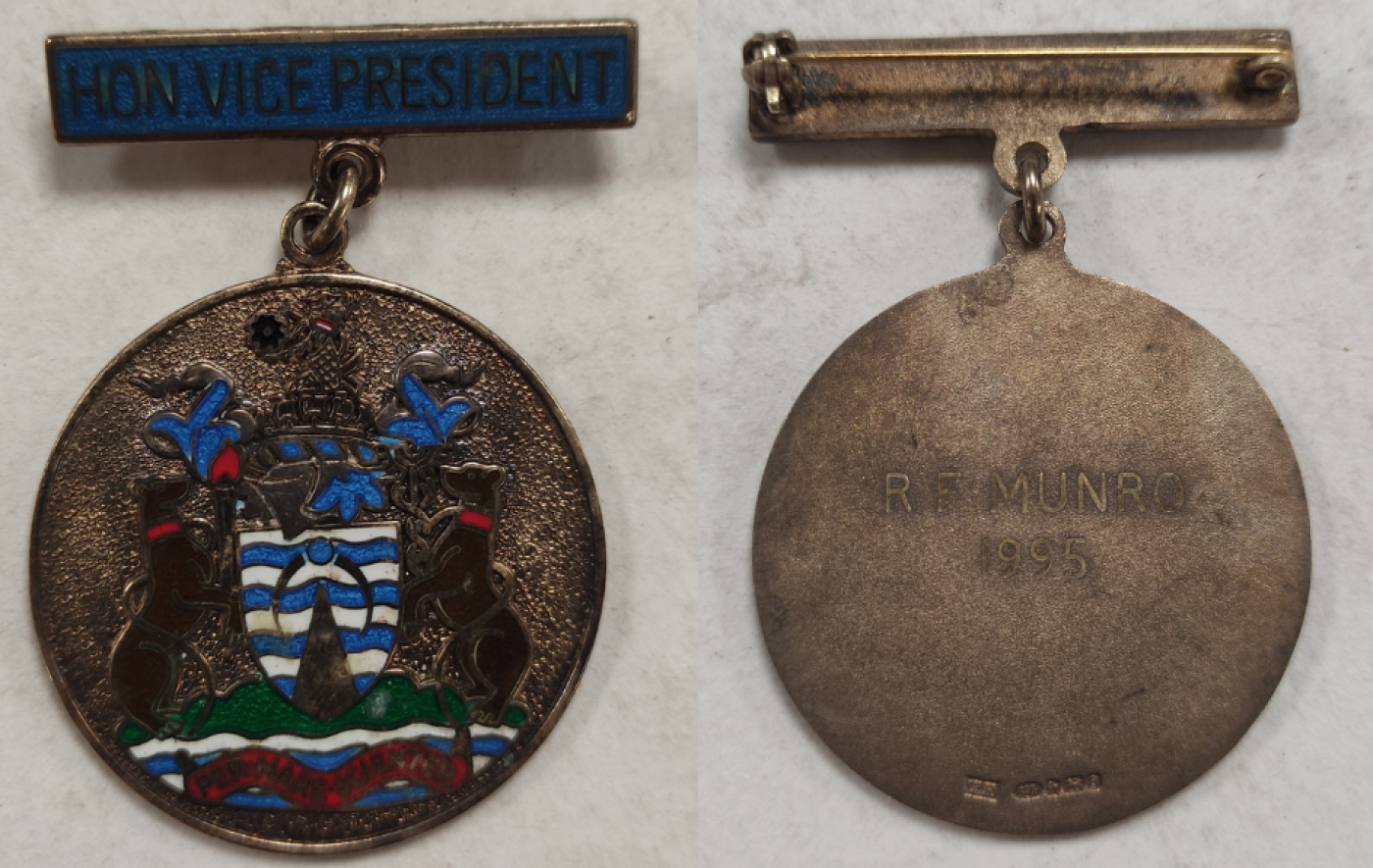 RFM/2/6 IME honorary vice president badge awarded to R F Munro ten years after his retirement from Lloyd's Register.
Munro's material offers a personal and human insight into the work of Lloyd's Register. His collection presents the unique opportunity to chart the entire career of a prominent LR surveyor. The Heritage and Education Centre looks forward to making his collection accessible and sharing his material with researchers.