What is the Ship Plan and Survey Report collection?
The collection holds an estimated 1.25 million documents relating to ships that Lloyd's Register classed from the 1830s to the 1960s. This collection holds a plethora of document types, from handwritten correspondence and telegrams, to survey reports, ship plans and photographs.
Offering an incredible source of information on maritime history and trade, the collection is a great resource for research in a number of areas (maritime history, ancestry, cartography, economic). By digitising the collection, the Heritage & Education Centre (HEC) is maximising the material's educational potential to reach a global audience. Offering these resources for free will help us fulfil our mission of enhancing public education in marine, engineering, science and history.
Where is the collection?
Originally, the collection was held at White Lion Court after Lloyd's Register's then Chairman, Thomas Chapman, ordered that the Society retain its ship plans and survey reports. When Lloyd's Register moved to 71 Fenchurch Street, the collection followed, before later being stored at the Royal Museum Greenwich's Brass Foundry in Woolwich.
Today, the collection is stored at a specialist archive facility in Woolwich. The space also houses the Heritage & Education Centre's project team. The digitisation team Max Communications are very close by and having the digitisation specialists working so closely potential risks are mitigated, including transportation damage, loss, pest control and more.
Document
The First and Famous Collection
First and Famous was the Heritage & Education Centre's earliest digitisation project. Acting as a pilot for the wider digitisation project, Project Undaunted, First and Famous concerned documents for significant ships that were classed by Lloyd's Register in the 19th and 20th century.
The pilot focused on ships that were either famous (Mauretania, Cutty Sark) or were innovative (Fullagar – first fully electrically welded ship). In total, over 6,900 documents were digitised as part of the pilot; all of which are now available here.
View full details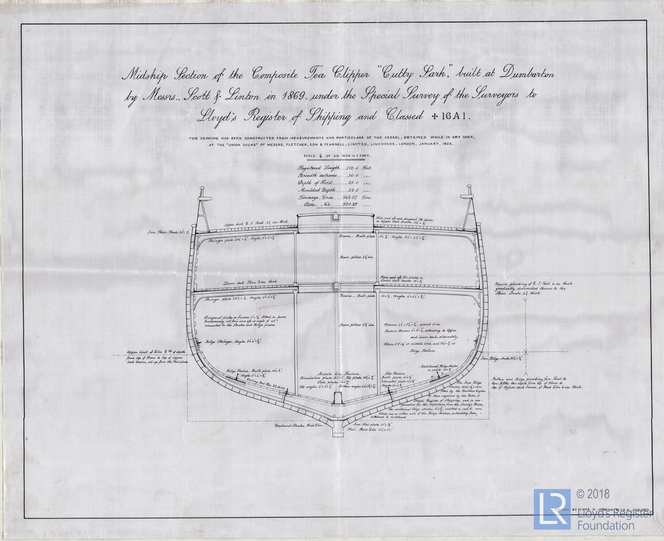 Ship
First and Famous - Mauretania
The Mauretania, and her sister ship Lusitania, were designed by Leonard Peskett, Cunard's senior naval architect who had also worked on the Aquitania and Carmania. She was built by Swan, Hunter & Wigham Richardson in Newcastle. Her design meant that she would be able to travel at no less than twenty-four knots and, to make her more powerful, she was equipped with new turbine technology and a fourth funnel.
Mauretania was launched by the Duchess of Roxburghe in 1906. At the time, she was the largest moving structure ever built, measuring five-feet longer than her sister ship. She operated on the Southampton-Cobh-New York City route. Her interior featured Edwardian style furnishings and décor and included a relatively new concept of lifts. On 16 November 1907, Mauretania departed Liverpool on her maiden voyage. On the return voyage she captured the record for the fastest eastbound crossing of the Atlantic. Two years later, she was awarded the Blue Riband for the fastest westbound crossing, a record that would stand for more than twenty years.
The huge engines of the Mauretania and Lusitania plagued both ships with vibrations making the second and third-class areas uninhabitable. White Star's new Olympic Class vessels, Titanic, Britannic and Olympic were launched a few years later. Larger than Mauretania and offering more luxuries and amenities including swimming pools, Turkish baths, gyms and squash courts.
With the outbreak of the First World War, the Mauretania was requisitioned by the government as an armed merchant cruiser, but her size and fuel consumption made this impossible. She was transformed into a troop ship and used during the Gallipoli Campaign. Her speed enabled her to avoid U-Boats. She was later transformed into a hospital ship with distinctive white funnels and red medical crosses. In 1918, she was repainted with dazzle camouflage.
Mauretania returned to civilian service in 1919 but was slower than before the war. Her speed record was broken by the German liner, Bremen. In 1930 she became a dedicated cruise ship. Outdone by newer competitors, when White Star Line merged with Cunard in 1934, Mauretania was considered surplus and withdrawn from service. Her scrapping in 1937 was met with an outcry from many of her loyal passengers including Franklin D Roosevelt.
Many of Mauretania's furnishings and interiors were saved and still adorn several buildings and locations across the world and her legacy has inspired poetry, music, literature and films.
View full details
Ship
First and Famous - Dunedin
The Dunedin was built by Robert Duncan and Co. at Port Glasgow for the Albion Line and was launched in 1874. Her first trip to New Zealand took place in 1874 under Captain Whitson.
All seven of her trips carrying emigrants from England to New Zealand were completed in under 100 days, an impressive feat for the day.
In the nineteenth century, due to the increasing population of Britain, local meat was in short supply causing prices to increase. It therefore was vital that Britain was able to import meat from countries like New Zealand. New Zealand, meanwhile, was seeking to establish a meat export industry thus increasing trade and income and so a refrigerated ship would be mutually beneficial to both countries.
In 1881, Dunedin was fitted with a Bell-Coleman refrigeration machine. The machine would cool the entire hold, even in the warm climate of southern New Zealand.
On 15 February 1882, the Dunedin sailed with 4,331 mutton carcasses, 598 of lamb, 22 pig, 250 kegs of butter as well as quantities of hare, pheasant, turkey, chicken and 2,226 sheep tongues. On the voyage, the crew noticed that the cold air was not circulating properly. To save the cargo, Captain Whitson crawled into the hold and sawed extra holes. He almost froze to death in the process but his crew were able to save him. 98 days later, the cargo, the ship and her crew arrived safely in London. The meat was sold at Smithfield market by John Swan and Sons. There were concerns about the quality of the meat due to the experiment however, butchers were impressed by the size of the animals, and only one carcass was condemned.
The experiment had been a success which meant that New Zealand would lead the way in the refrigerated meat industry. Within five years, 172 shipments for frozen meat were sent from New Zealand.
View full details
Document
Survey Reports
The Fullagar was the first fully welded ocean-going ship in the world classed by Lloyd's Register. It was built at Cammell Laird shipyard, Birkenhead, in 1920 under special survey. She was classed *100A1 with the note "Electrically welded – subject to annual survey Experimental." When she finally launched, she measured 150 feet in length and was 420 gross register tons.
Click this link to view more survey reports.
View full details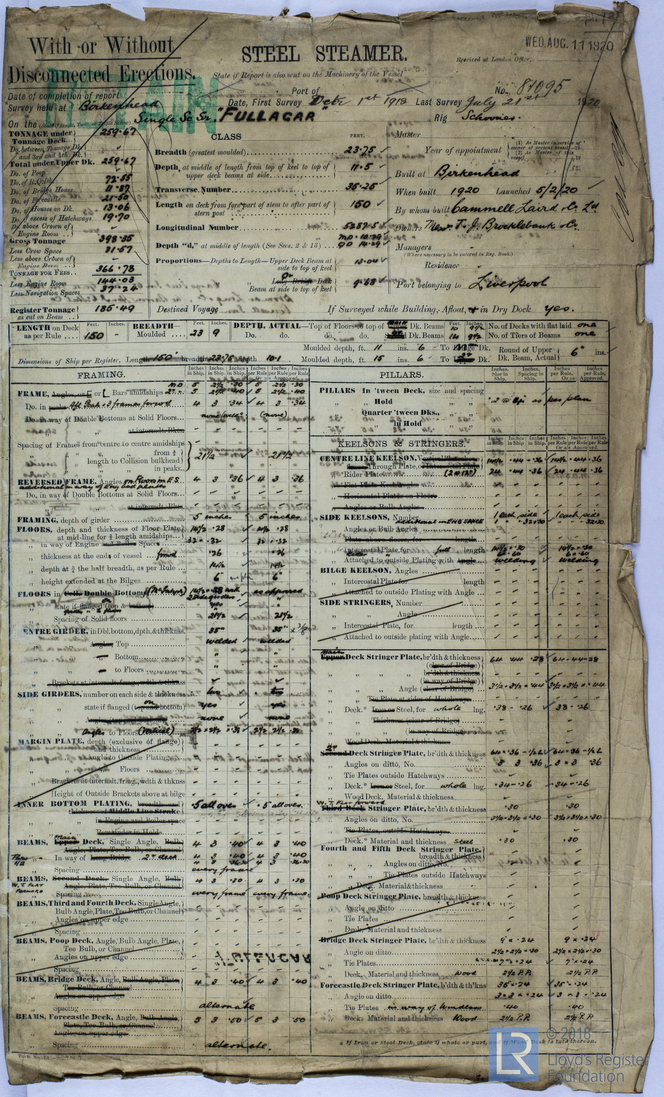 Document
Midship Section Plans
Preussen (Preußen) was a steel-hulled five-masted, ship-rigged vessel built by the Joh. C. Tecklenborg Shipyard in 1902 and was the only ship of this class with five-masts each carrying six square sails. She was owned by the F Laeisz Shipping Company and was successfully used in the saltpetre trade between Chile and Germany. She was nicknamed the 'Queen of the Queens of the Seas' by sailors due to her impressive appearance and record breaking voyages including travelling from Lizard Point to Iquique in 57 days.
Click this link to view more midship section plans.
View full details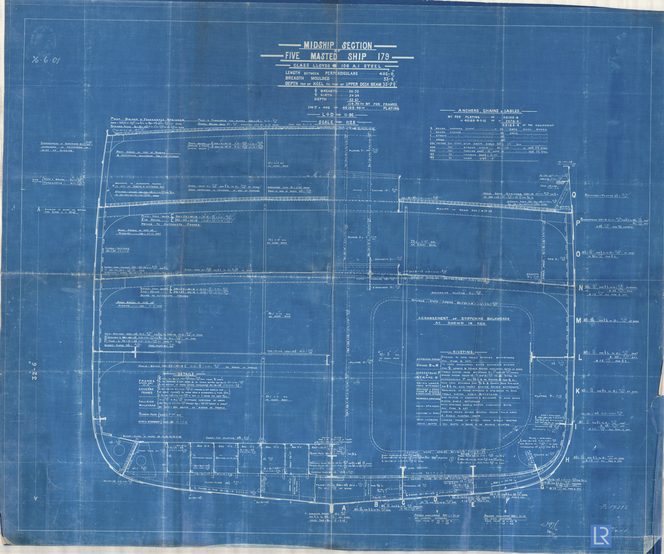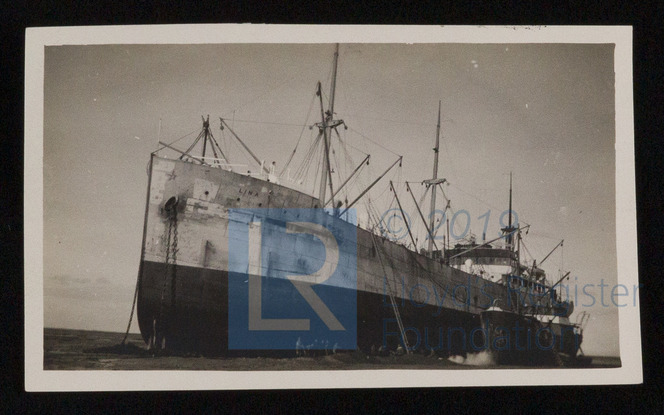 Document
Telegrams and Letters
Letter from William Griffin to Lloyd's Register of British & Foreign Shipping regarding the chain cables for Tourquennois, 16th February 1898 (LRF-PUN-HUL415-0130-L)
Click this link to view more telegrams and this link for more letters.
View full details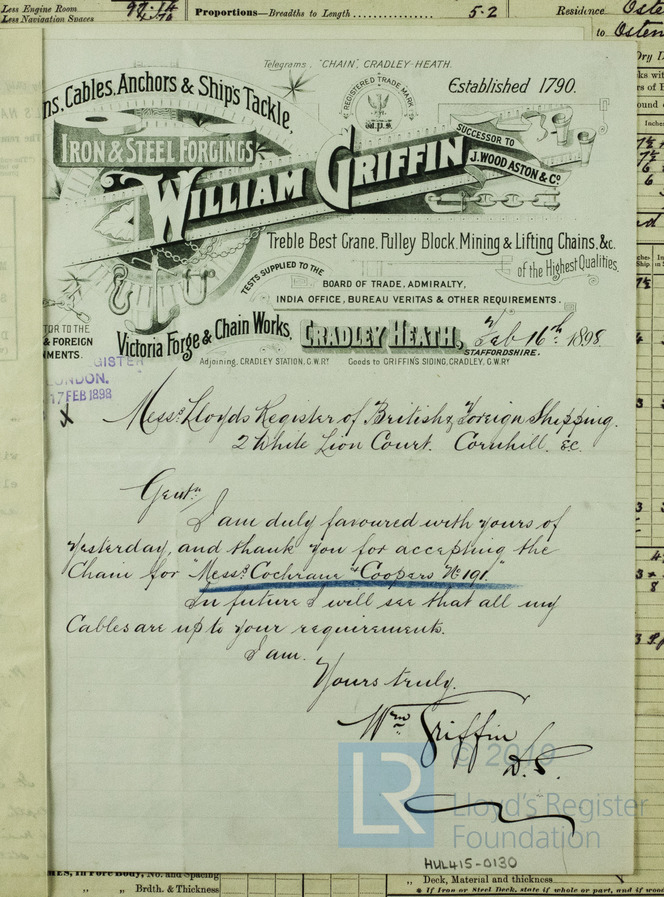 Document
Certificates
Official certificates issued by Lloyd's Register and other testing and proving organisations. These document the classification, testing, quality, condition, and survey of vessels, boilers, machinery, anchors, chain cables and freeboard
Click this link to view more certificates.
View full details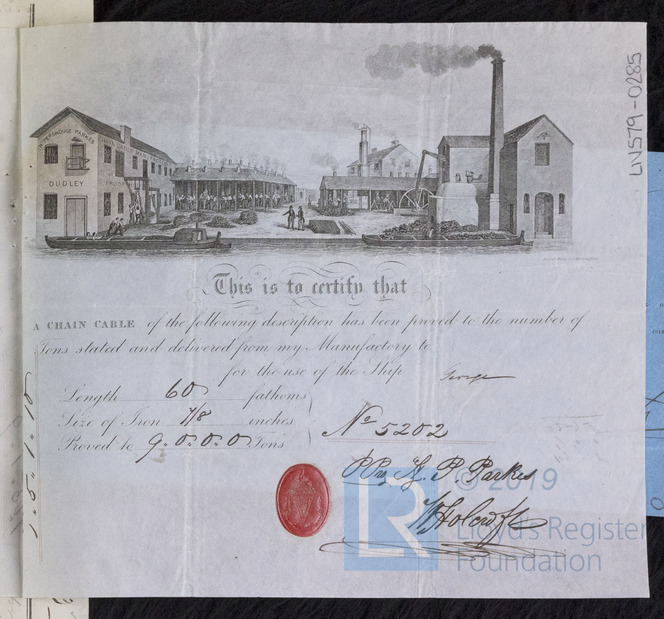 Research
The diversity of the digitised materials and level of detail in the catalogued records means that researchers from many backgrounds can utilise the information contained within the collection. Maritime history enthusiasts can track the career of a ship from launch to wreck, graphologists can discover the differences in surveyors' writing styles across the world, economists can map trade routes using survey reports, and ship model builders can create scale replicas using information contained within survey reports and plans.
Exhibitions and Events
The Centre's digitised content is also being used for outreach, exhibitions and events. The first batch of digitised content has already been utilised in two international exhibitions –Waterproof: Safety at Sea (Rotterdam Maritime Museum) and the Wall of Veen (Veenkolonial Museum).
We have recently hosted popular Open House events and Heritage Open Days. These events, which had hundreds of attendees, are complemented by smaller group tours with university students and research groups. We are also pleased that two of our LRF-funded Thomas Chapman Scholars have extolled the virtues of our archive at our 2019 international conference.
New HEC-led activities are also currently in development to further publicise and engage people with the collection. These include guest lectures, podcasts and web seminars.
Grant Holder Network
Enhancement of the collection's educational potential will also see grant holders, such as the 1851 Trust, and the Lloyd's Register Foundation funded Curator of Contemporary Maritime at Royal Museums Greenwich, use HEC's digitised materials for various programmes. The collection's global reach and relevance ensures that the Foundation's challenge led approach for increasing impact in public education is met.
The 1851 Trust has been particularly successful in its campaign to promote the STEM disciplines to schoolchildren. Their STEM Crew project has used our archives to create three educational resources for 11-16 year olds. The first in the series was the project's most popular resource in its first eight weeks. In February 2020, they launched the second in this series. To find out more, do visit our grant holder page.
Numbering
Prior to a document being captured, it is numbered with a unique reference code, ensuring it is tracked and can be synced with its catalogued data and imagery.
Capturing
The document is then picked up by the capture team. Specialist camera rigs have been designed to photograph every document size, from small telegrams to massive ship plans.
Indexing and Splitting
The document images are then uploaded to Themis - Max Communications' browser based tool for digitisation management and metadata indexing.
A document's images are split and given page numbers. This is then combined with the unique reference code so that the cataloguers can map the correct metadata for a document on a specific page.
Transcribing
Now that the digitised documents are organised with their metadata, cataloguers transcribe the information contained within the documents directly from a digitised image.
Quality Assurance
Catalogued documents are then assessed by the Max Communications quality assurance team.
Checks include correct document numbering is used, changes in ship name map accordingly and that the digitised images are of good quality.
If any issues are raised by the Max Communications QA team, members of the Centre's digitisation team provide support and clarifications.
Digitial Preservation
The final digitised document and data is then transferred into the digital preservation server and then the Centre's Content Management System (CMS).
From the CMS, the documents are published to the HEC website and made freely available to a worldwide audience for research