HEC's Summer webinar series comes to an end
From April to August, the Lloyd's Register Foundation Heritage & Education Centre team organised a series of remote, summer webinars with a view to engage with individual researchers and members of the public from home. As global lockdowns and restrictions were being enforced due to the COVID-19 pandemic, the Centre realised that in order to continue fulfilling its mission of furthering public education, that webinars would prove to be a crucial research and engagement tool. So, from the safety and comfort of home, the Centre utilised remote research resources, from the Lloyd's Register of Ships Online to the Lloyd's Register Casualty Returns to deliver informative webinars over the web. With a tea in hand and a fear of local building works potentially intruding (fortuntately, this didn't happen), the HEC team delivered four bespoke webinars.
Since the launch of these webinars, the Centre acrued over 250 live attendees and has seen over 50 hours of watch time on the Centre's YouTube channel. Each webinar has been viewed by an international audience and provided important feedback so that the Centre can develop its next webinar series. Take a look at some of the feedback the team received below.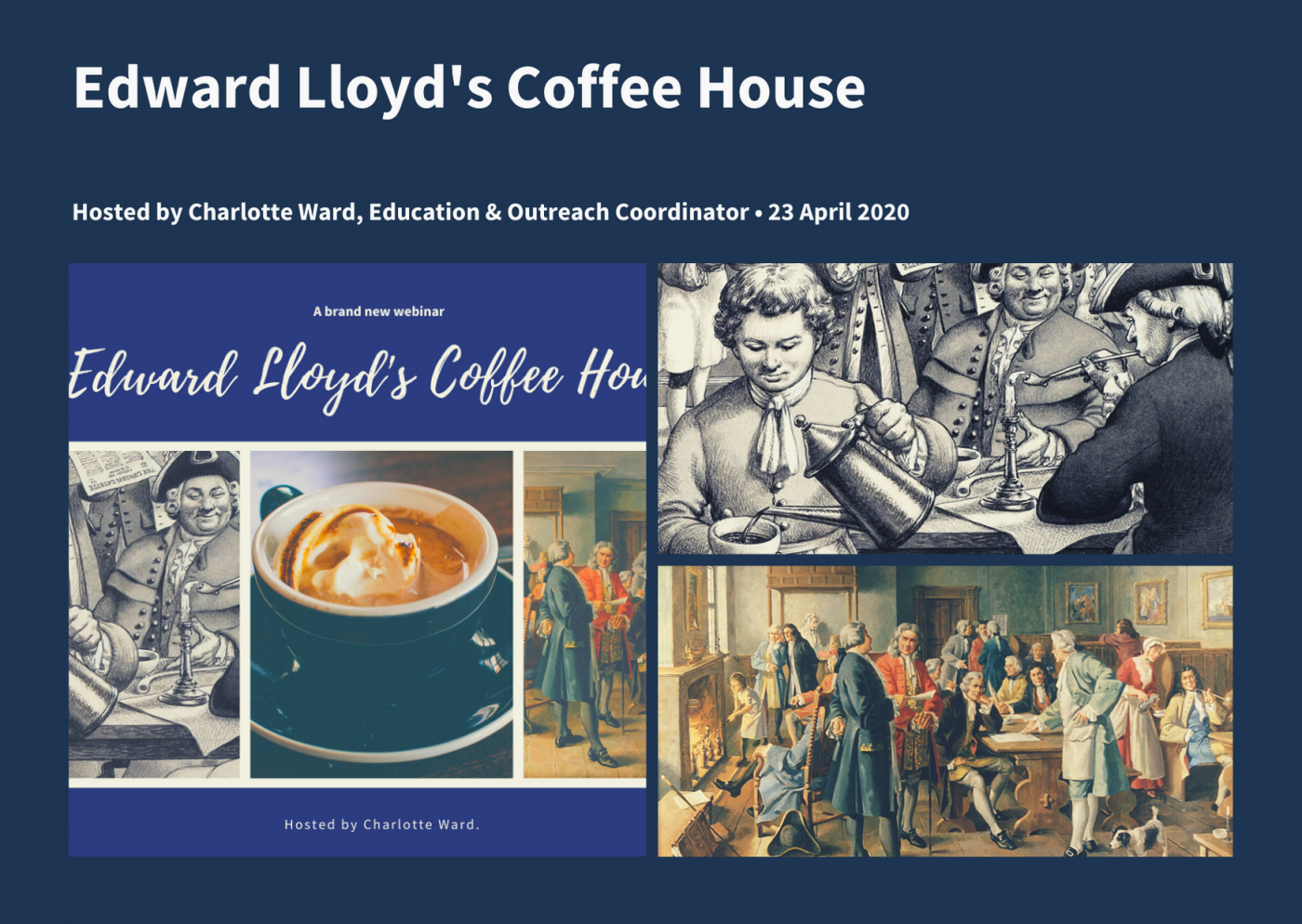 Edward Lloyd's Coffee House
As Lloyd's Register celebrates its 260 year anniversary. To commemorate reaching such an important milestone, HEC's Outreach & Education Coordinator, Charlotte Ward delivered a webinar about Edward Lloyd's Coffee House. Charlotte's research covered the popularity of coffee and coffee house across the United Kingdom in the eighteenth century. Without these coffee houses, it is likely Lloyd's Register would have never have been formed. The full webinar can be viewed here.
I never knew how important Lloyd's Coffee House was! Loved learning about a new part of world history.

Thank you for sharing stories of Lloyd's Register's heritage.

I enjoyed the last webinar very much...I believe that webinars are a new and very useful form of lectures, which will be a standard way of education from now on.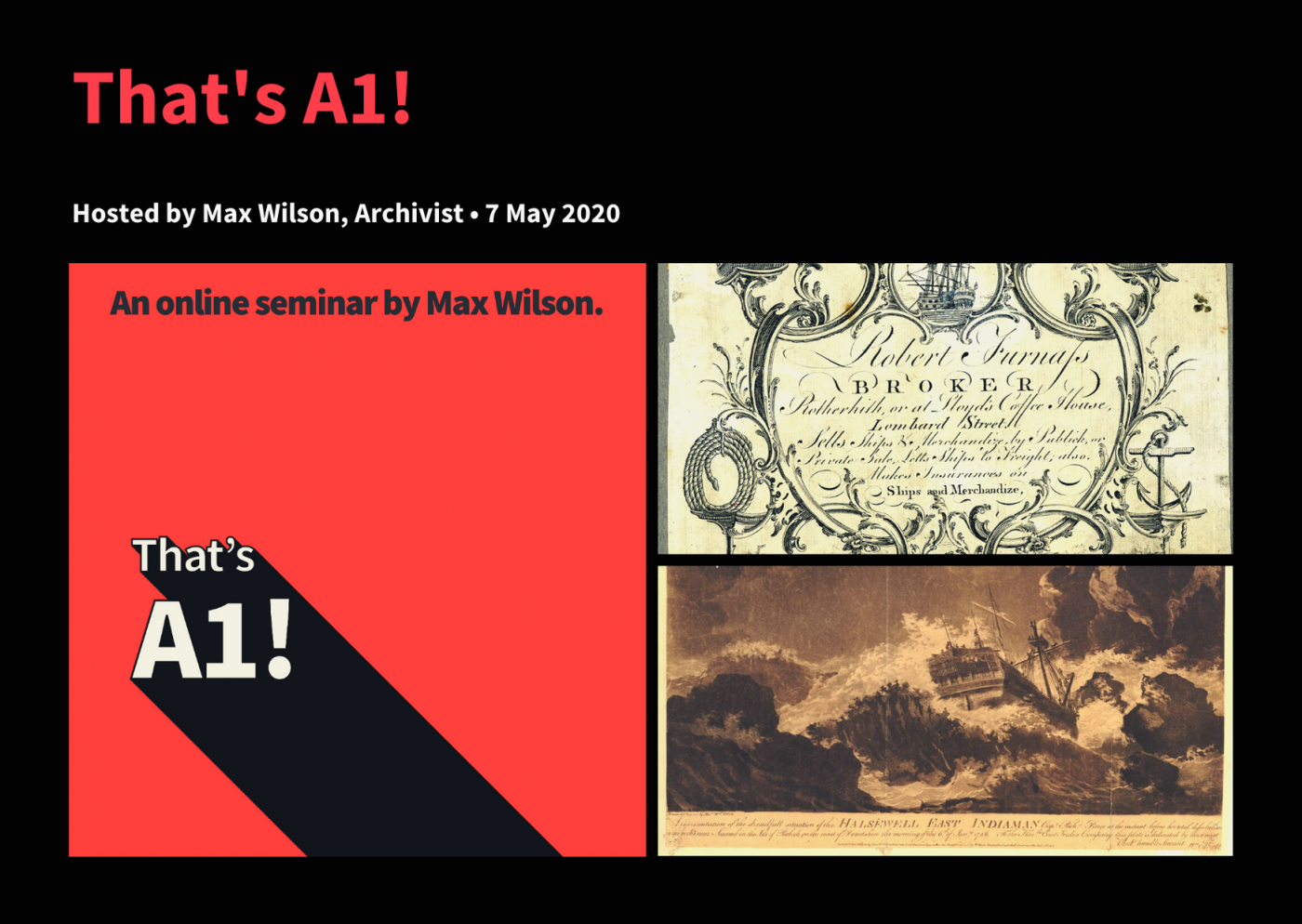 That's A1!
In early May 2020, HEC Archivist Max Wilson presented 'That's A1!', a webinar exploring Lloyd's Register's early history, from the work of our first surveyors to the importance of surveying to save lives at sea and to protect ships. Lloyd's Register is the world's oldest maritime classification society and was influential in the development of marine safety. The webinar also afforded Max the opportunity to delve into the Centre's Ship Plan and Survey Report Collection, to showcase some interesting finds. The full webinar can be viewed here.
The talk was well informed, well paced and the presenter added just enough humour and back ground information to keep the presentation nicely balanced.

So thank you once again for such a good service. Both my husband and I will be viewing the website and certainly hope to enjoy more of your events.

The presentation by Mr. Max Wilson was most interesting, not just of Lloyd's Register, but of shipping in England.
Shoreline: From dry-dock to Shipwrecks
In late June, Applied Research & Outreach Manager, Louise Sanger led a webinar on the wealth of archaeological resources that can be found in our collections. Louise explores the wide-ranging and often unexpected information contained within the Register of Ships, showcases Lloyd's Register's beautifully illustrated composite ship rules, and its vast collections of our digitised ship plans, survey reports, and other sources on shipwrecks. The webinar proved to be a particular hit with members of the Nautical Archaeological Society, which the Centre has collaborated with in previous events. The full webinar can be viewed here.
The webinar provided me with great insight into HEC's collections, which I will definitely be exploring extensively.

A very enjoyable and informative talk.

Thank you for organising these webinars. They are a joy to watch.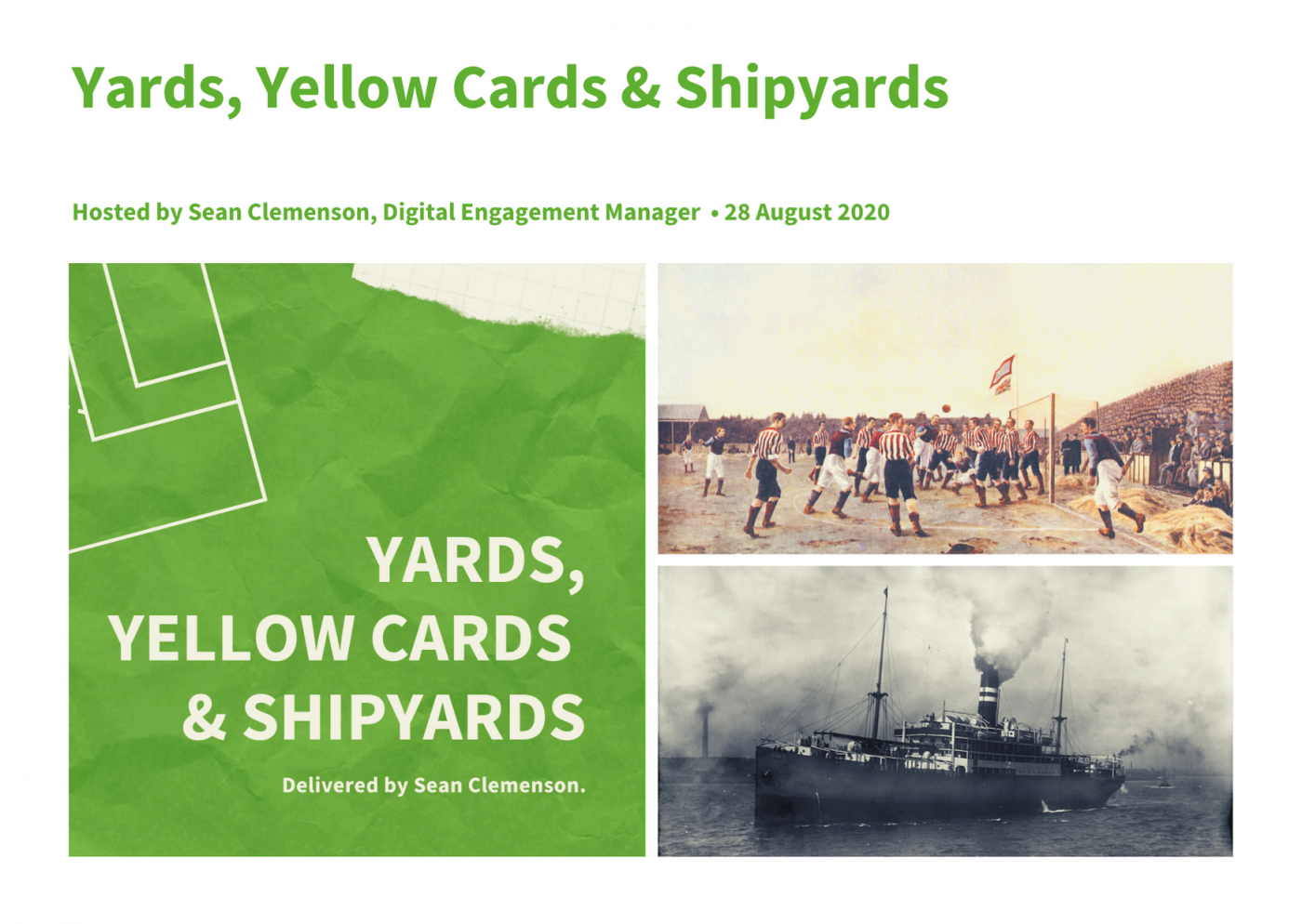 Yards, Yellow Cards & Shipyards
As part of the Centre's new webinar series, Digital Engagement Manager, Sean Clemenson delivered a talk focusing on football's unique relationship with shipping. The seminar, which acts as a companion to the online story page of the same name, looked at maritime communities and their football teams, from A.F.C. Sunderland to Manchester United. The full webinar can be viewed here.
It was a very interesting webinar on a subject I hadn't thought about before.

From a personal point, being a Manchester Utd, fan interested to hear this history, fascinating. Thank you for the research.

The content was really interesting.