Bulk Upload #7: 43,513 new digitised documents released
This week we have imported an additional 43,513 documents on to our website. These items, from our Ship Plan and Survey Report Collection, belong to 1,830 different vessels and 378 different places of build. Interestingly, the most common non-British shipbuilding location in this upload is the small Belgium district of Hoboken, Antwerp. Moreover, for someone that lives in Woolwich, South-East London, I was also pleasantly surprised to find four vessels built in the area by the Northern Irish shipbuilders Harland & Wolff. The upload is so vast there's an interesting item for everyone; and in the text below we picked out a few more of our favourites.
Steel Yacht Report for Narcissus, 11th March 1905 (LRF-PUN-W316-0259-R) and Correspondence Memo from Lloyd's Register, London (LRF-PUN-W316-0267-L)
This entry report is the first document we have for the Narcissus; a steel yacht constructed in 1905 by the Glaswegian company Fairfield Shipbuilding & Engineering Co Ltd. She was one of the earliest yachts to use turbines with water vapour. During the First World War she was requisitioned by the Royal Navy and served as a patrol vessel. In the Second World War she was requisitioned once more and renamed in HMS Grive. In 1940, she assisted in the Dunkirk evacuation. She made 3 trips saving at least a 1000 lives. Unfortunately, at some point near the 1st of July 1940 she was struck by a mine with the loss of all the crew.
Alongside her first entry report is a memo regarding her fate from our London headquarters to a surveyor of the vessel. To view all our records for this vessel, follow this link.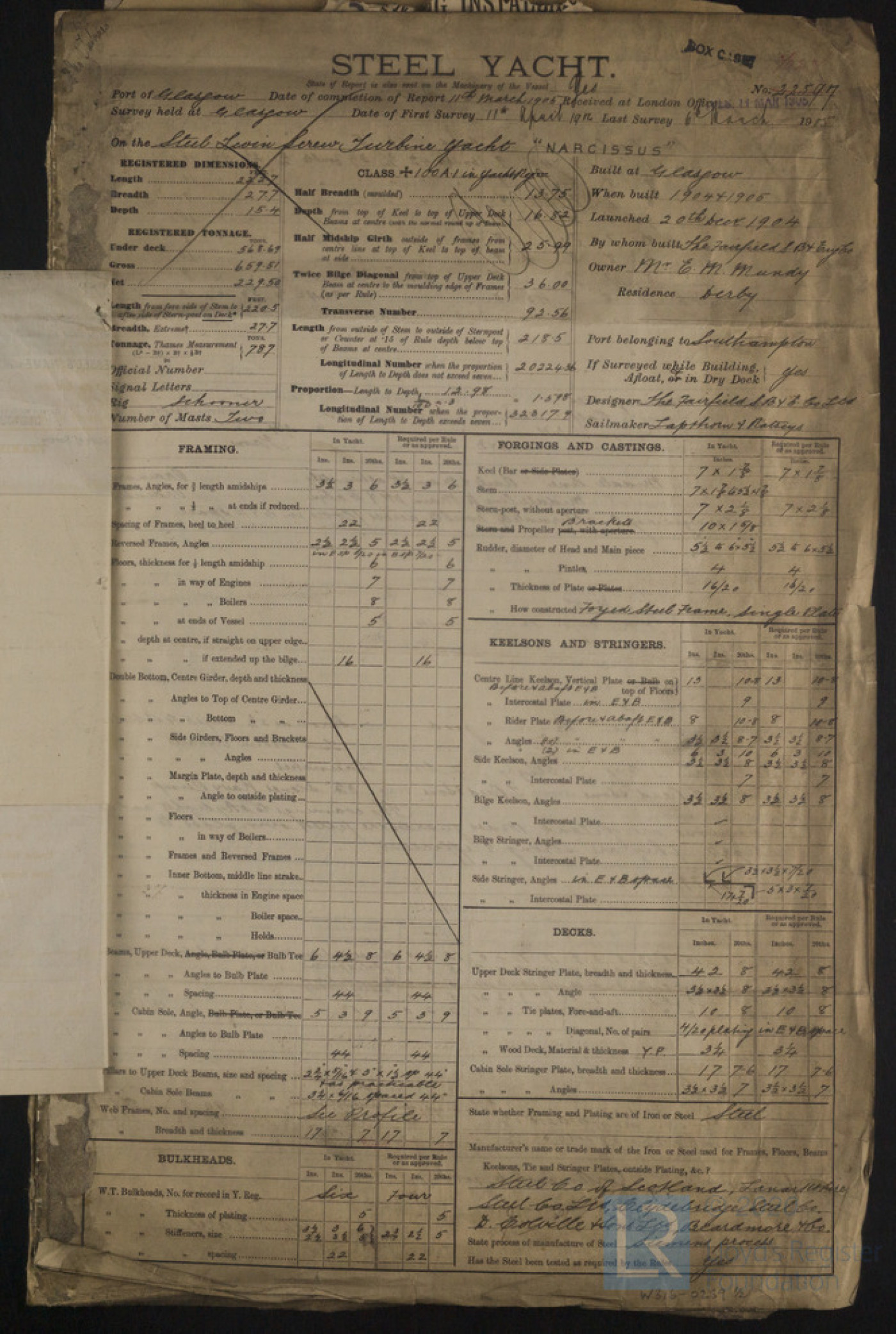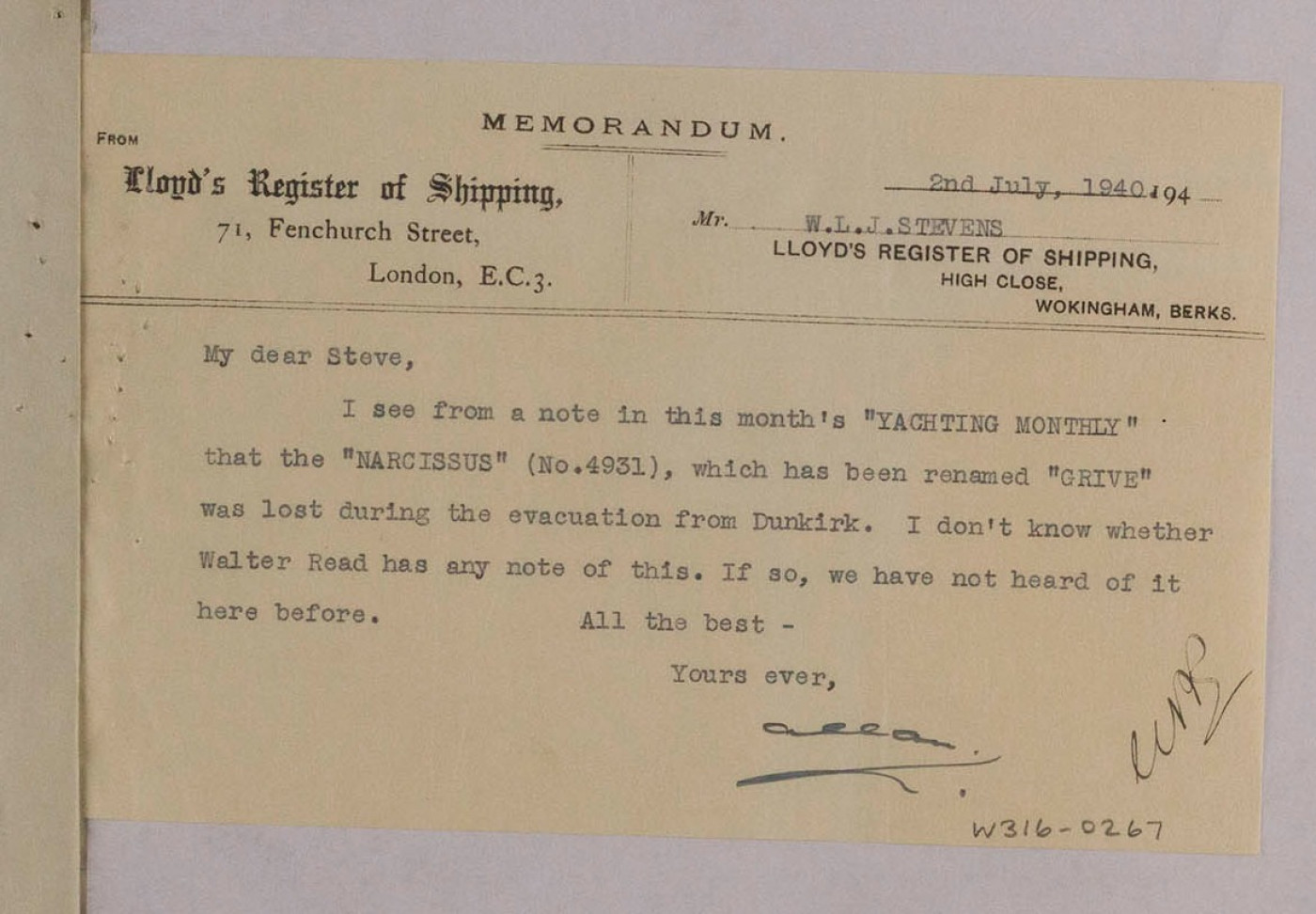 Photograph of Stranding of Ilfracombe, 21st September 1945 (LRF-PUN-W1052-0019-G)
Ilfracombe was declared a total loss after a severe storm forced the vessel to become grounded on the Irish coast in September 1945. She was then refloated and broken up. She was constructed more than half a century earlier, in 1897, by the shipbuilders Mackie & Thomson. You can find more items for this vessel here.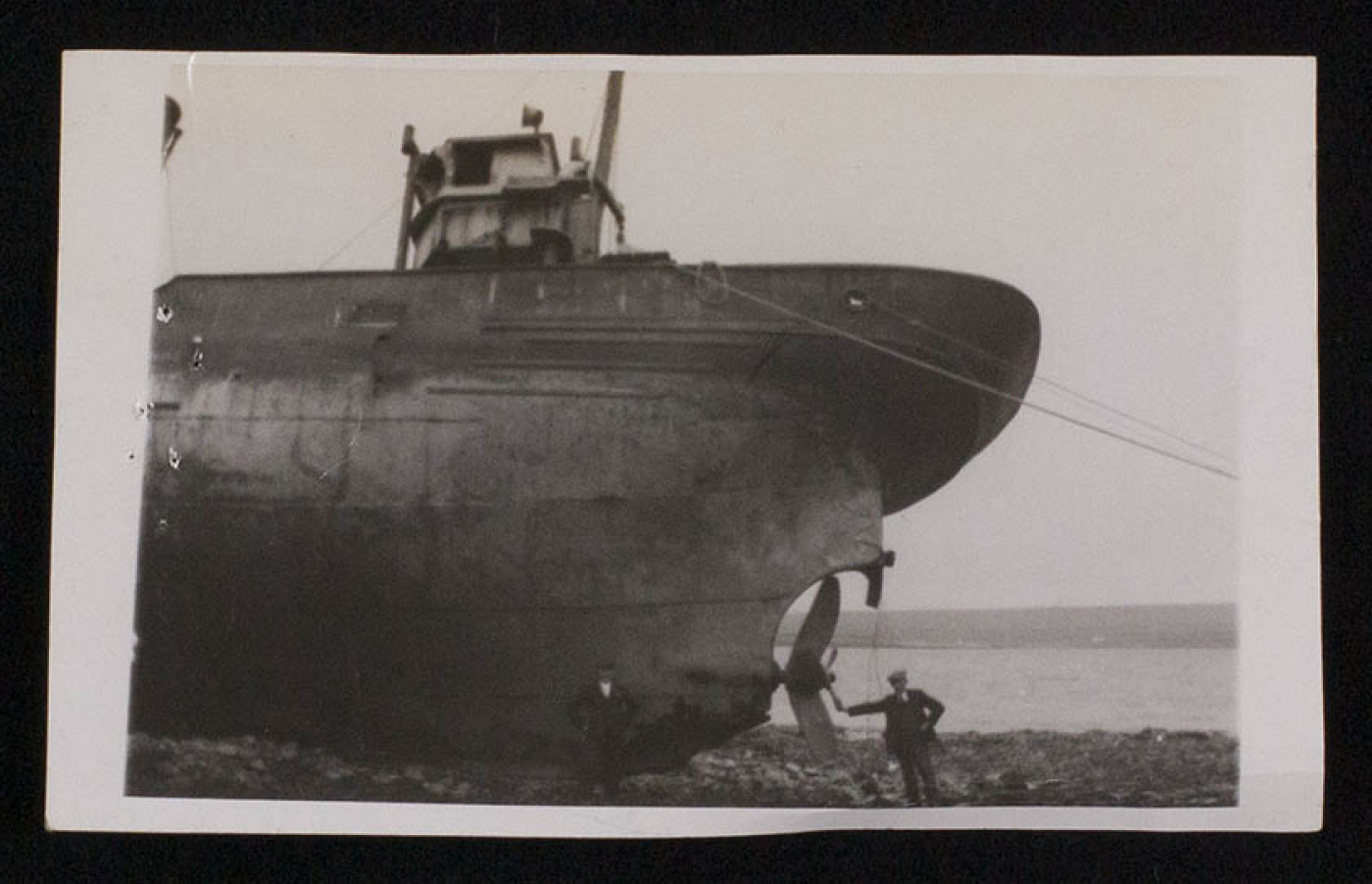 Extract from the Bulletin of the Sunderland Shipping Co, New York (LRF-PUN-W675-0189-O)
This 1928 extract from the Bulletin of the Sunderland Shipping Co. exalts the heroism of the Scottish tanker Chucky. Whilst carrying crude oil from San Pedro to Japan, the tanker weathered both a typhoon and then a hurricane. Then, having survived these atrocious conditions, she suffered an internal explosion and broke in half 220 miles east of Yokohama. 21 survivors managed to escape in a wooden boat, but as the seas were still too rough they mostly drifted until they were found hours later by a Japanese trawler.
It is a worthwhile item to mention if only for the extracts opening line: 'Among the annals of sailing ship history there is no tale more heroic that a story of today, enacted on the tanker 'Chuky' on the Pacific.'
To view more documents for this vessel, follow this link.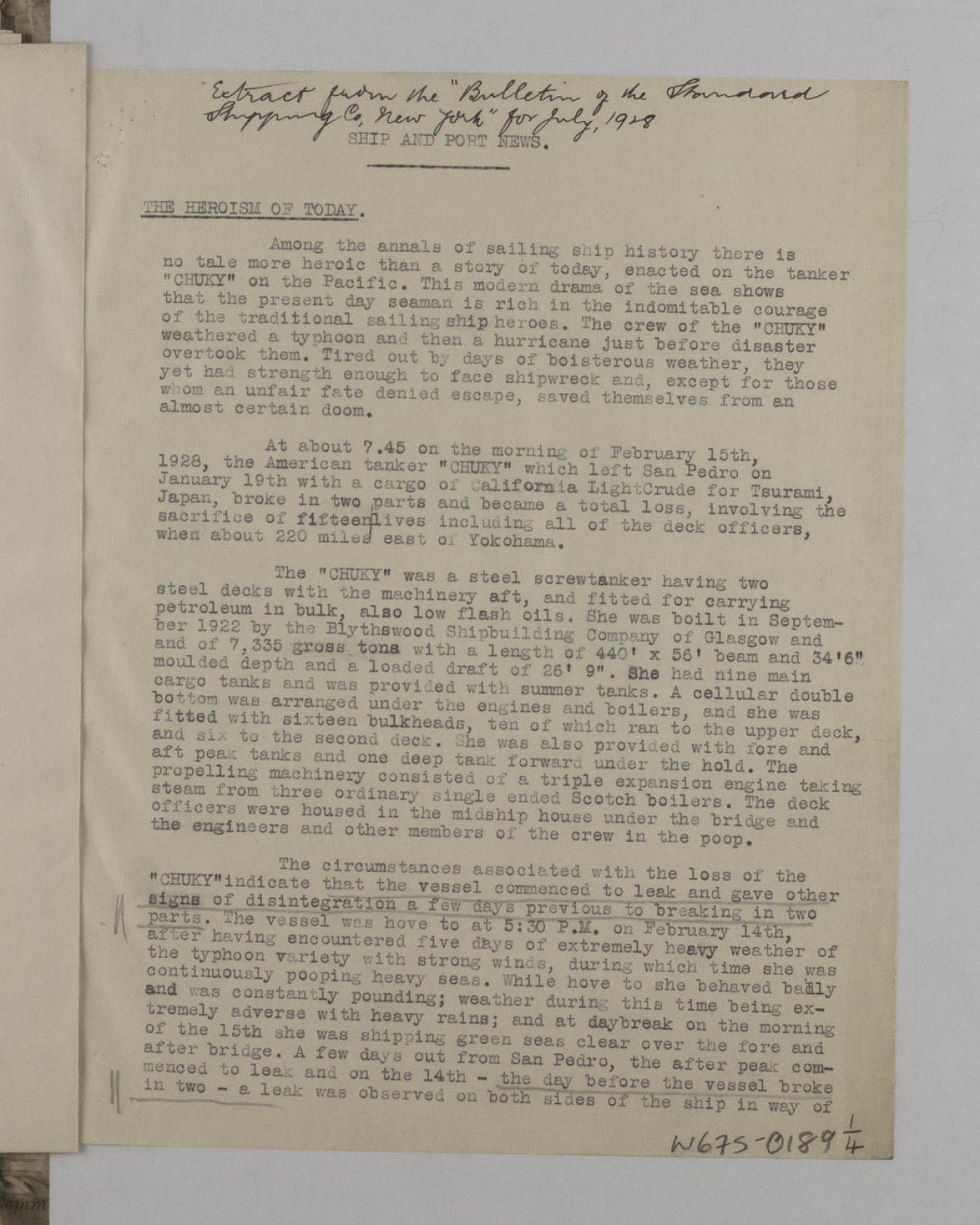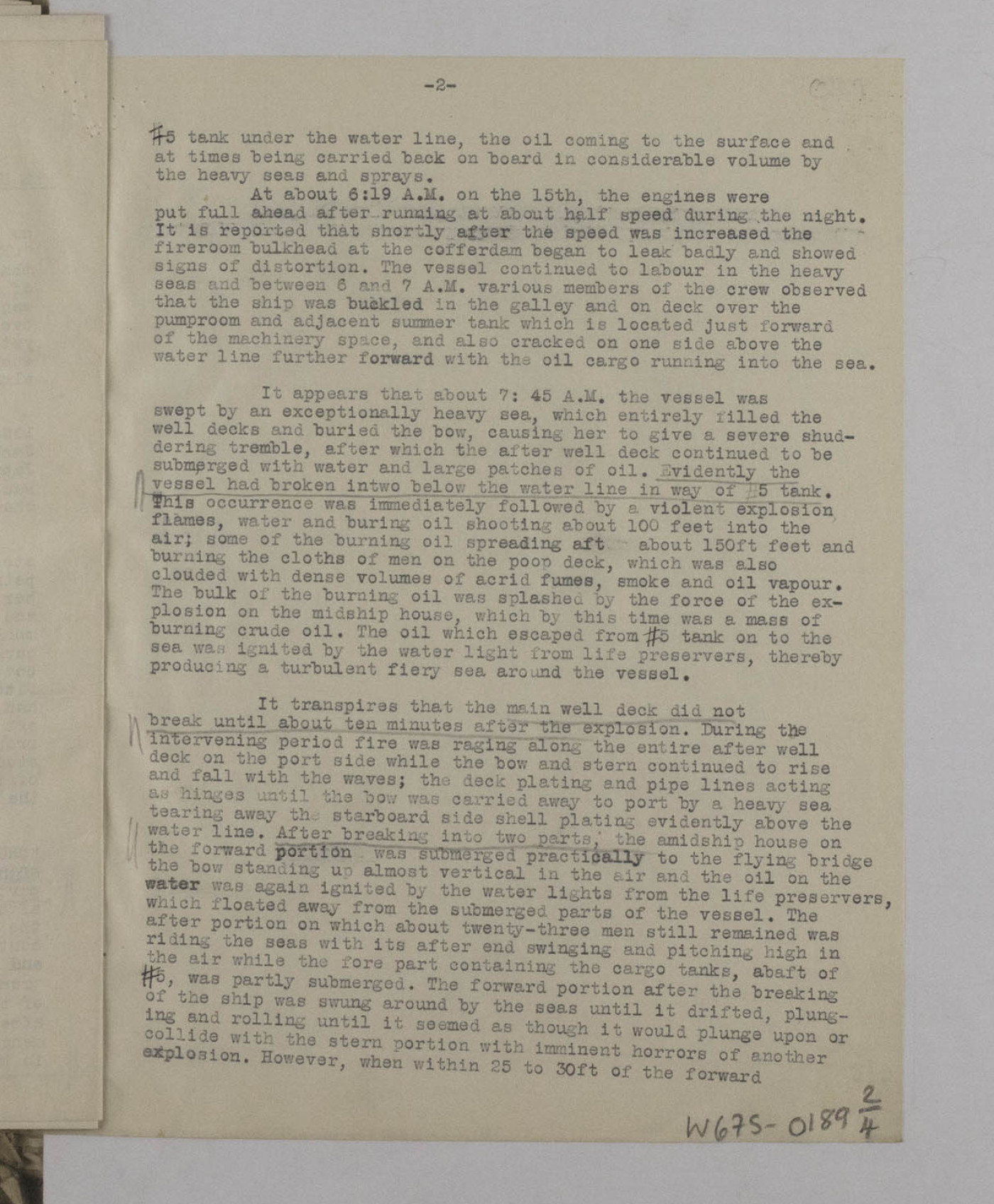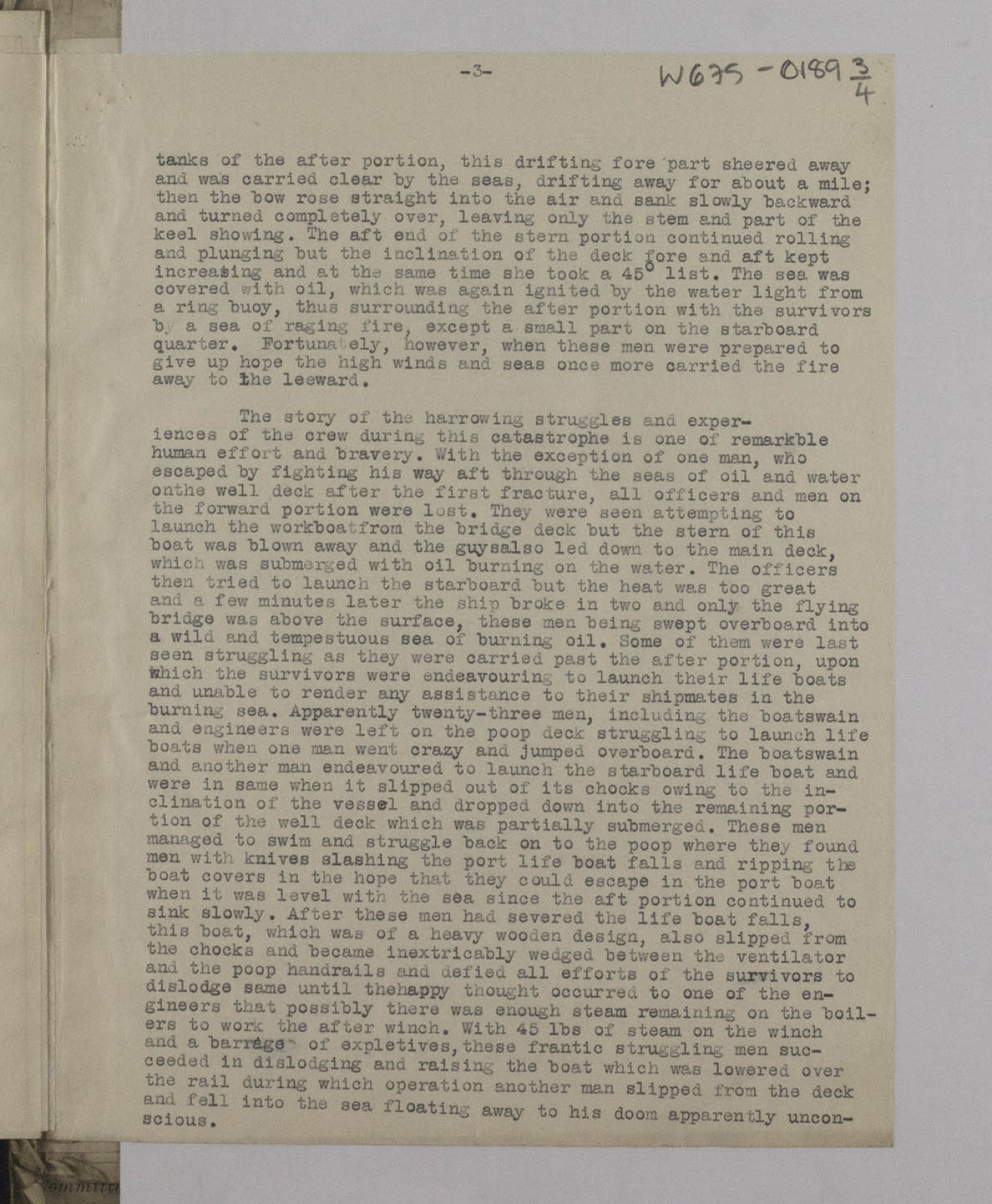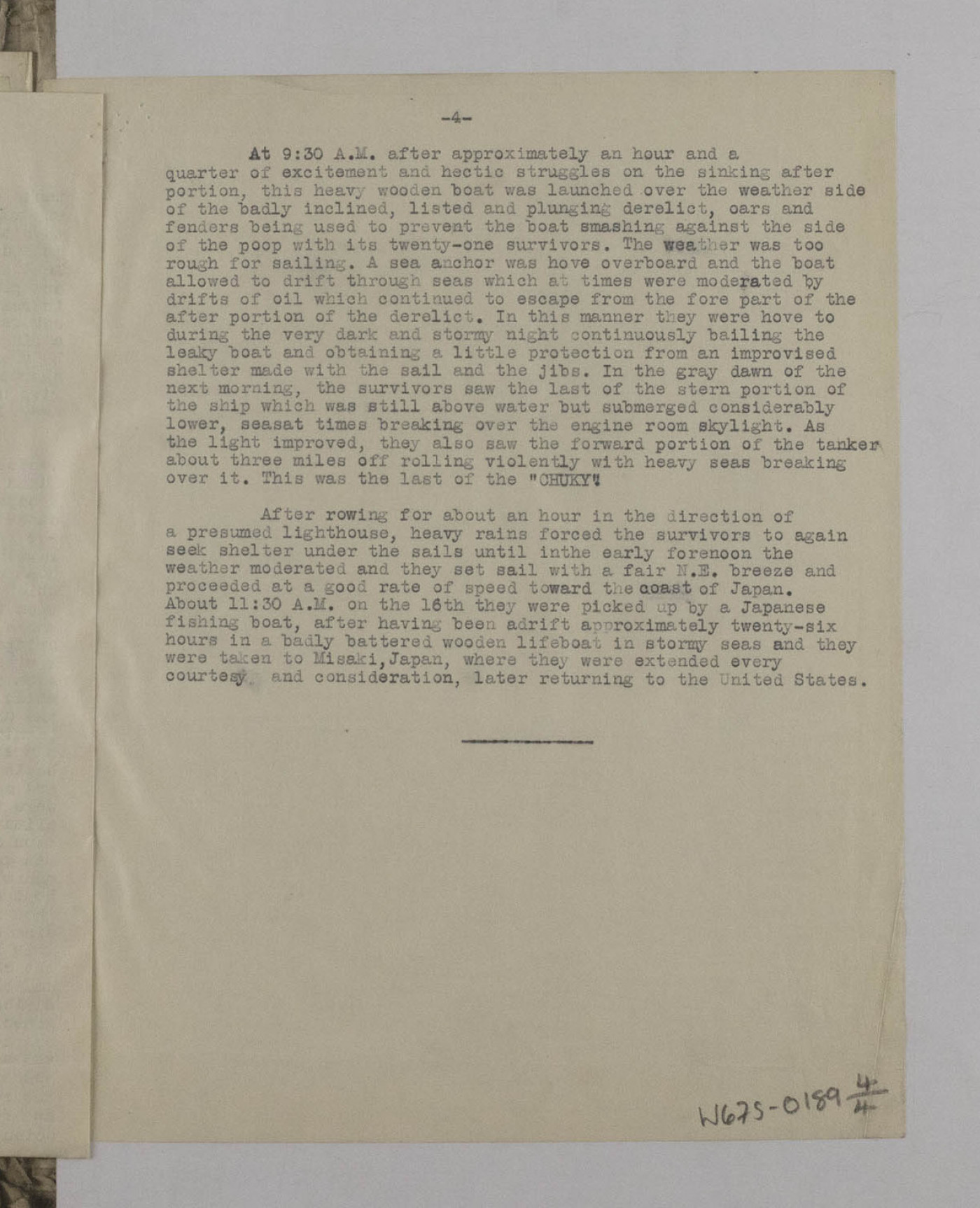 Letter from Acting Colonial Secretary, to The Secretary, Lloyd's Register, New York, regarding Lady Cordeaux, 7th August 1923 (LRF-PUN-W1556-0036-L)
Lady Cordeaux was a wooden tug tender owned by the Bahamian Government. It was named after the wife of Colonial Governor Sir Harry Cordeaux. In 1928, she assisted in the rescue of 75 survivors aboard from the wreck of a passenger liner Munamar near The Abacos Hole in The Wall Lighthouse. She also survived the Category 5 hurricane that struck the Bahamas in 1932.
To view more records for this vessel, click this link.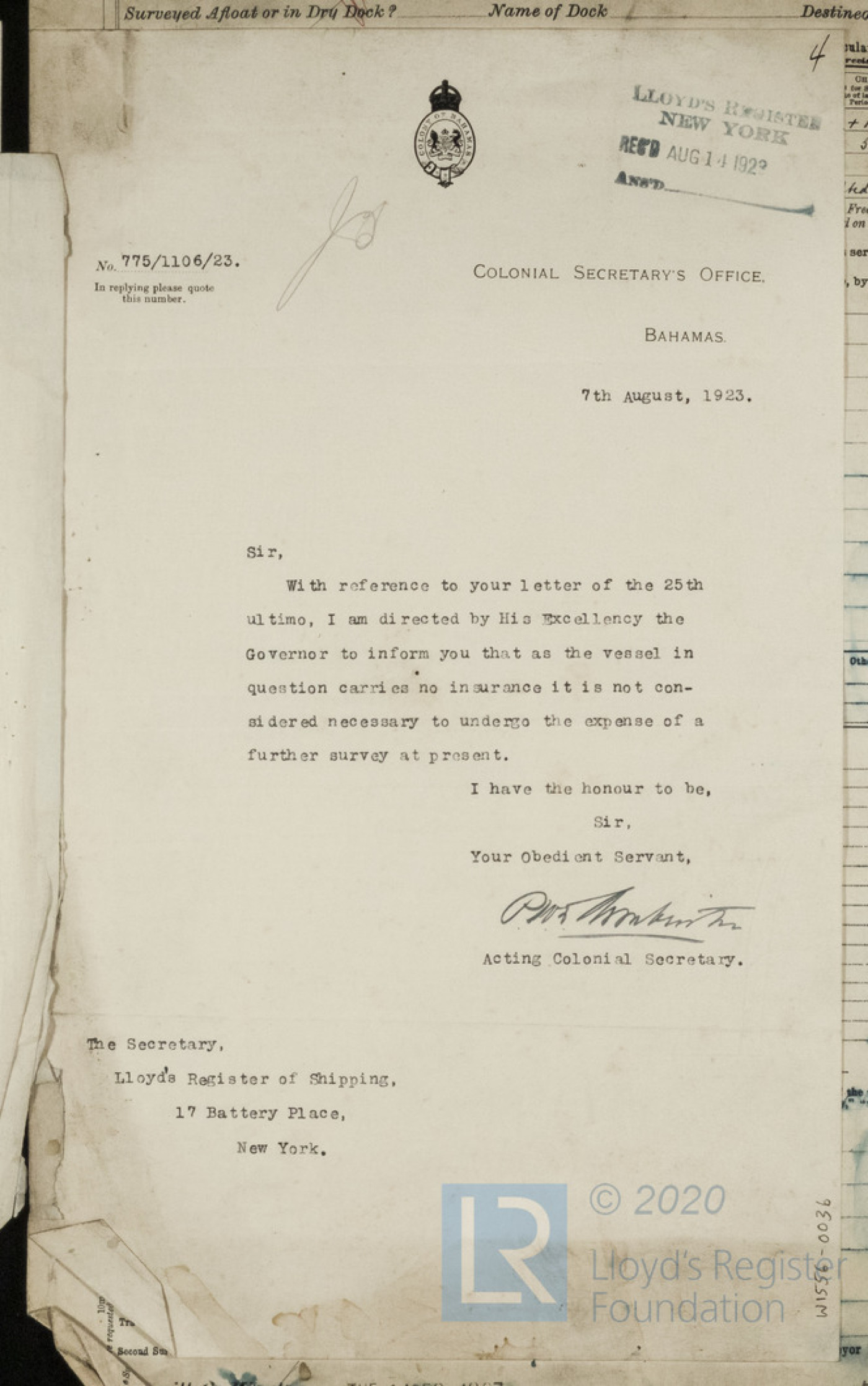 Profile Plan for Ripogenus, Undated (LRF-PUN-009387-009400-0060-P)
Ripogenus was a vessel owned by the Great Northern Paper Company, which was a Maine-based pulp and paper manufacturer. At its height the company made 16.4 of the newsprint manufactured in the United States. The wooden ship was launched in 1919 having been constructed by Francis Cobb Shipbuilding Co in Rockland, Maine. Her listed destined voyage was to Norfolk, Virginia. Further details and records for this vessel can be found here.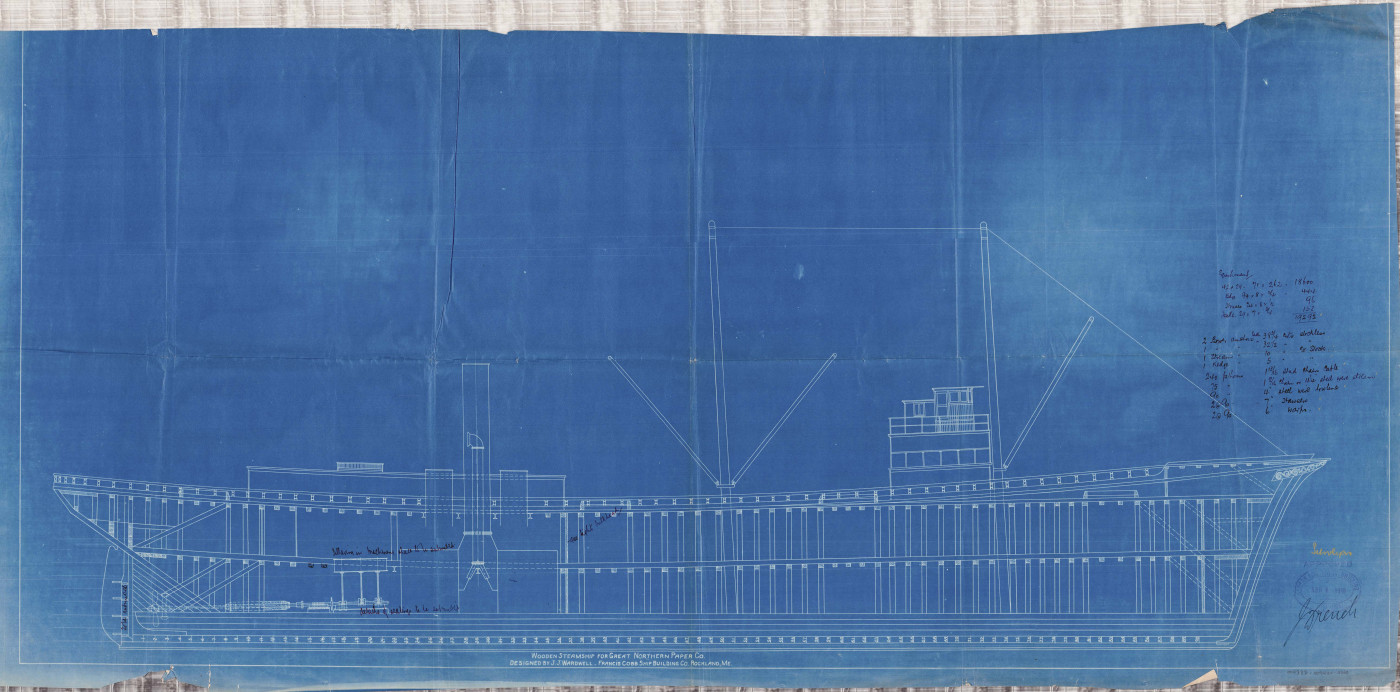 Sample of Bituminous Cement, used in the construction of Barao de Cameta, 1911 (LRF-PUN-006723-006730-0311-O)
To underscore the diversity of our collection, I thought it would be interesting to end on a more unusual item - a 110 year-old sample of cement. This sample is taken from the steamship Barao de Cameta, which was constructed in Middlesborough-On-Tees by Smith's Dock Co Ltd. On our website, we hold almost 300 documents for this British shipbuilder, which you can view here.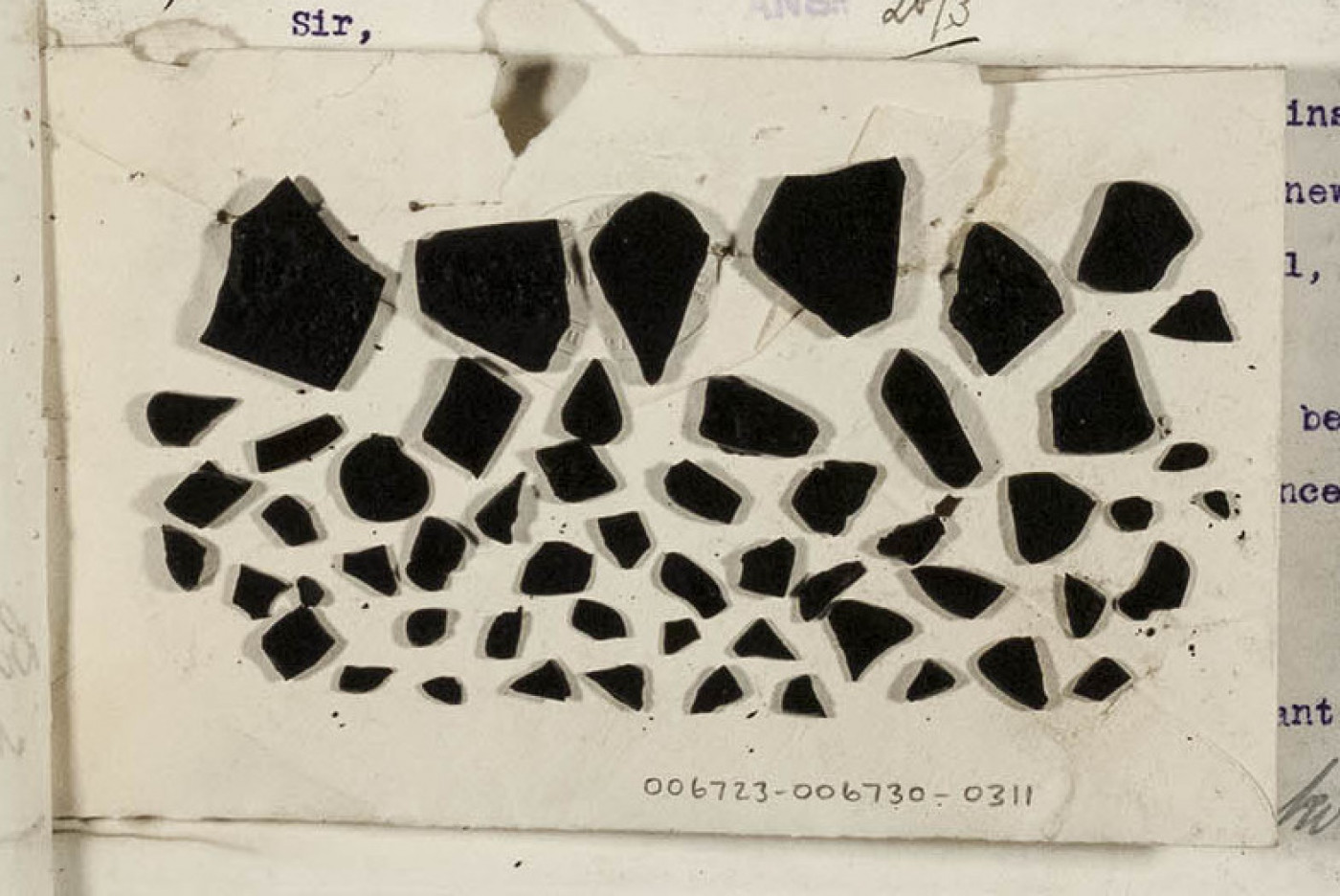 In the interactive map below we have detailed the top European places of build within this bulk upload.
The Heritage & Education Centre team is currently planning to release the next bulk upload of digitised documents by the end of December. To stay updated about the release of this upload and all future uploads, please sign up to our mailing list or follow us on social media - Twitter, Facebook, Instagram.