Document
Isabella
Isabella, a former Hull-built merchant vessel of 385 old measurement tons, was purchased by the Admiralty along with the Alexander, and would be personally commanded by Ross. Parry, would take the Alexander. Together, both ships were sailed to Deptford in January 1818 and converted for the perils of Arctic service.
This included sharpening the bows, reinforcing her internal structure with quarter inch iron plating, doubling planks and ensuring an adequate supply of essentials; ice anchors, ice poles, saws, hand drills, canvas, 56,000 iron nails, and more than 3,000 extra feet of timber for any necessary repairs.
Crewed by experienced whalermen, the Admiralty offered all men double pay and issued them with fur blankets and warm winter clothing. Among the most prized possessions were a well-stocked library of reference books on Arctic science and exploration, an array of scientific instruments, luxury items to trade with, and nearly 130 gallons of gin and brandy!
All four ships departed together from the Thames on 25th April up the east coast to Lerwick. There the two expeditions parted ways, both bound for Arctic.
View full details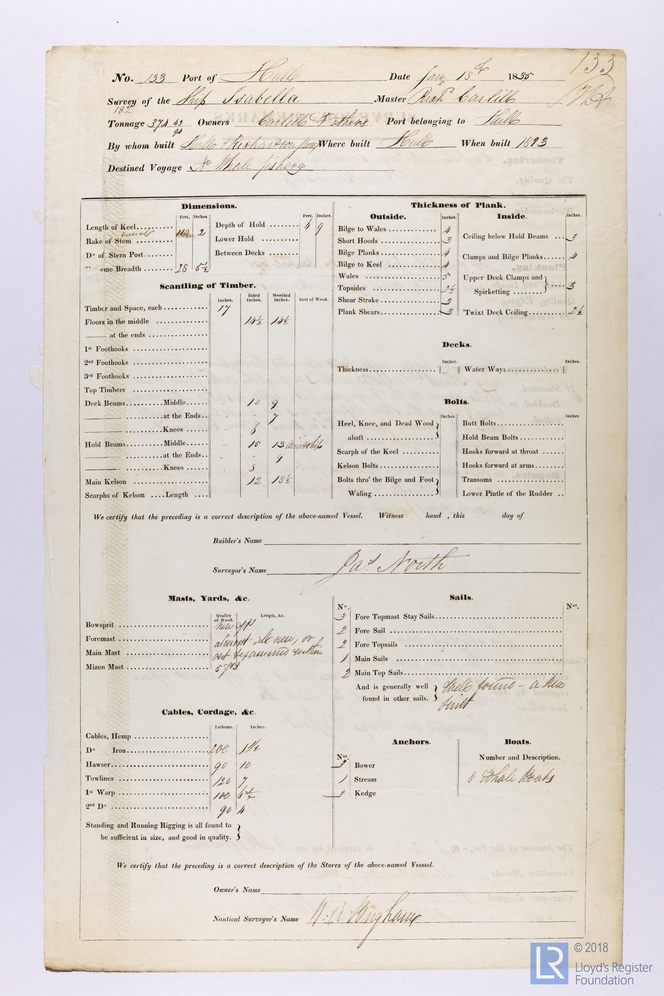 Document
Felix
The keel of the Felix was laid down in March 1849 at Ayr by the shipbuilders Sloan and Gemmell. Measuring a total of 92 new tons and 70 feet in length, she was inspected prior to launch by Lloyd's Register's Surveyor, John B Cumming. Her survey report exists here, listing her owner as 'Sir John Ross C.B. etc. etc.' and her destined voyage as 'Ayr to northern expedition.'
View full details