The Lloyd's Register Foundation Heritage & Education Centre (HEC), in collaboration with Lloyd's of London, are pleased to announce the digitalisation of the Missing Vessel Books. From April 2023, the Missing Vessel Books are freely available across Archive.org, Google Books and the HEC website.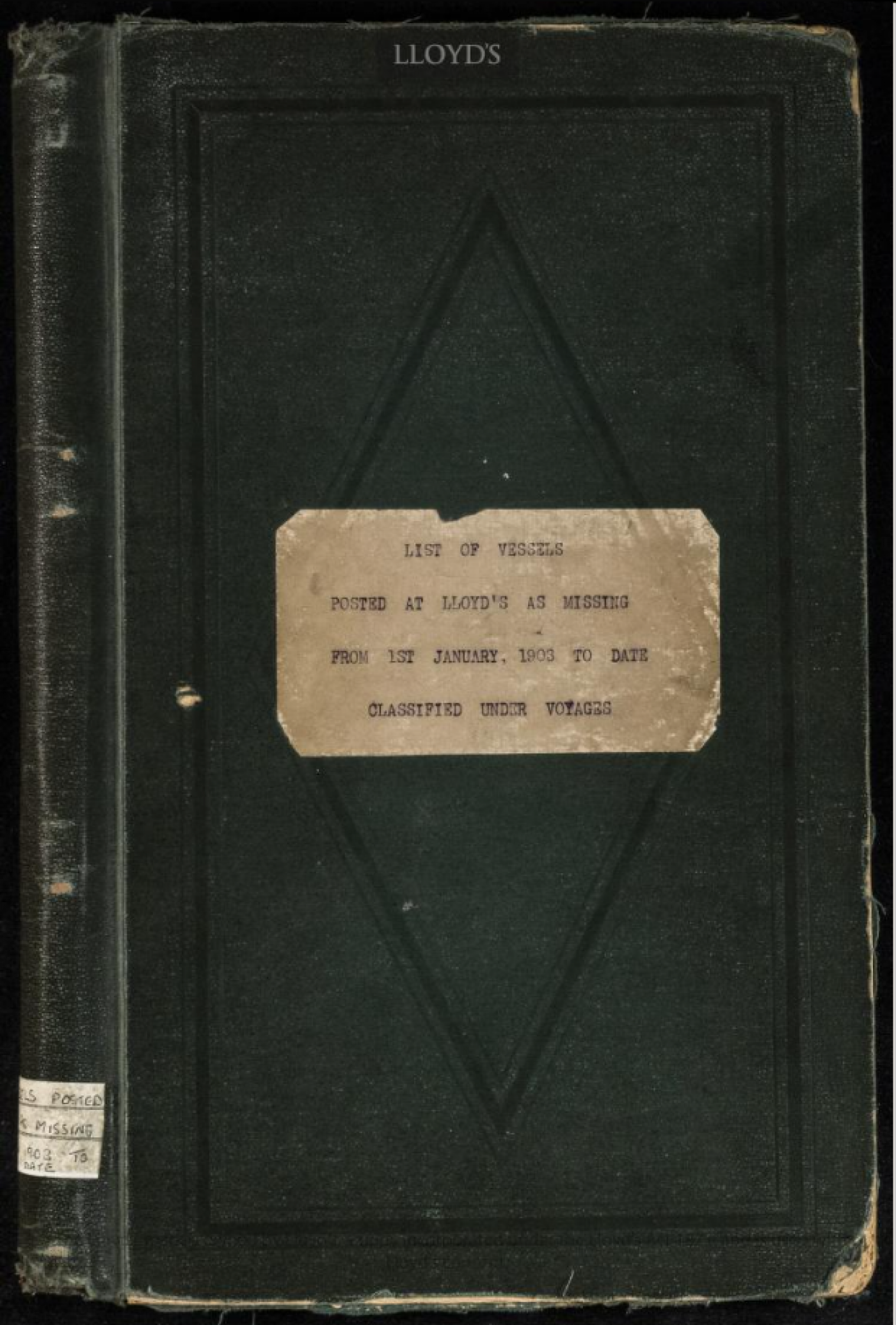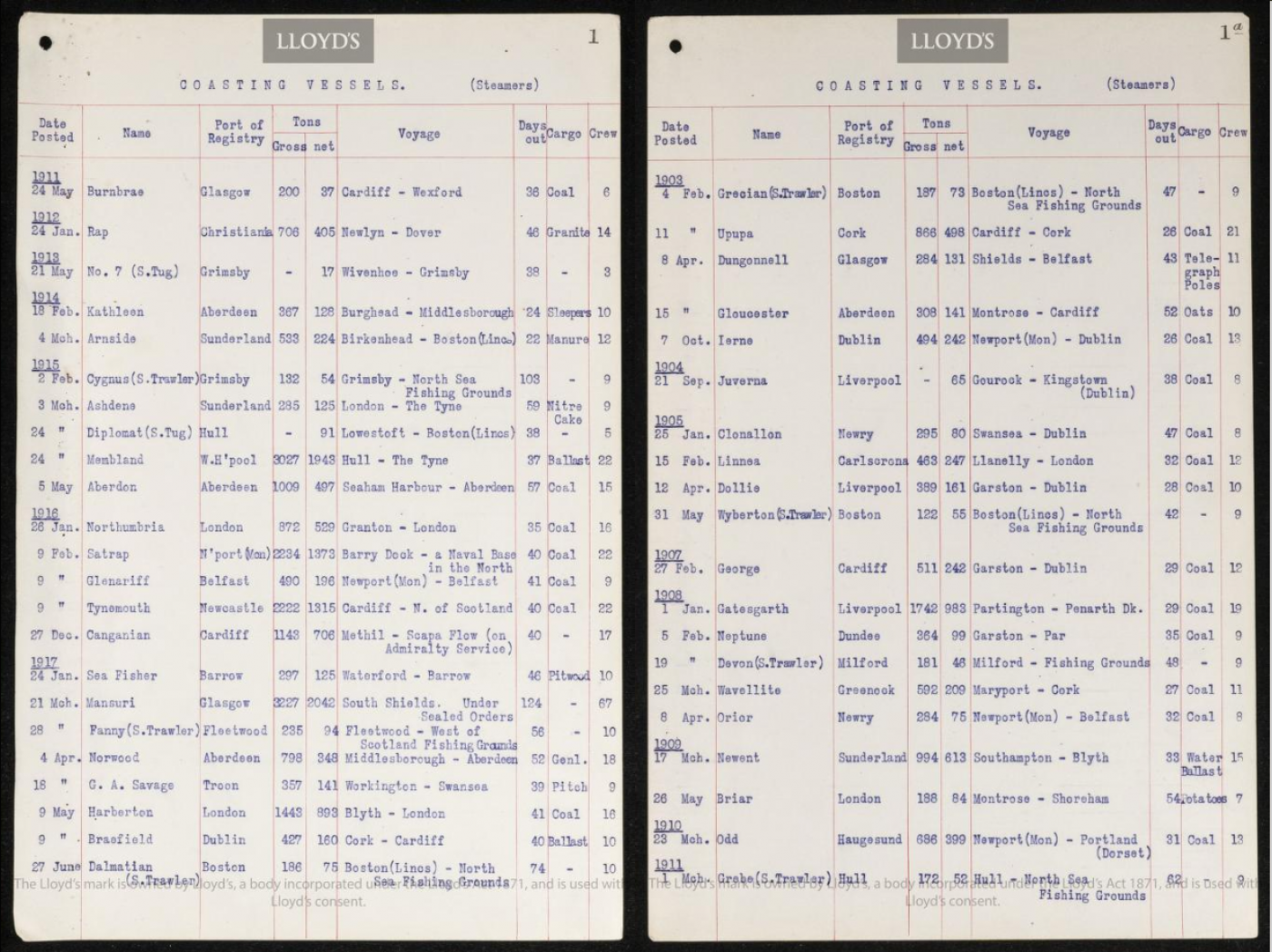 Lloyd's of London's Missing Vessels Books

What are the Missing Vessel Books?

Lloyd's of London's Missing Vessels Books are part of the Lloyd's Marine Collection, which encompasses the historical marine records of Lloyd's of London both in manuscript and printed form. The collection was deposited on a permanent loan at London's Guildhall Library in the late 1970s. The Missing Vessels Books are a manuscript resource listing all the ships posted as missing to Lloyd's of London, a resource originally used to settle insurance claims.

Although Lloyd's of London started keeping track of the missing vessels in 1866, the earliest volume to survive covers the years 1874 to 1875. The books were produced until 1954 and state details of the ship at the time of her disappearance, including the port of registry, voyage and cargo. At times, the books also contain the names of the insurers or cuttings from Lloyd's List. The fourteen books are arranged chronologically, each volume covering an irregular number of years. The ships recorded are listed in alphabetical order.
Why are the books useful?
The Missing Vessels Books are a unique resource portraying the common issue of disappearing ships at sea. Little to no information is known about what happened to these ships and their crews, primarily because there were no survivors to tell the story. Modern technology is helping maritime archaeologists, and others involved in seabed mapping and exploration to locate a multitude of shipwrecks, and the Missing Vessels Books can assist in their identification.
The Heritage & Education Centre has digitalised the books to maximise the reach of this small but endearing collection among researchers and enthusiasts. Although Lloyd's Register (LR) and Lloyd's of London are two separate organisations, this is an exciting step in making key archival collections more accessible.

The Missing Vessel Books are available across three platforms:
Towards a National Collection: Unpath'd Waters
The digitalisation of the Missing Vessel Books is contributing to the Towards a National Collection, Unpath'd Waters discovery project, aiming to make sense of and identify wrecks on the seabed that have remained unidentified and unknown.

Towards a National Collection is a major five-year £18.9 million investment in the UK's world-renowned museums, archives, libraries and galleries. Funding is provided through UK Research and Innovation's Strategic Priorities Fund and delivered by the Arts and Humanities Research Council (AHRC). The programme will take the first steps towards creating a unified virtual 'national collection' by dissolving barriers between different collections – opening UK heritage to the world.

Unpath'd Waters aims to increase interaction with the UK's maritime heritage by making it easier to research and enable the public to discover and share stories in new ways. Despite its importance, it is not always easy to study our maritime heritage. Records, charts and objects are scattered across hundreds of different archives, museums, libraries and galleries. A large part of their work will be to develop new ways of making information across these different collections easy to search and find.

Karen Bigwood, who is leading the project at Lloyd's of London said "Lloyd's of London are delighted that its Missing Vessels Books will be freely accessible as part of the important Unpath'd Waters project and are very grateful to Lloyd's Register Foundation. We look forward to seeing what can be revealed from this largely untapped resource."

Barney Sloane, Principal Investigator at Historic England said "The launch of this marvellous new digital resource will provide a leap forward in helping to identify wrecks on the seabed whose names are currently unknown. Unpath'd Waters is testing the value of using Artificial Intelligence to find connections between different maritime collections. For the first time, we can experiment with joining survey data with Missing Vessel data to see if we can help solve the mystery of what happened to at least a few of those."

Explore the entire Missing Vessel Book catalogue. To stay updated about future uploads, sign up to our mailing list or follow us on social media.