Insights from the 2023 UK Maritime Heritage Forum Conference
The 2023 theme for the annual UK Maritime Heritage Forum Conference was Transformation and Renewal. The papers highlighted the impact of physical, cultural, and personal transformation in heritage practice.
Examples from all over the UK demonstrated the efforts to connect with and cater to the local communities, maritime and beyond. The Merseyside Maritime Museum (National Museums Liverpool), the conference's host, welcomed the delegates with a striking keynote presenting the proposed transformation of the historic Liverpool waterfront to become a museum without walls to bring the community together in its largest communal space, interpreting and providing access to the dry docks, as well as creating a new contemplation space on-site to reflect on the early modern British slave trade.
The willingness to communicate the importance of our maritime heritage was widely shared, with interpretation projects of all scales presented, from the ambitious Albion Dockyard Project in Bristol to the community-led Sea Wall Heritage Trail in Scarborough.
Discussions around the UK's historic harbour estate raised the challenge of engaging with younger people regarding apprenticeships and transferring traditional knowledge. At the same time, it was clear from the experiences shared that a more intimate connection between maritime heritage professionals and practical aspects of shipbuilding and seafaring would boost the understanding of heritage objects and historic ships.
It was captivating to hear about successful engagement initiatives with secondary school students, including sailing the authentic wooden smack Excelsior and reinventing past histories through role play at the Tall Ship Glenlee.
LRF's Heritage & Education Centre contributed to the conference by sharing insights from our latest exhibition, SHE_SEES, now available online. Sarah Mott, Interpretation Coordinator at the Heritage & Education Centre, comments: "Speaking at the UK Maritime Heritage Forum was a great opportunity to showcase our findings of the Rewriting Women into Maritime initiative and the SHE_SEES exhibition displayed during London International Shipping Week."
"Over the past year, we, along with our partners, have completed extensive research behind the scenes, unearthing archives from across the UK and working with key players in the industry to begin to rewrite the narrative of the shipping industry as a predominately masculine space and showcase the variety of roles women have held historically in the industry."
"Representation matters; how can we inspire young women and girls to consider a career in the maritime industry otherwise? With SHE_SEES, we wanted to bring to life the amazing stories of women within the industry and be a catalyst for diversity, which remains a challenge today."
We look forward to another year of productive initiatives in the UK's maritime heritage sector and cannot wait to join our colleagues next year in Cornwall.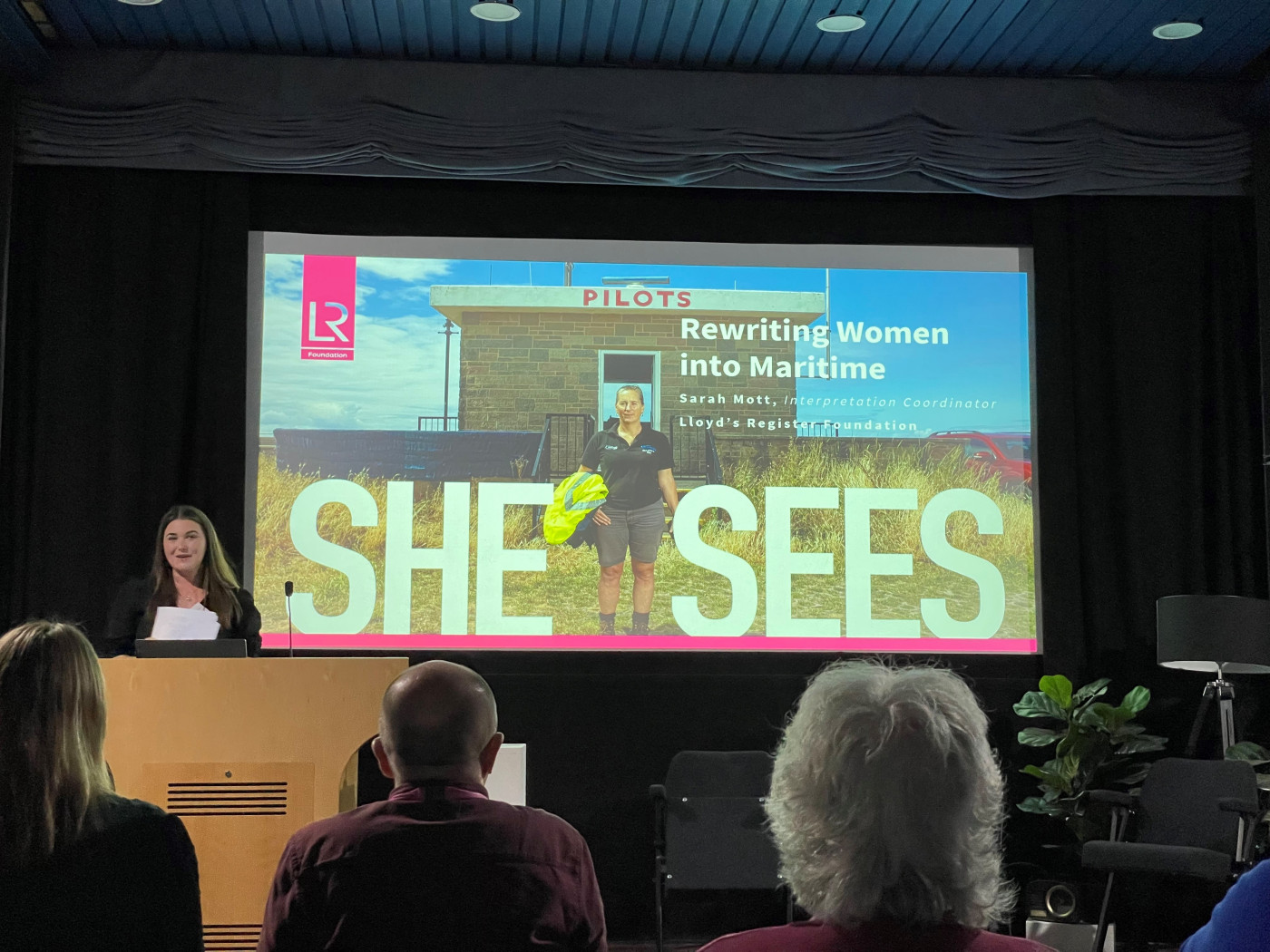 Sarah Mott presenting the SHE_SEES exhibition at the 2023 UK Maritime Heritage Forum Conference.