We have mentioned Lloyd's Register's (LR) love of cricket, football and golf on many occasions before, but the likes of yoga, bridge, and the Arts & Crafts Guild remained rather absent from our blogs and online exhibitions. It's about time we highlighted LR's more 'unusual' social clubs that were all the rage during the 1970s and 1980s.
The first club that is worthy of recognition is yoga. Formed in May 1977, it became a favourite for many staff members and was met with considerable success! Many employees were initially reluctant to take up yoga and doubted the benefits of the sport, so Society magazine featured an article talking at great length about the benefits of the sport in order to win over any sceptics!
The 1978 Society magazine article said people practiced yoga to fulfil the goal of human happiness- a feeling of contentment, tranquillity and well-being.
'Human happiness is at the heart of the sport'. – Society Magazine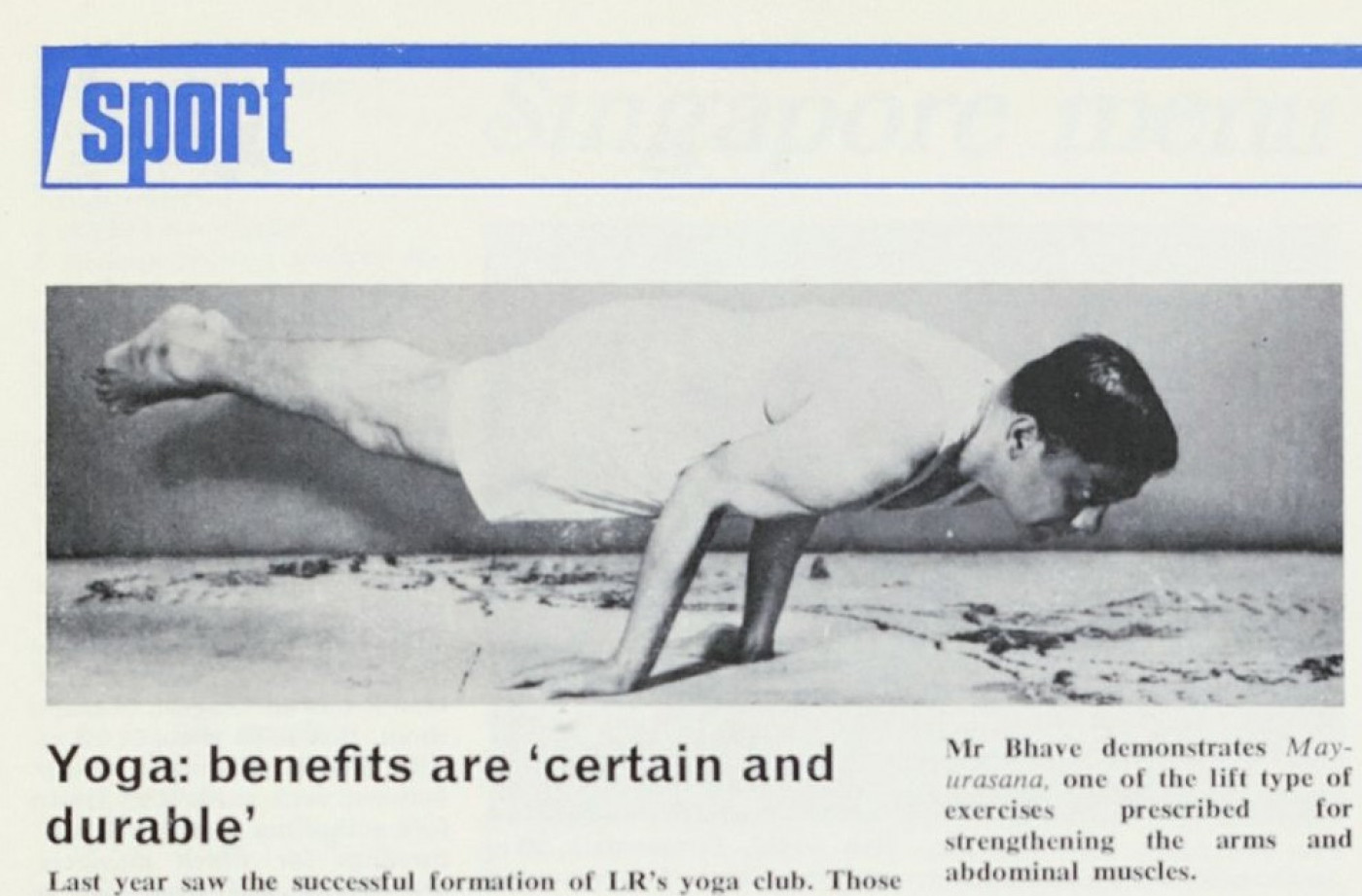 The practice of yoga and its relation to the purification of the mind and self-realisation as a means of achieving human happiness originates from the studies of Indian Sages. They defined eight steps to achieving this goal of human happiness through yoga, and the following are a few examples:
A place of experience that should be free from draughts.
Women can wear what they wish, but men are required to wear some form of support.
The morning hours are preferable for exercise, but never less than an hour before or three hours after a full meal.
Approximately four to five exercises, spread out over fifteen to twenty minutes a day.
The 'dead body' posture must be the last step in the routine to normalise the stresses.
Unlike the other sports clubs at LR, there is no competition in yoga; with yourself or others. The Yoga Club did not have numerous shields or trophies lining the walls that the likes of Golf and Cricket accumulated over the years. It is instead about achieving long term health benefits for both the body and mind.
Colleagues at LR attended yoga for a variety of reasons; to improve their health or as a relaxation technique. One member commented: 'I practice yoga for relaxation and health reasons. I always feel better and fresher the day after a class and more relaxed' while another said 'yoga is less arduous than jogging and as beneficial, but in a different way. To put it in a nutshell, yoga is a long-term insurance policy on one's health'. Whatever people's reasons to practice this sport, it became an increasingly popular recreational activity for LR staff over the 1970s and 1980s.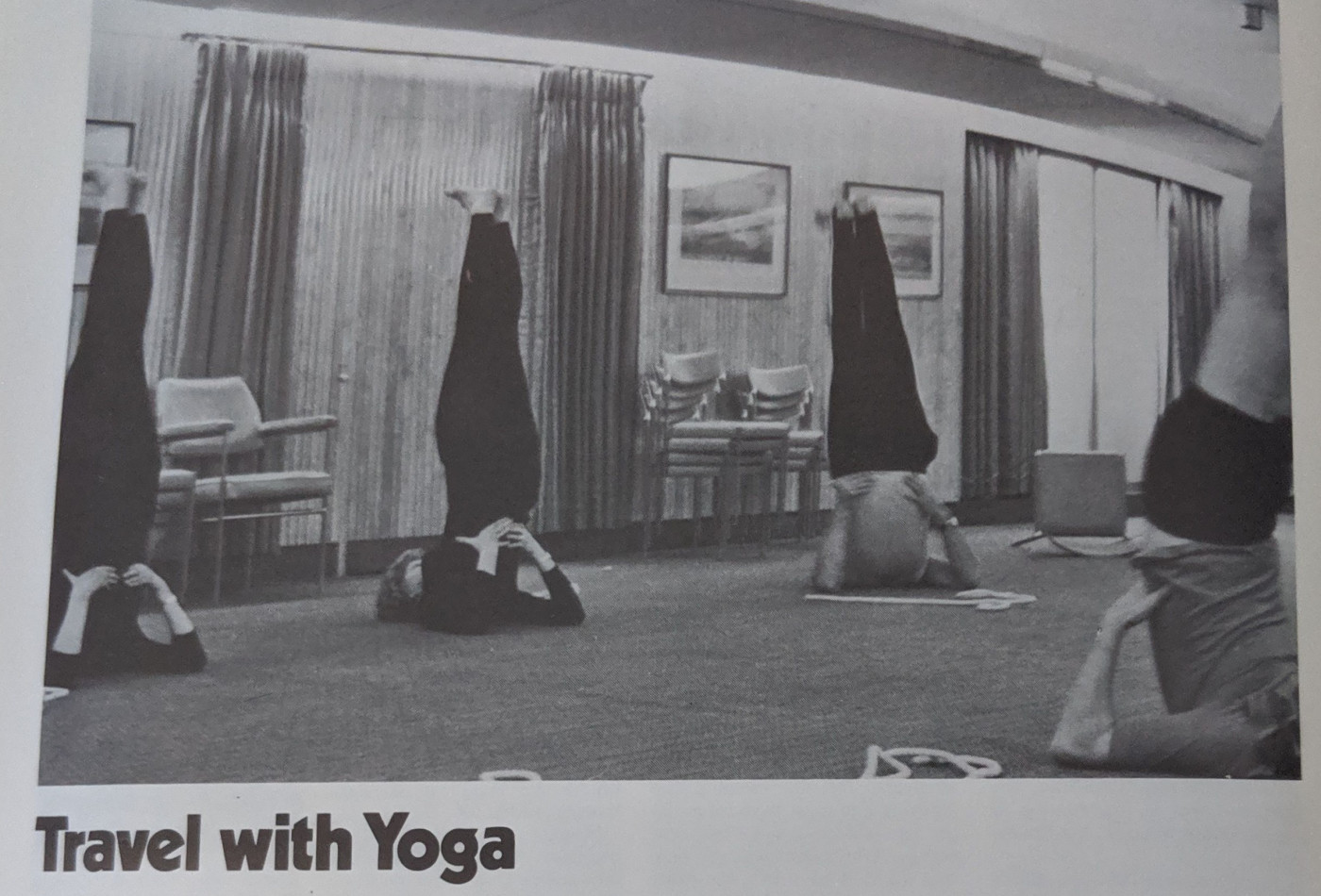 The Yoga Club even went on holidays! In the Easter holidays of 1982, they went on a week's holiday in Menorca which included yoga, sunbathing and sightseeing! It was said that the best excursion of the holiday was to a local gin distillery which housed an aquarium with an array of local fish. Sunbathing, sightseeing and gin (and yoga of course)… Sounds like a brilliant holiday to us!
Another unusual club that LR staff participated in was bridge. It seems there was a club to please everyone…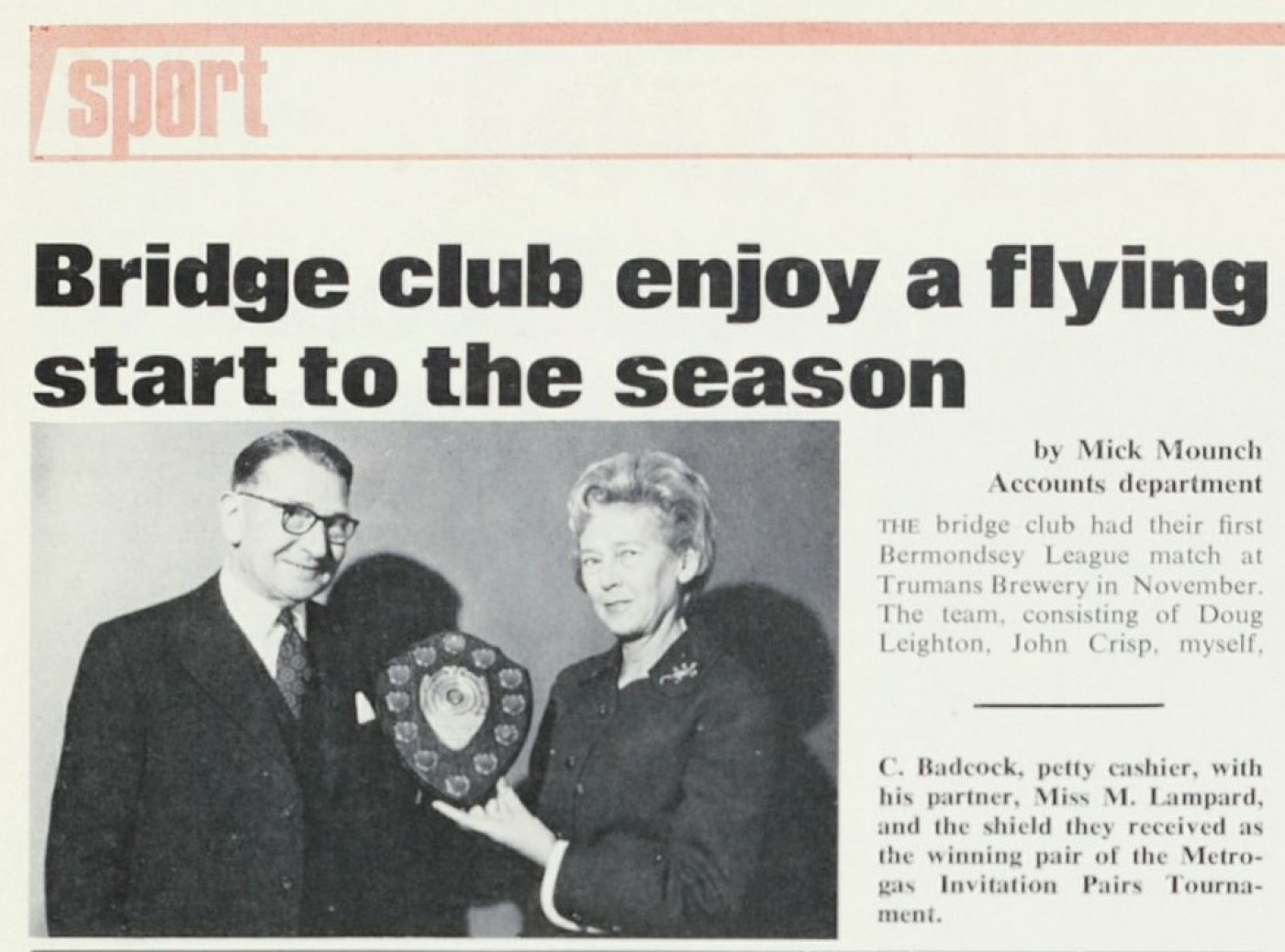 The first record we have of the Bridge Club is from the November 1973 edition of the Society Magazine, when a pair of LR colleagues won their first ever official tournament in the Metrogas Invitation Pairs Tournament! Who knew there were tournaments for Bridge?
In 1973, the club had an impressive sixty members with membership costs priced at only 50p. The best players were entered in various pairs and team events over the season including the Bermondsey Bridge League, London Business House Tournament as well as LR's own internal league. LR's club won numerous trophies over the years, including their first Bermondsey League Match and a Metrogas Invitation Pairs Tournament in November 1973, followed by a victory at the London Business House League in 1978, beating thirty other teams to success!
We personally love the names of their interdepartmental teams: 'The Nice Ones', 'The Wombles', 'The Optimists'.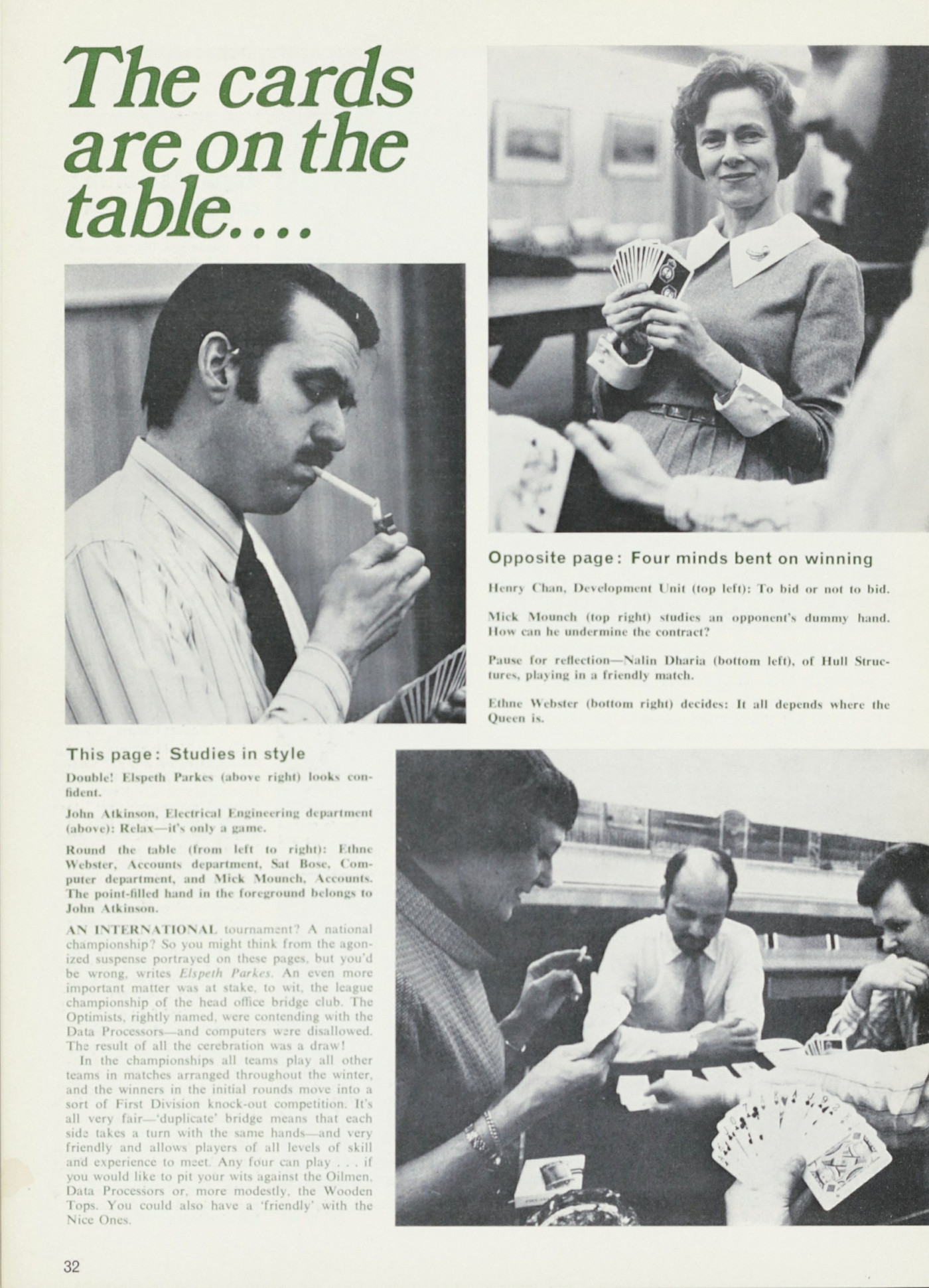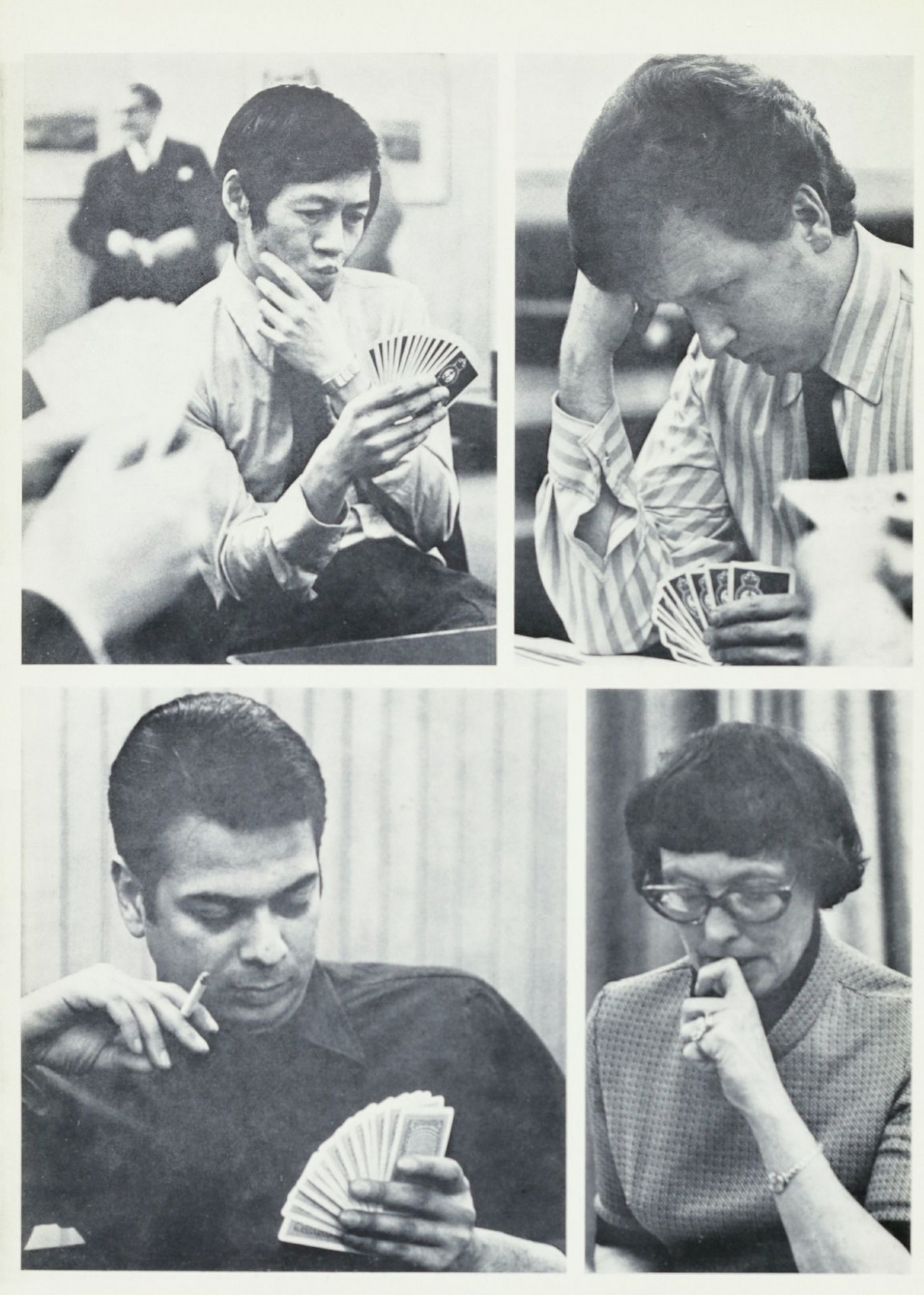 These three teams competed internally against various departments in LR (see the agonised suspense portrayed in these images from the interdepartmental tournaments)! For example, The Optimists battled against The Data Processors to be crowned the league champions of the Head Office Bridge Team. We imagine you could have cut the suspense in the room with a knife! (What really shocked us most about these images, is that people were smoking inside).
Who would you have liked to play against? The Oilmen, Data Processors, Wooden Tops or the Nice Ones?
Another non-sports related club that took LR staff by storm was the Arts & Crafts Guild. Established in the 1950s, the Guild welcomed skilled hobbyists and amateurs alike, encouraging LR staff and their families to participate in crafty activities as a creative outlet. The 1951 staff newsletter stated: "The object of the Society will be the encouragement of activities and interests of the staff during their leisure time".

The establishment of an Arts & Crafts Guild was met with an overwhelmingly positive response, leading to an exhibition in December 1951 which filled the General Committee Room with creations made by LR staff. The Arts & Crafts Guild also arranged a series of lectures for members. Subjects for the winter of 1951 included watercolours, photography, pottery, metalwork and oil painting.
A second Arts & Crafts exhibition ran for a week in February 1953. Rather amusingly, the newsletter reassures staff: "Some, we recognise, must be more gifted than others but it is not intended that there should be any question of competition." The exhibition was a roaring success, featuring 250 exhibits provided by 120 members. The April 1953 newsletter noted, rather cheekily, that, "...the general standard of work was considered surprisingly high." Staff enthusiasm for the Arts and Crafts Guild was evident from the staggering response to the second exhibition, with exhibits making journeys to London from as far afield Holland and Italy! From these 250 exhibits, the Guild's Committee selected 100 items to go on tour to Glasgow, Newcastle and Liverpool. The touring exhibition was warmly welcomed and "Staff at these Outports appreciated the opportunity of seeing the results of the efforts of their colleagues."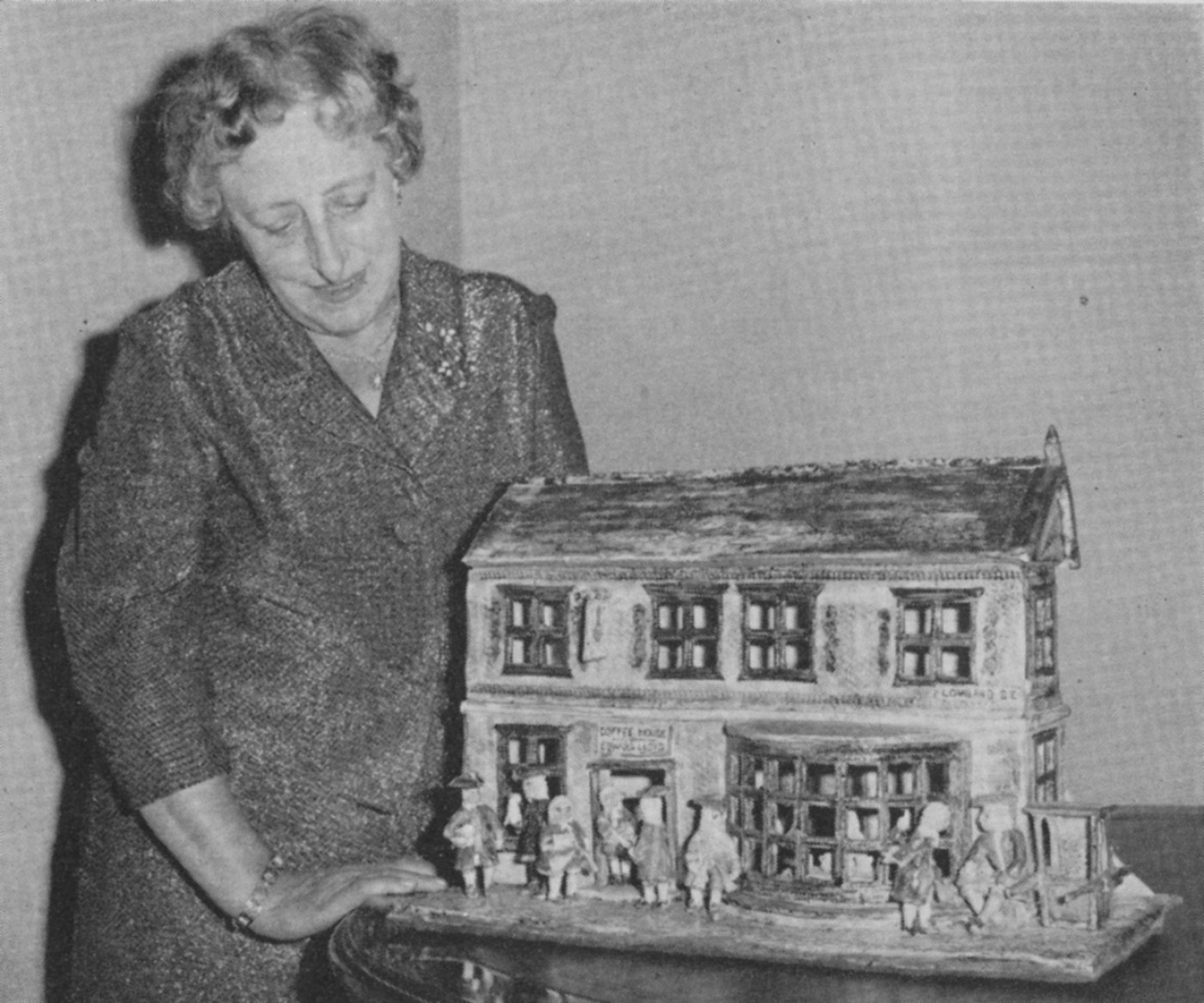 The Arts & Crafts Guild was also open to family members of LR staff, who regularly made their own contributions to the annual exhibitions. Perhaps the most enduring example of this is Mrs G A Campbell's charming model of Edward Lloyd's Coffee House. Wife to LR employee J F Campbell, Mrs Campbell captured the coffee house in clay for the Guild's 1964 exhibition. The model now resides in an exhibition case in the Heritage and Education Centre, serving as a reminder of LR's origins (read more about it here).
In August 1980 the Arts & Crafts Guild was treated to a four-page spread in LR's internal publication Society magazine. At this stage, the Guild's exhibitions had moved from the General Committee Room to the newly completed Staff Recreation Room in the basement of 71 Fenchurch Street. The article reports that the exhibition was "an unqualified success" with several exhibits once again coming from "distant outports". Exhibits ranged from traditional pieces like embroidery and paintings, to more eccentric creations such as this Management Selection Tool: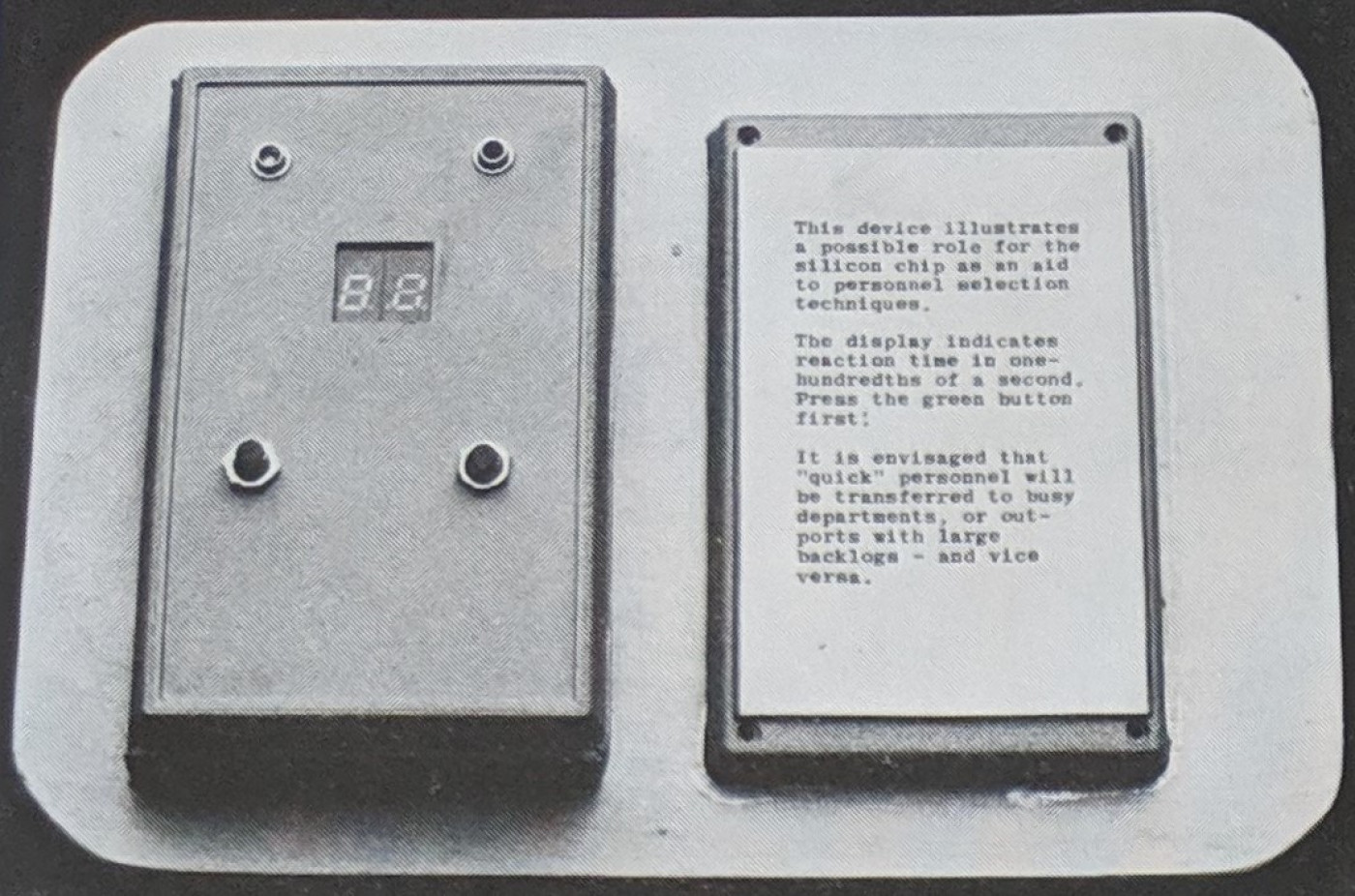 Made by one of LR's senior ship and engineer surveyors, the exhibit had "...usually at least one or two people standing beside it, testing the quickness of their reactions, and trying to beat their friends." This unusual exhibit shows that the Arts & Crafts Guild was truly for everyone who wanted to "have a go", as the 1951 newsletter claimed. These exhibitions not only celebrated the creativity of LR's staff and their families, but showcased the diversity of homemade Arts & Crafts across countries and cultures. For example, the 1980 exhibition featured Japanese costume dolls sent in by Mrs Hamada (wife of a senior ship and engineer surveyor) and a bonsai plant belonging to Surveyor Mr Singh from Yamunanagar, India: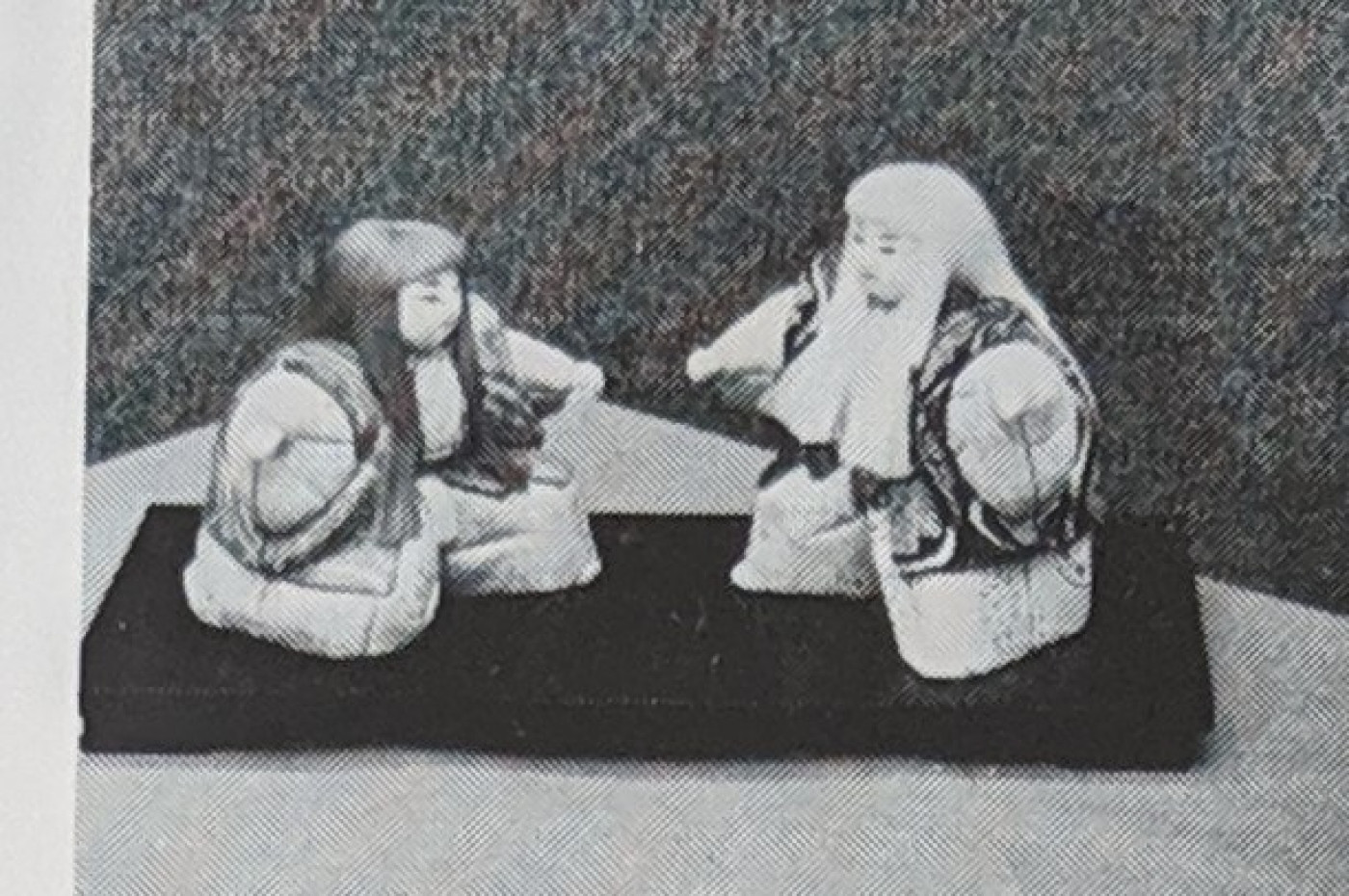 We thoroughly enjoyed delving into old LR newsletters and Society magazines to share stories from our archive (read more about Society magazine here). After we started reading through the editions of Society magazine, we quickly discovered there was truly a place for everyone at LR looking for a community to support their interests, from crochet to card games. Sadly, many of these social clubs paled into obscurity and no longer exist, but that certainly hasn't weakened the strong sense of community at Lloyd's Register. We would personally love to see a reboot of the Arts & Crafts Guild! Which society or guild do you think you would have been part of?