Bulk Upload #8: 56,861 new digitised documents released.
For Bulk Upload #8, we have added an extra 56,861 documents to our Ship Plan and Survey Report Collection. These documents relate to 476 different places of build. The north of England and Scotland dominate the top 10 places, with Sunderland, Glasgow and, perhaps surprisingly, West Hartlepool forming the top 3. In total this upload is comprised of 251 boxes and 2,286 different vessels. As for the entire collection, there is almost 600,000 documents for you to freely download and research. In the meantime, check out some of the interesting ships and documents from this upload.
Report of Total Loss, Casualty, &c for Lady Somers, Undated (LRF-PUN-W1147-0103-W)
Lady Somers was built in Birkenhead in 1929 by Cammell, Laird & Co Ltd. She was one of five luxury liners owned by Canadian National Steamships, operating on their western route from Montreal to the British Colonies in the Caribbean between 1928 and 1952. The Lady Boats (Lady Somers, Lady Rodney, Lady Hawkins, Lady Halifax and Lady Nelson) also known as 'The Lovely Ladies' were named after the wives of British admirals with a connection to the West Indies.
The vessels sailed from eastern Canadian ports to Bermuda, the West Indies, British Honduras and British Guyana, carrying passengers whilst delivering Canadian goods to the West Indies, and returning with produce such as bananas and other fresh fruit, which were held in their refrigerated holds. This was the result of a trade agreement between Canada and the British colonies in the Caribbean. All five of Canadian National Steamships' Lady Boats were fitted with carpets, fine wood and equipped with a games deck, a garden lounge, and a forward lounge containing a large bar that ran the full width of the ship.

Unfortunately the Great Depression seriously impacted the Lady Boats' revenues, so the Canadian government stepped in to subsidise them. When the Second World War was announced, the crews of the Lady ships painted their exteriors from brilliant white to a dull grey and were fitted with guns to protect them from U-Boat attacks. In October 1940, Lady Somers was requisitioned by the Canadian government and converted to an auxiliary armed cruiser. She was the first Canadian merchant ship to go to war and helped enforce the blockade against occupied Europe. Lady Somer's career ended when she was sunk in the Bay of Biscay on July 16, 1941.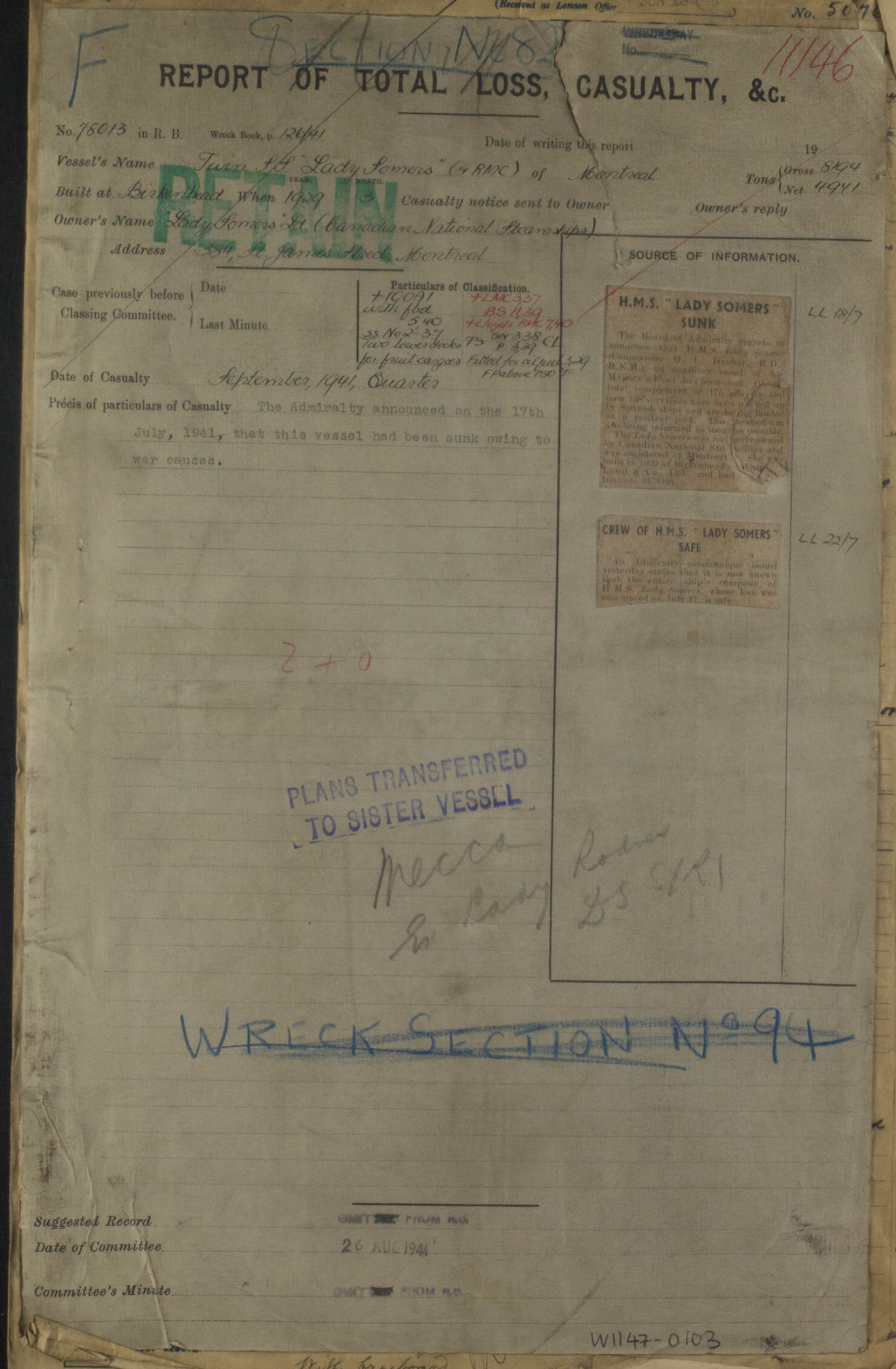 Profile Plan for Heliopolis, 20th November 1906 (LRF-PUN-W698-0197-P)
SS Heliopolis was a British passenger ship built in 1907 by the Fairfield Shipbuilding and Engineering Company. She was launched on 28 May 1907 for the British-owned Egyptian Mail Company and operated in the Mediterranean between Marseille and Alexandria, with accommodation for 344 First Class, 210 Second Class, and 560 Third Class passengers (1,157 total capacity).
In 1910 the Canadian Northern Steamship Company of Toronto bought the ship and renamed her Royal George, operating as a passenger vessel in the North Atlantic. During the First World War she was taken over by the Canadian military, serving in the Gallipoli campaign, and then as a UK troop ship for the remainder of the war. She returned to the Cunard line after the War and resumed passenger service on 10 February 1919. In 1920 she was used as a depot ship at Cherbourg Harbour in France to process emigrants, before finally being scrapped in 1922.

Copy of Translation of Cablegram in LR Private Code from New York, to Lloyd's Committee, London, regarding Julius Kessler, 5th October 1920 (LRF-PUN-W1264-0053-L)
Silvergray (ex Julius Kessier) was owned by The India Rubber Gutta Percha & Telegraph Works Co Ltd, which was established in the 18th century, supplying colonial and army needs for clothing and acting as shipping agents for those personnel traveling overseas. S.W. Silver & Company set up a factory at Greenwich to manufacture waterproof fabric, then moved to Woolwich, manufacturing insulated wire and cable. In 1864 Charles Hancock joined in a merger of his West Ham Gutta Percha Company into Silver's company to form the India Rubber, Gutta Percha and Telegraph Works Company. The company owned the cable ships CS Dacia and CS International which were involved in some of the first oceanic surveys in examining cable routing for Spanish National Telegraph Company. In 1922, CS Silvergray was acquired by the company and modified for cable work, operating for several years until that ship was sold to the Medway Steam Packet Company. She was previously named Julius Kessler, operating as a cargo vessel used to carry molasses in bulk.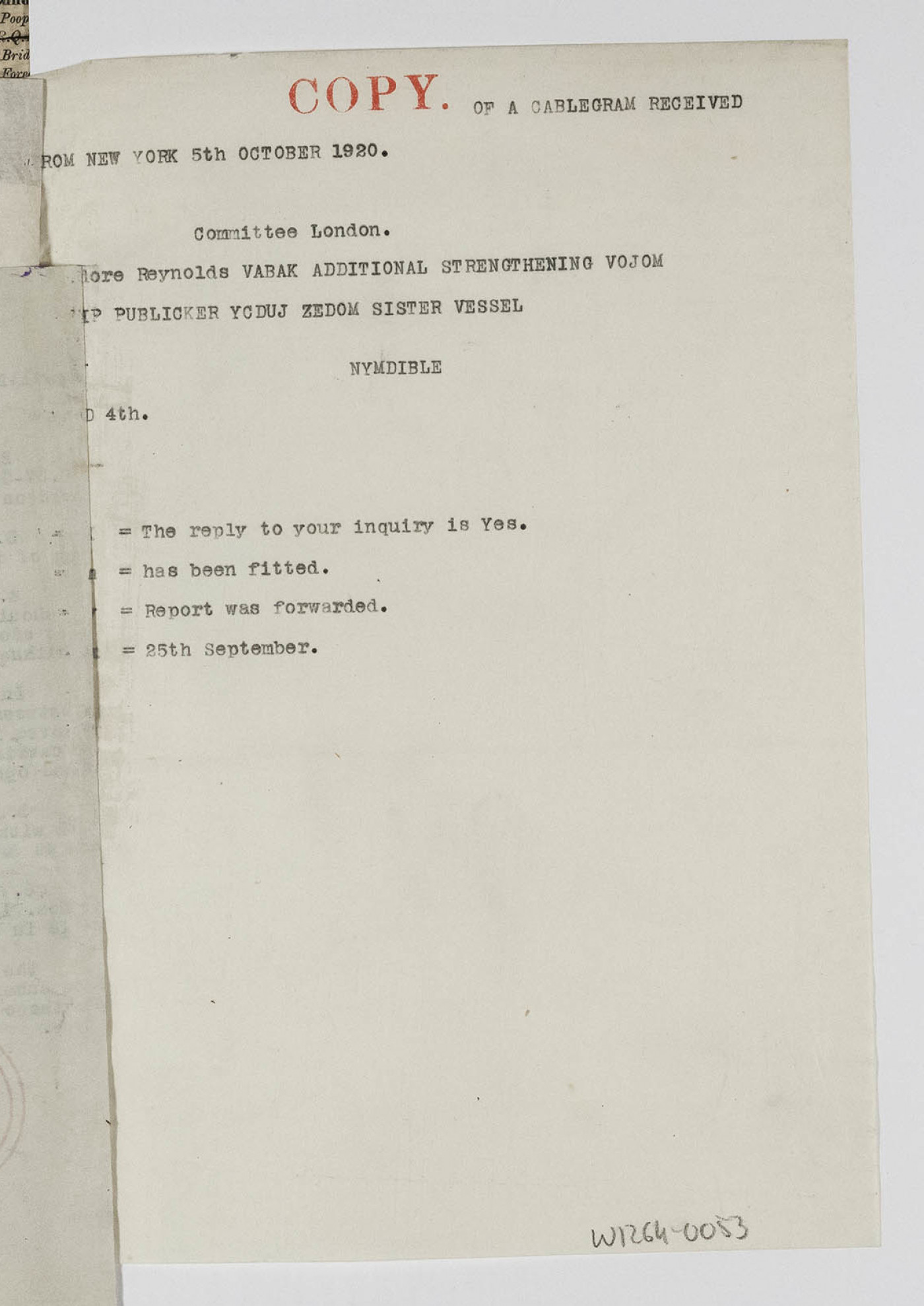 Sketch shewing Hold Beams &c for Teddington, 10th February 1880 (LRF-PUN-IRON547-0022-P)
Teddington was constructed in Wallsend in 1880 by CS Swan & Hunter. The 100A1 classed vessel was an iron schooner that was built for voyages to Bombay. In 1887, she was sunk after colliding with reefs in the Red Sea by Yemen.

Postcard in Norwegian language from shipowners A/S Sevilla, to the Secretary of Lloyd's Register of Shipping, London, regarding Gun 7, 11th November 1935 (LRF-PUN-006809-006818-0121-L)
This document was created in Tonsberg by a surveyor named H Wallman. The vessel was constructed by Kaldnaes Mekaniske Verksted A/S for the shipowners A/S Sevilla.
With each upload foreign language documents are becoming increasingly common. In fact, Collections Assistant Megan Christo has authored 3 blogs on the challenges and joys of translating non-English documents, which you can read via this link.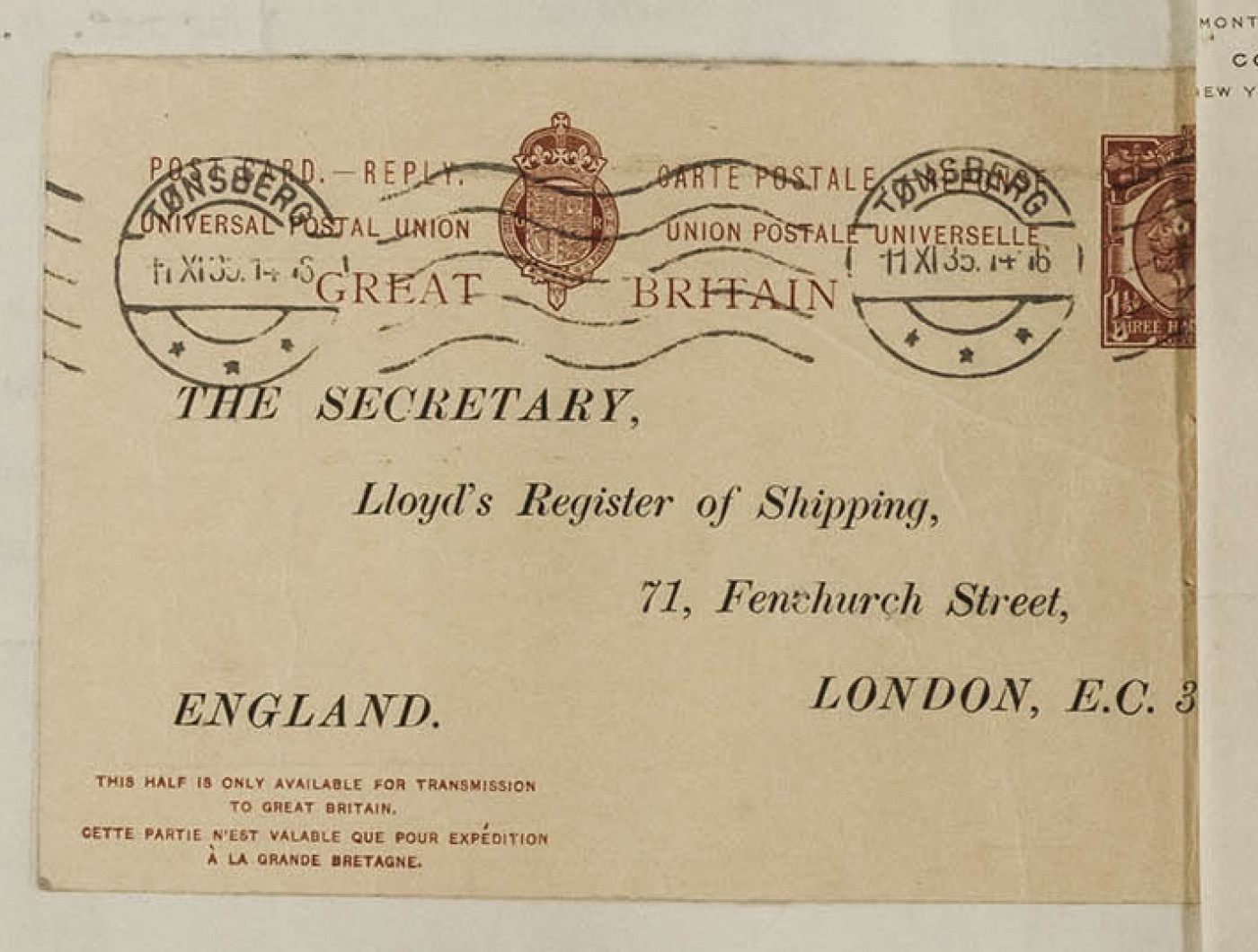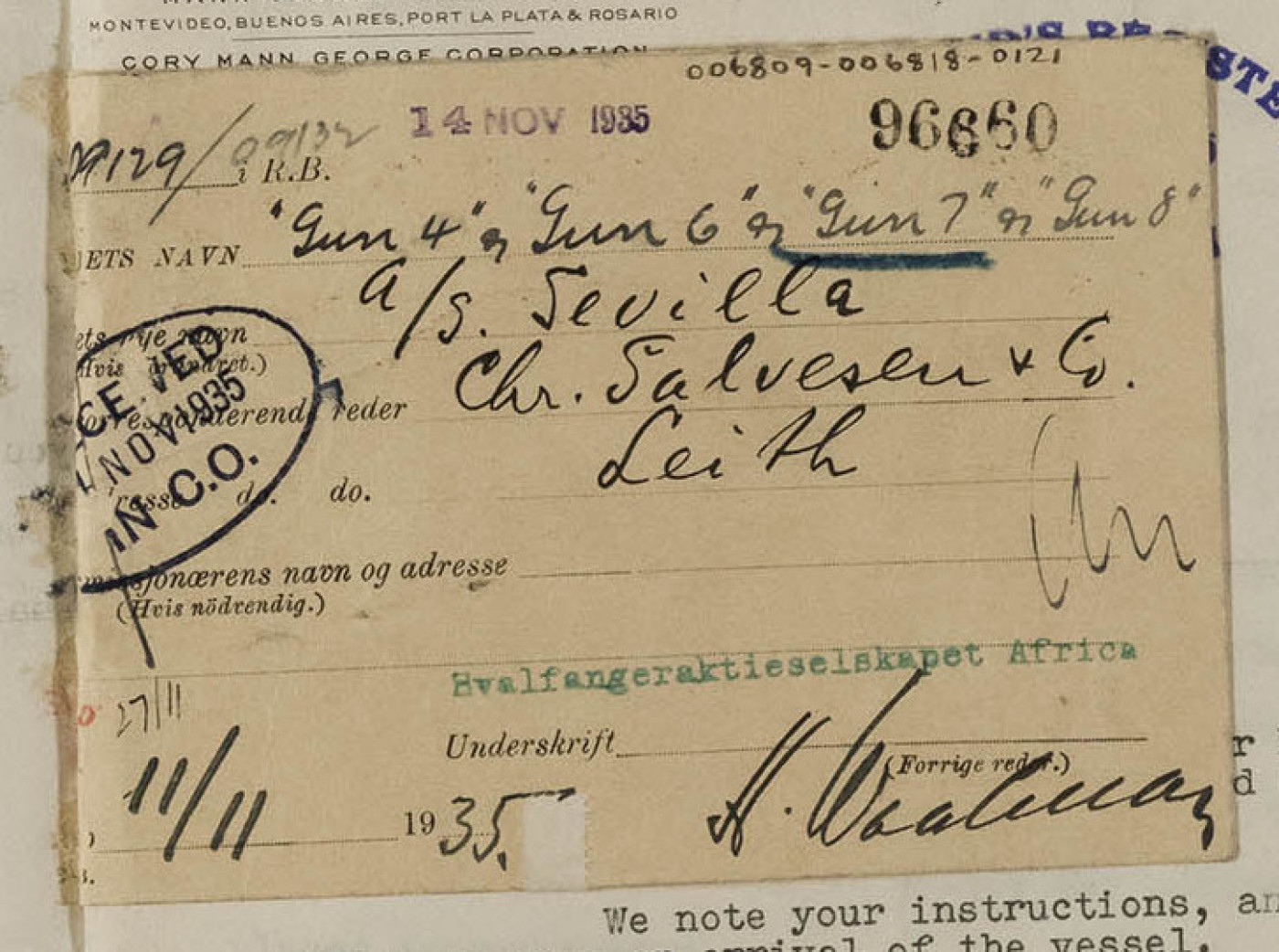 Photograph in Italian language of Reversible marine engine with heavy oil of Aquila, Undated (LRF-PUN-W1376-0032-G)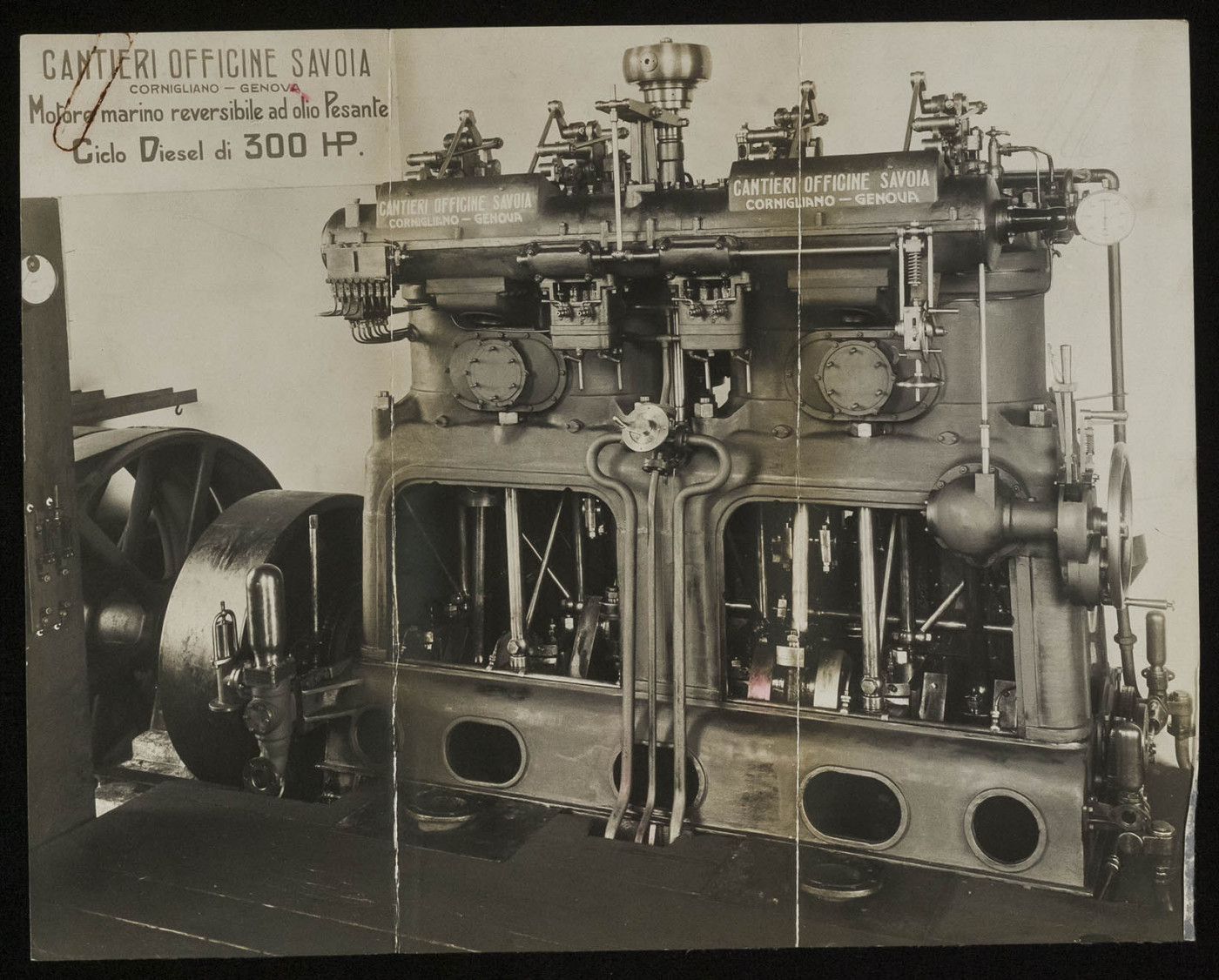 Photograph of Alaska, Undated (LRF-PUN-009139-009143-0005-G)
To stay updated about the release of future bulk document uploads, please sign up to our mailing list or follow us on social media - Twitter, Facebook, Instagram.