Bulk Upload #4: 30,519 new digitised documents released
As we welcome a new year, we are pleased to publish a new bulk upload of 30,519 documents on to our website. There are 1,270 vessels included from 329 different places of build. Once again Scotland and the north of England are well represented with Glasgow and then Sunderland being the top two places of build for this upload. Rotterdam is the most common continental European place with New York the most prevalent North American city. Further afield the upload includes everywhere from Seattle to Singapore.
This upload constitutes only 7.6% of the documents that we currently have on our Ship Plan and Survey Report Collection page. In the section below, we pick out a few of the latest highlights added to our online archive.
Plan of Deck Plating for Drottningholm, 12th February 1904 (LRF-PUN-002071-002078-0015-P)
The SS Drottningholm, which was initially named Virginian, was a transatlantic ocean liner most famously known for her association with RMS Titanic. She received the distress call from Titanic, and attempted to get to her. She was one of the earliest ocean-going vessels using steam turbines and had a lengthy and notable career. During the First World War she became a troopship and also escorted transatlantic convoys. In 1920 she was bought by Swedish America Line and renamed Drottningholm. Her notable passengers include Greta Garbo, who sailed to the USA to start her career in 1925. She also carried the entire Swedish athletic team back to Sweden in 1932 after the Olympic Games in Los Angeles. When she was eventually scrapped in 1955, she was the oldest liner in scheduled transatlantic service. To view all of the documents that we hold for her, please follow this link.

Translation of the sea report, amplifications & declaration of non-deliberation of the crew of Ville De Paris, by Y'ves l'Herec, Captain, May 1935 (LRF-PUN-W555-0007-O)
This collectively gives a full overview of the abandonment of Ville de Paris's crew, passengers and crucial objects. The vessel had ran aground near Saint Luce and sank due to water leakage. Documents regarding this vessel and incident are available via this link.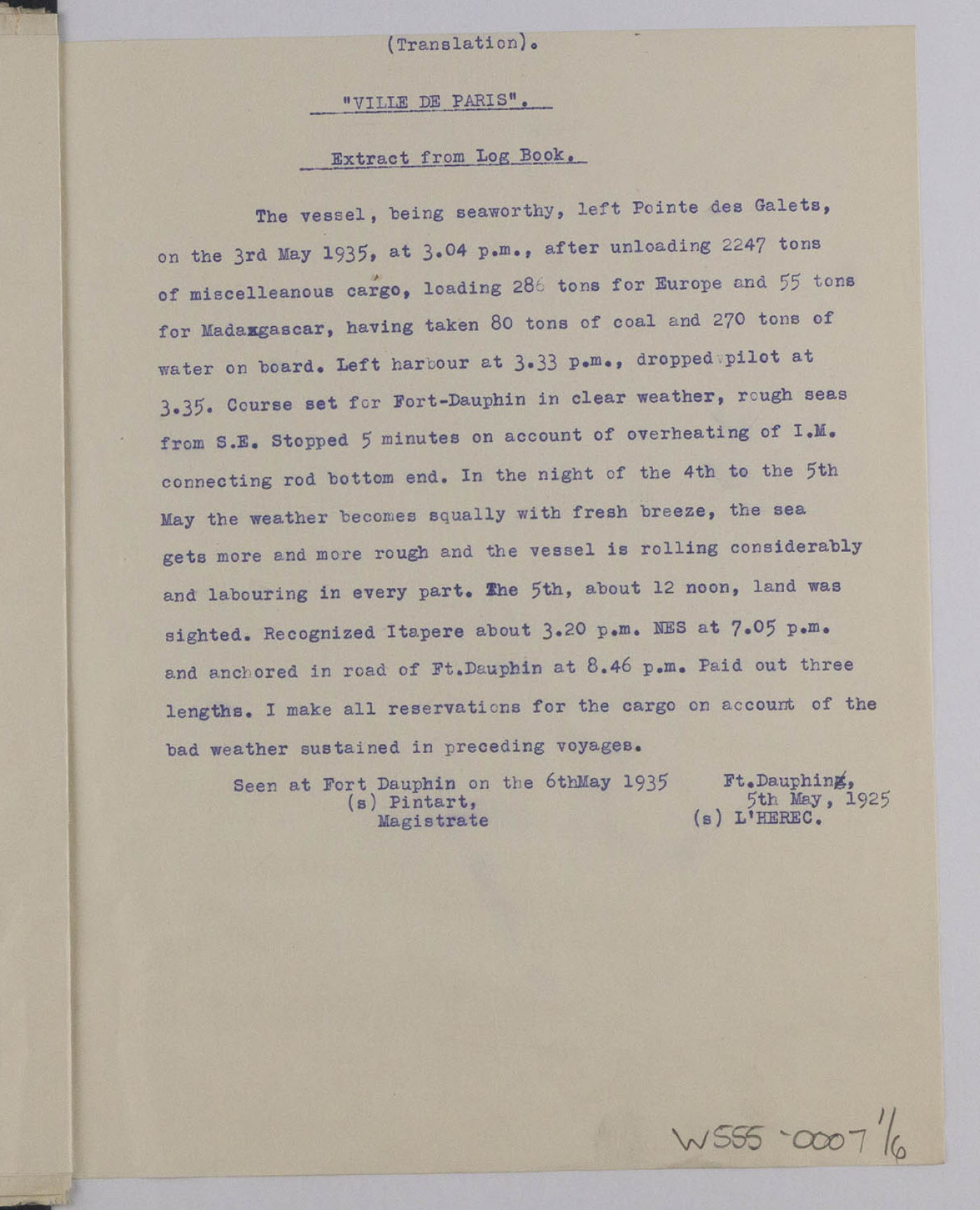 Photograph of Stern of Moffitt, 23rd January 1919 (LRF-PUN-005914-005928-0193-G)
This photograph from 1919 depicts the construction of Moffitt. She was built from ferro-concrete by A Bentley & Sons Co in Jacksonville, Florida. This vessel has a high number of photographs for her, which provide a valuable snapshot into the construction of a vessel for this period. Explore these documents by clicking here.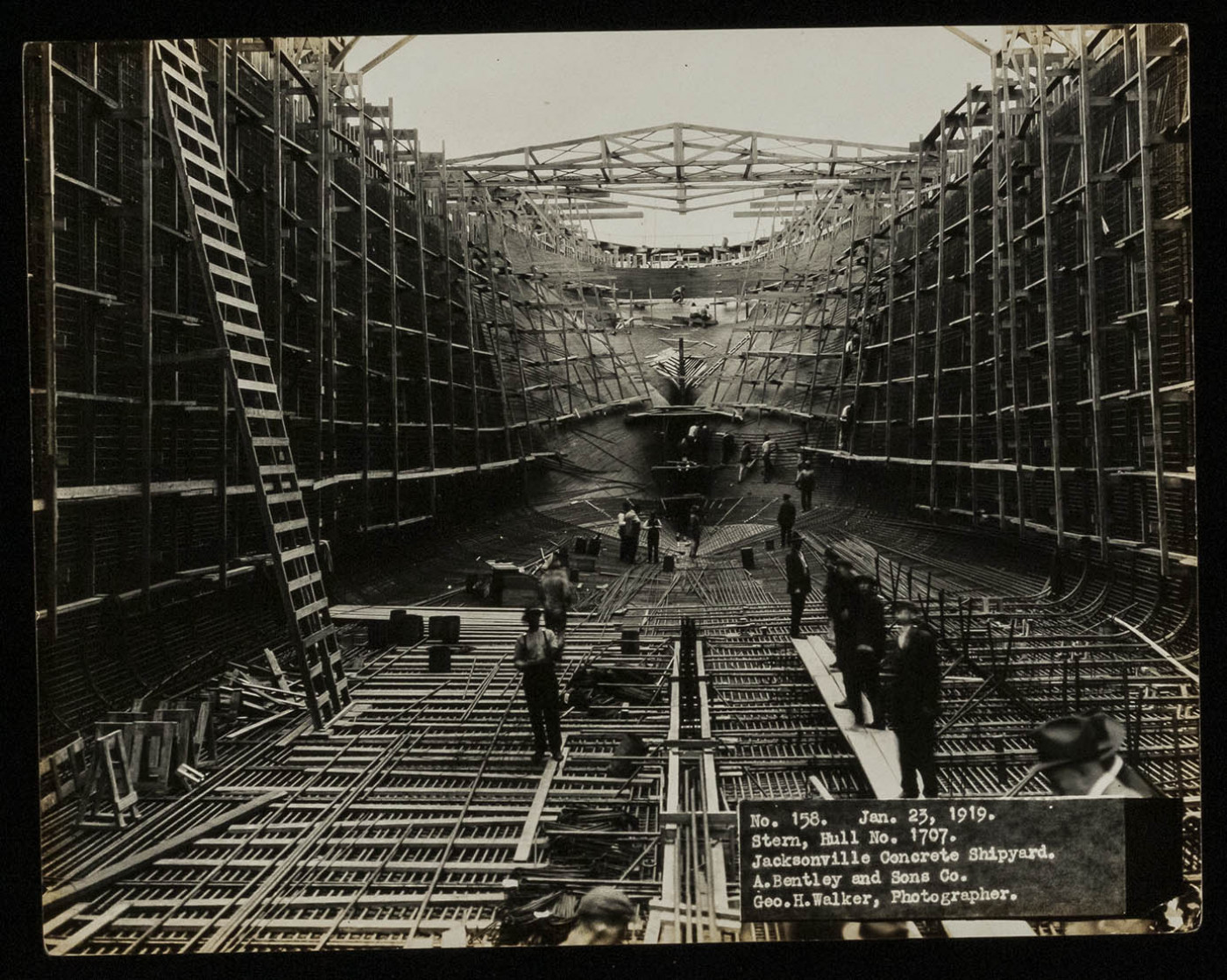 Plan of Stern Post & Rudder for Harold Dollar, 10th December 1909 (LRF-PUN-002449-002456-0123-P)
This ship would eventually become Eestirand, one of the largest Estonian ships in service. In the 1930s she would become the flagship of the Estonian fishing fleet. Later in the same decade she was requisitioned for the Soviet Navy during the Soviet occupation of the Baltic states. During the Second World War she assisted in the evacuation of Tallinn on the approach of the German forces. After the war, a monument was constructed on Prangli Island, Estonia to remember the crew and passengers who lost their lives during that German attack. To view documents for this vessel, please click this link.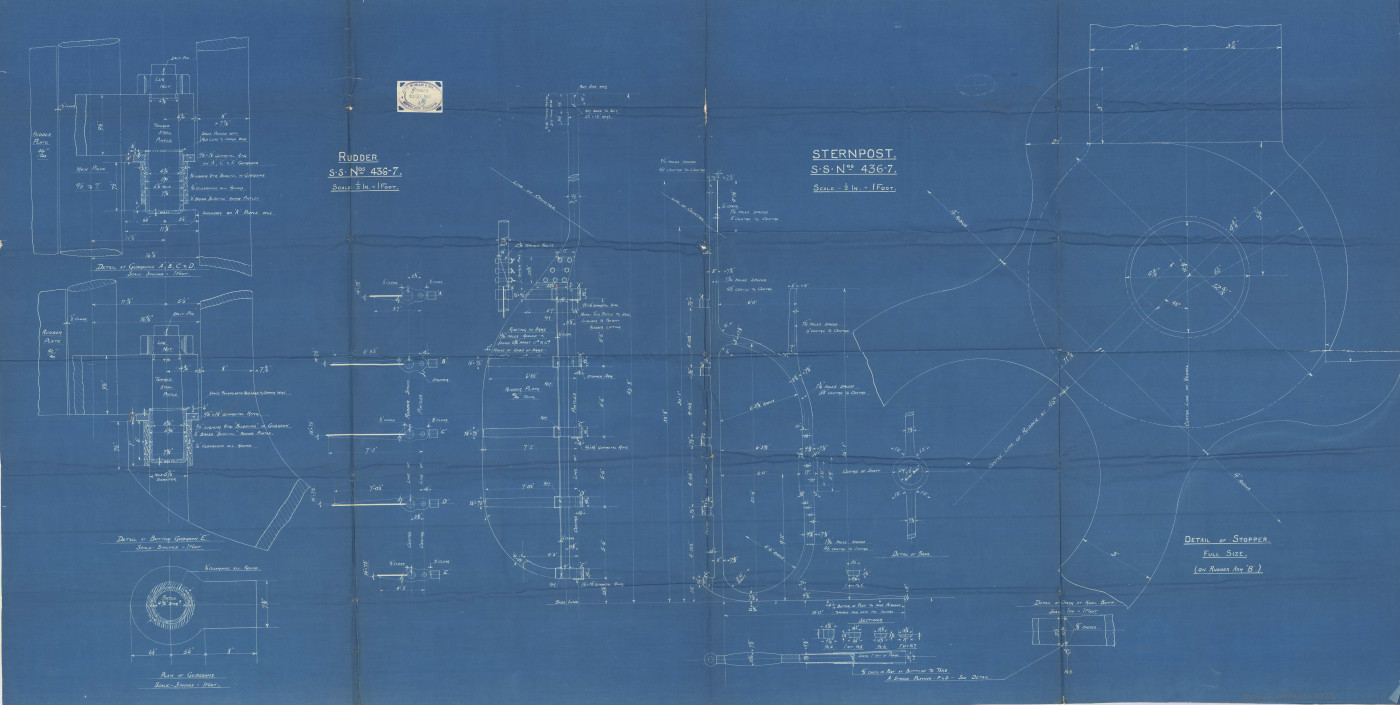 Form for Vessels of 100 Tons & Upwards for Brisbane River, 5th October 1914 (LRF-PUN-W914-0207-F)
This vessel featured in a well-known First World War German propaganda video. The film, titled The Enchanted Circle, depicts Brisbane River's name being crossed out in a Register of Shipping book after being sunk by the German Navy. The clip featured in our exhibition From Coffee to Seaweed, a virtual version of which can be explored here. To view more documents for this vessel, please click this link.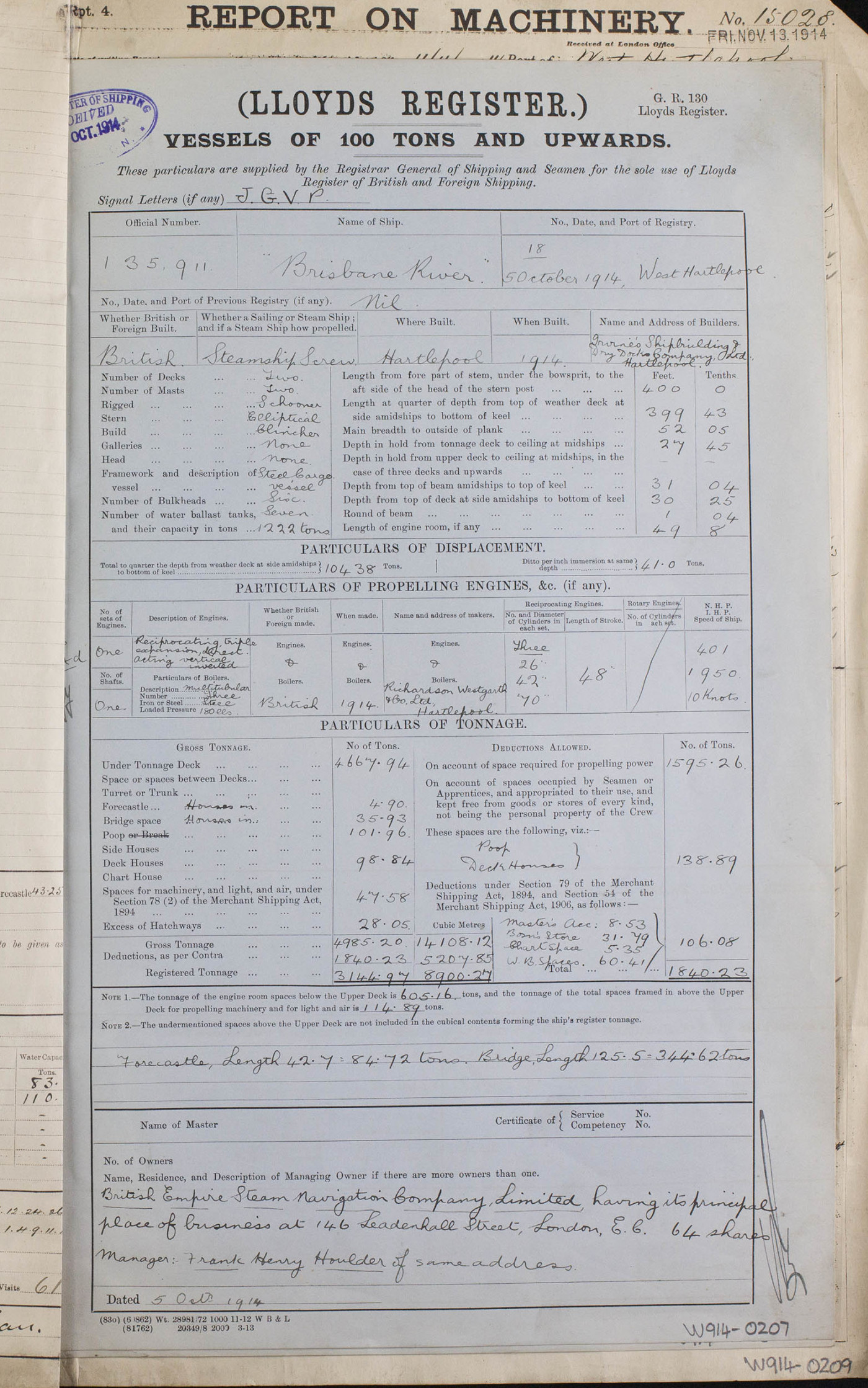 Plan of General Arrangement for Weather Observer, 27th August 1947 (LRF-PUN-003750-003762-0131-P)
This vessel was originally built as Marguerite by the Royal Navy as a 'Flower Class' corvette. After WW2, she was taken over by the Air Ministry and converted as a floating meteorological observatory. Every six hours the crew would launch hydrogen balloons to record the temperature, humidity and pressure at 50,000 feet to chart British weather. To view more records for this vessel, please follow this link.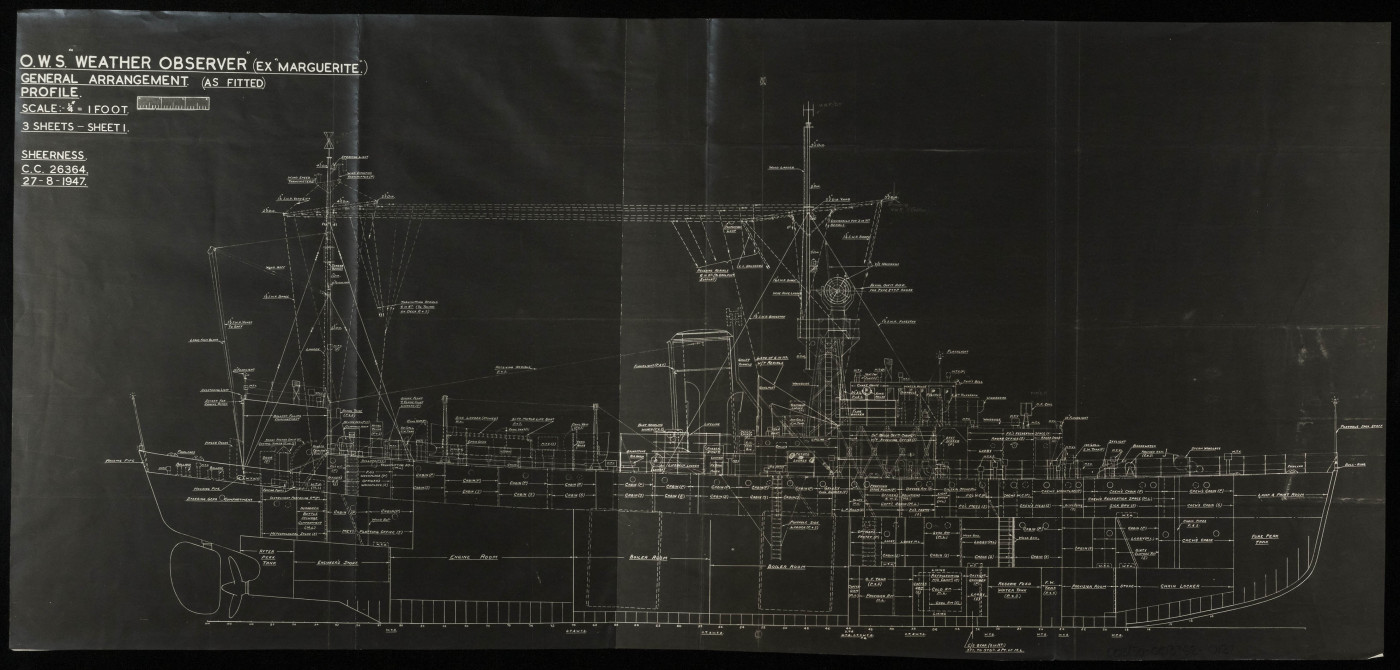 In the interactive map below we have detailed the top places of build within this bulk upload.
In the responsive map below we have displayed the most common outbound voyages from the United Kingdom.
The Heritage & Education Centre team is currently planning to release the next bulk upload of digitised documents by the end of February. To stay updated about the release of this upload and all future uploads, please sign up to our mailing list or follow us on social media - Twitter, Facebook, Instagram