Bulk Upload #2: 101,802 new digitised documents released.
With greater enhancements to our bespoke document imagery and data importer, we have now uploaded another 101,802 documents on to our website. This is a staggering 127% increase on our inaugural upload in August. There are now an extra 5,425 vessels to explore, research and discover. These vessels cover 683 different places of build, from Hartlepool to Hong Kong, Venice to Vancouver. Even greater is the number of survey locations, which stands at a massive 1671.
This upload represents just a portion of the documents uploaded since the project began in January 2019. We currently have 319,566 documents to available to view and freely download. To explore the entire collection, please click here.
You can view a selection of interesting documents included in Bulk Upload #2 below.
Plan of Outboard Profile for City of Wilmington, May 1912 (LRF-PUN-W931-0101-P)
This intricate plan is for the City of Wilmington, constructed in 1912 in Long Beach, California. The cargo ship, which was previously called Camino, had her career curtailed when she caught fire and foundered in 1918. To view this document, and others that we hold for her, please click this link

Report of Total Loss, Casualty, &c for City of Salisbury, 26th May 1938 (LRF-PUN-W539-0001-W)
The City of Salisbury was a freighter converted into an unusual type of vessel: a zoo ship. Whilst voyaging into Boston harbour in dense fog the vessel collided into a rocky ledge. The vessel was declared a total loss. Thankfully all persons and animals, including monkeys, bears and birds, survived. You can view this wreck report here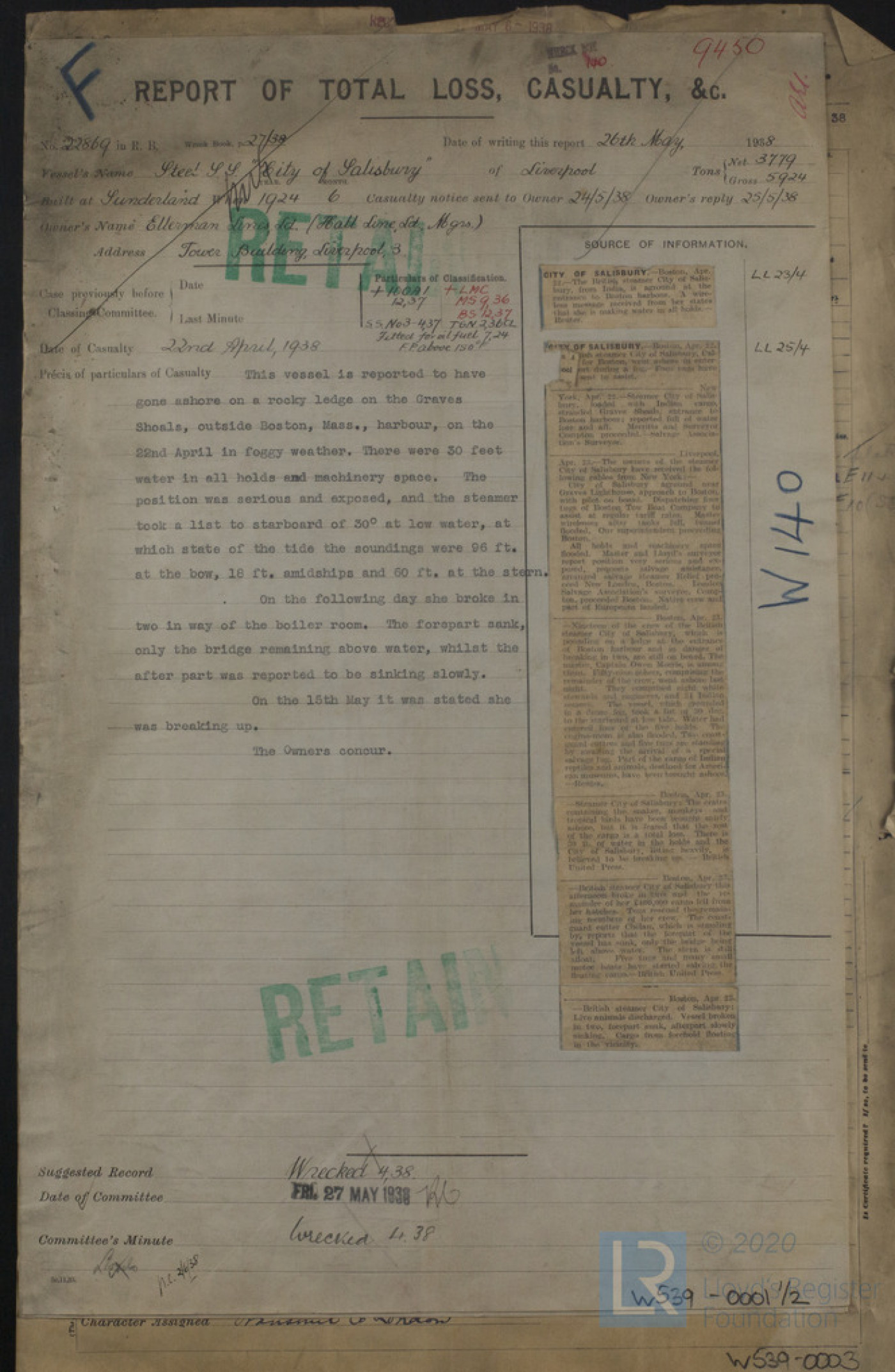 Letter from A F Orbech, Copenhagen Surveyor, to the Secretary for Lloyd's Register regarding Nordlyset, 21st October 1916
This letter provides a fascinating snapshot into the work habits of some surveyors. The LR employee based in Copenhagen is apologising for the delayed submission of the Nordlyset's first entry report. Whilst initially claiming the delay was due to being overworked, they concede that the work should have been done before they went on their summer holiday. Whether the Secretary in the London office took a lenient view of this vacation has yet to been uncovered. To view this document click here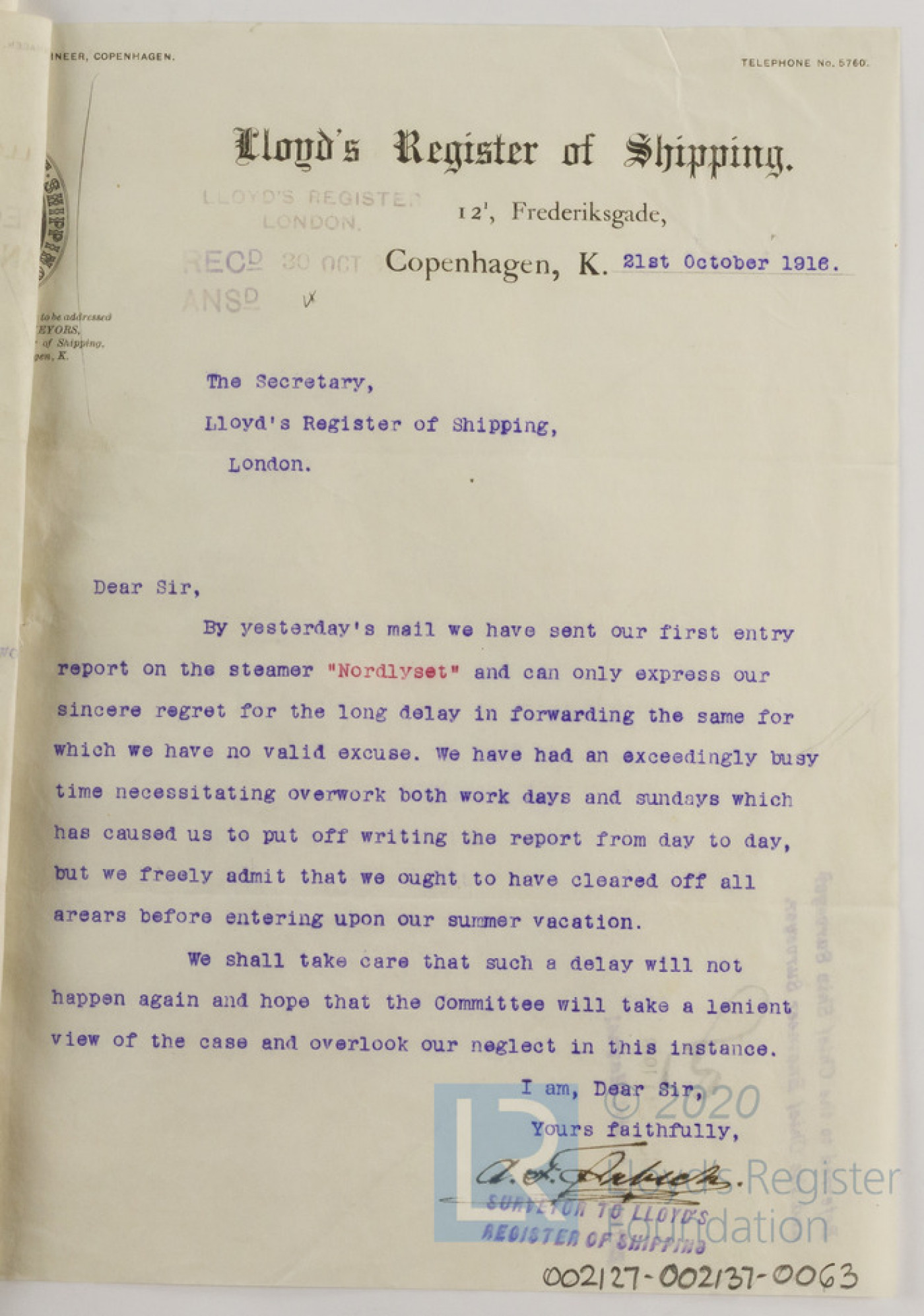 Photograph showing Minderoo Aground across narrow Sand bank, 14th September 1935
These photographs depict the vessel Minderoo stranded and balanced precariously on a promontory. She was a refrigerated cargo ship built in 1909 by C Connell & Co Ltd, Glasgow. The vessel was registered in Australia and this is where this photograph was taken, in Port Hedland, Western Australia. The year after in 1936 she was sold for breaking up purposes. You can view this record here
The global span of this upload is underscored by this interactive map that visualises the most common port of survey locations by number of ships surveyed.
In the interactive map below, we have illustrated the top 100 destined voyages from the United Kingdom.
The Heritage & Education Centre team is currently planning for the next bulk upload of digitised documents. To stay updated about the release of this upload and all future uploads, please sign up to our mailing list or follow us on social media - Twitter, Facebook, Instagram.