Bulk Upload #13: 32,950 new digitised documents released
We are pleased to release our thirteenth bulk upload which consists of 32,590 new documents being added on to our website. These items relate to 2,819 different vessels from 502 places of build. As it stands, there are now 829,916 documents for you to freely explore and download. In the sections below we pick out some of our favourite items to be included in this upload.
Cases of six vessels belonging to German Vessel Seized by the Russians at Outbreak of War, regarding overdue for survey, including Orissa, 21st August 1919 (LRF-PUN-W1601-0022-O)
This German vessel was seized by the Russians at the outbreak of the First World War. Following this, the vessel was owned by the Embiricos Line (Byron S.S. Co. & National Greek Line), which was founded in 1908 to operate passenger services between Greek ports and New York, transporting 3rd class passengers largely made up of Greek immigrants to the United States. In the Second World War she was seized back by the Germans, but on November 8th, 1944, she was bombed and sunk by British aircraft off Midtugulen, North Norway.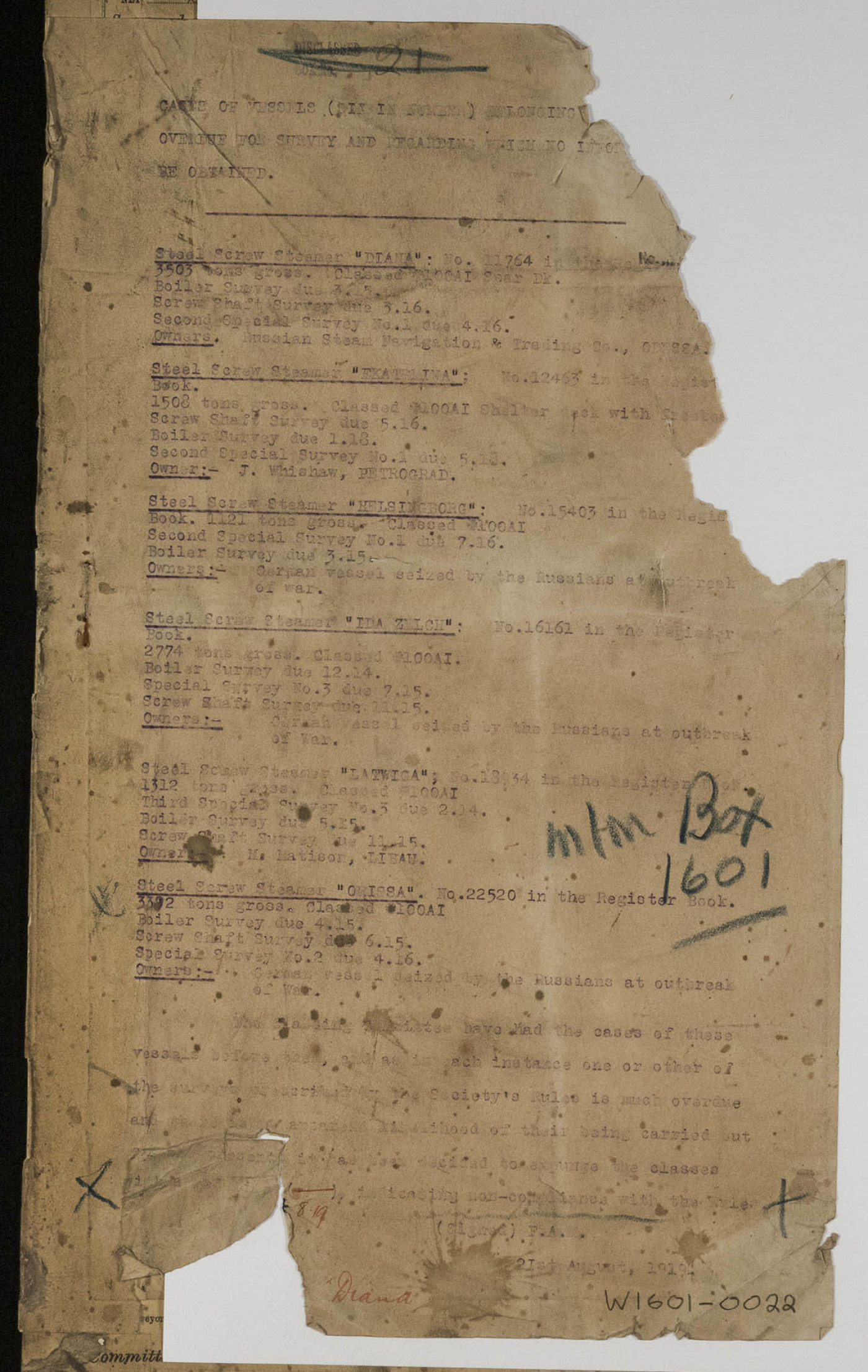 Profile Plan for Pasha, 1900 (LRF-PUN-W809-0050-P)
Pasha was owned by the Asiatic Steam Navigation Company- an operator of cargo liner services in and around the Bay of Bengal, based in Calcutta. In 1878 the Asiatic Steam Navigation Company was established with the support of the Liverpool merchant house Turner & Co and their Calcutta associates Turner Morrison & Company, to develop so-called 'steam communication' in the Bay of Bengal. The new company also received support from Thomas H. Ismay and William Imrie of White Star Line.
The company carried out coastal trade between Calcutta and Bombay, between Calcutta, Chittagong, Rangoon and Moulmein; and later between Calcutta and Java via Malayan ports. They also secured the Indian Government mail contract between Calcutta and the Andaman Islands, which included responsibility for the transport of convicts to the penal colony at Port Blair. The company's top competitor was the British India Steam Navigation Company and eventually the two companies joined forces to acquire the Bombay & Persia Steam Navigation Company (later the Mogul Line, a leading carrier of Muslims on pilgrimage) in 1912.
The BI eventually took over, controlling 74% interest by January 1935. In 1965 management of Asiatic's ships passed to the P&O and by 1971 Asiatic Steam was a dormant company, renamed P&O Bulk Shipping Ltd in 1977.

Newspaper Clipping regarding Canadian Importer, 25th January 1922 (LRF-PUN-W1335-0145-O)
This newspaper admonishes both master and officers for their 'colossal blunder' aboard Canadian Importer. An inquiry determined that the steel steamer's near foundering was the result of an ill-advised decision to empty a ballast tank. The vessel was classed 100A1 by Lloyd's Register when she was constructed in Vancouver in 1920.
On our website we have hundreds of newspaper clippings which bring colour to our understanding of the documents in our collection. You can view all 344 clippings via this link.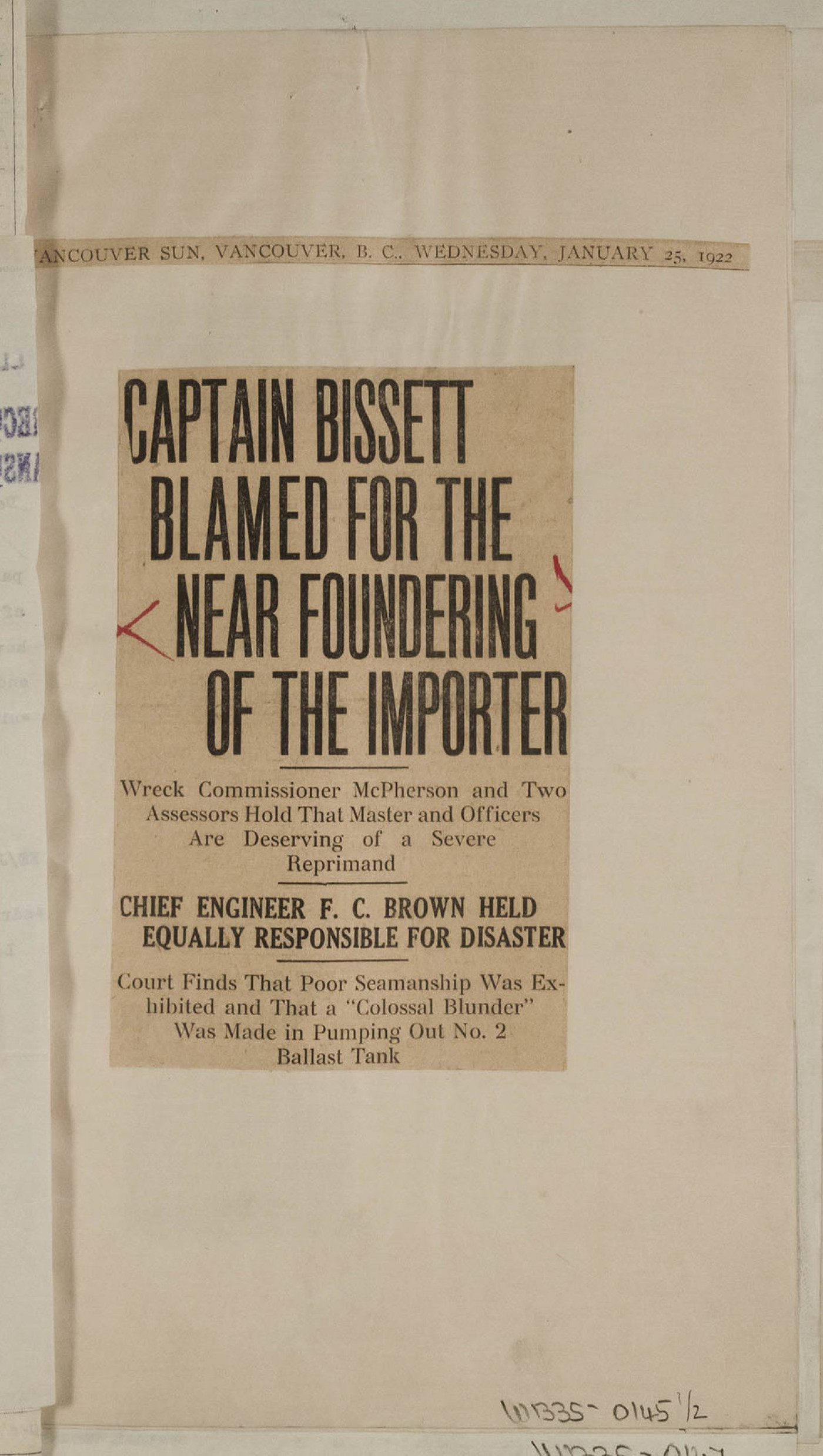 Newspaper Clipping for Verao, 19th March 1961 (LRF-PUN-005503-005511-0017-O)
If further proof of the utility of newspapers was needed, we also have this fascinating account from the Brisbane Sunday Mail. The front-page story describes the fate of the vessel Verao which according to the survivors was 'crushed' by 15-foot waves 200 miles off the coast of Australia. Thankfully all 15 of the crew members of the steel screw steamship survived, but they had to endure 16 hours adrift at sea until they were spotted by an iron ore carrier.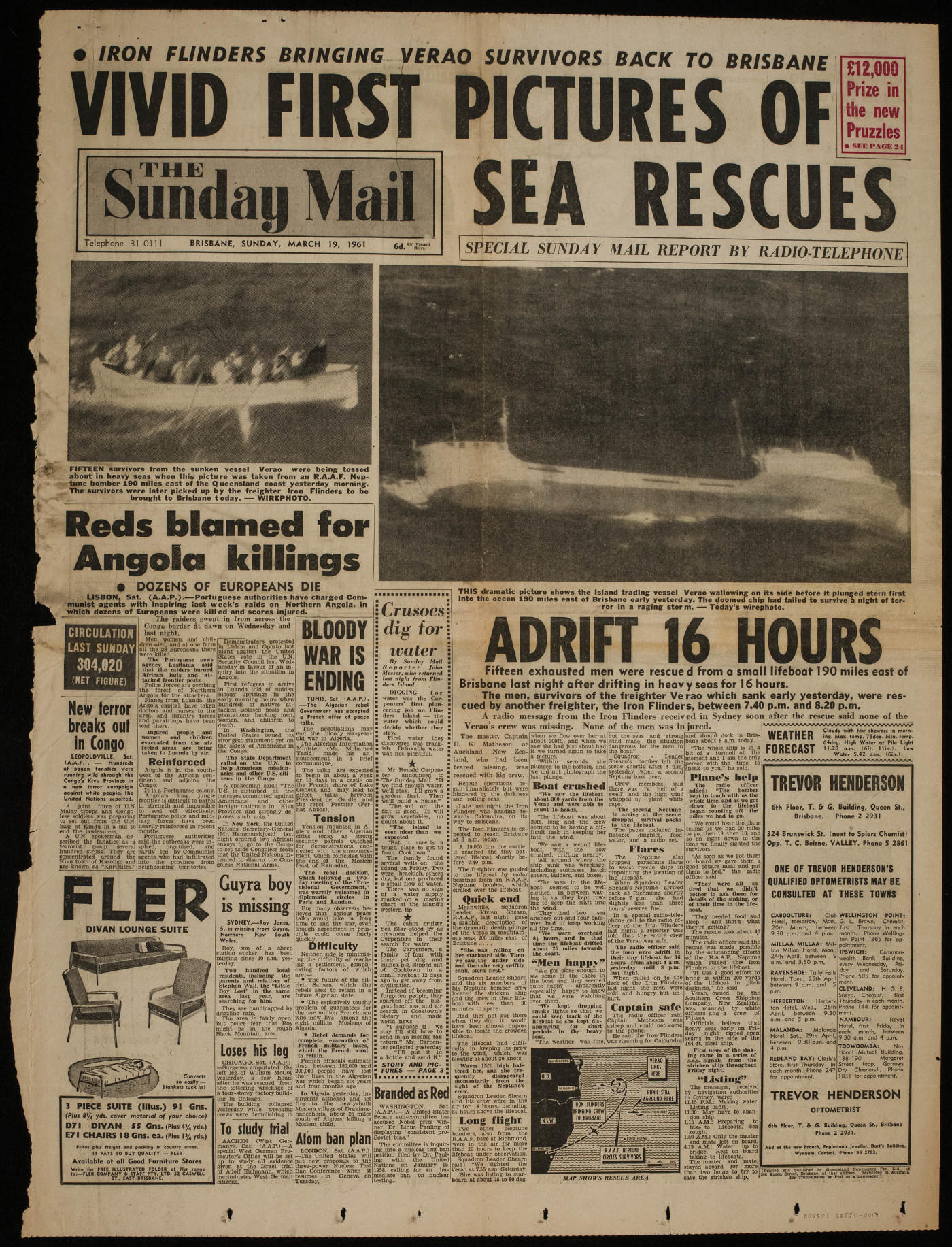 Plan of Inboard Profile & Holds for Andros, 30th August 1941 (LRF-PUN-011062-011070-0277-P)
This detailed plan is for the vessel originally named W B Ayer. She was built for the United States War Shipping Administration (USWSA) and construction was completed in 1943. On our website we have 70 documents for vessels owned by the USWSA, which you can view here.

The Heritage & Education Centre team is currently planning to release the next bulk upload of digitised documents by the end of October. To stay up to date about the release of this upload and all future uploads, please sign up to our mailing list or follow us on social media - Twitter, Facebook, Instagram.