Bulk Upload #12: 45,226 new digitised documents released
As we head towards the final stages of our mammoth digitisation project, we are still able to share tens of thousands of documents with each new upload. This month is no different, as we have 45,226 new documents. These relate to 5195 vessels and a staggering 1146 locations of survey. One of the more uncommon places to make the top 10 this time round is the Irish town Wexford. In regards to the total project, there are now over 800,000 documents to freely explore and download.
In the text below we pick out some of our favourite items and vessels that are featured in Bulk Upload #12.
Copy of Certificate of Survey of Damage & Repairs for Zeran, 26th July 1956 (LRF-PUN-011628-011635-0134-C)
This vessel was originally Lady Bourdillon, named after Violet, who was the wife of colonial administrator Sir Bernard Henry Bourdillon. She accompanied him to India, Iraq, Ceylon, Uganda and Nigeria between 1909-1943.
Not only did Lady Bourdillon have a Lady ship named after her, an honour that several officer's wives experienced, but she also experienced a major shipwreck during her time abroad. According to African Affairs Vol. 82, No. 327, "When a ship sunk outside Lagos harbour, several of the crew being killed, she invited all the survivors to dinner: they were served, in two sittings, thick soup and steak and kidney pie."
During her time abroad, she established several children's welfare clinics including clinics in Iraq and Ceylon. Throughout WWII she raised money for the War Relief Fund. It has been suggested that her democratic attitude and support of local initiatives played a role in the decolonisation process during the transitional period from British Empire to multi-racial Commonwealth.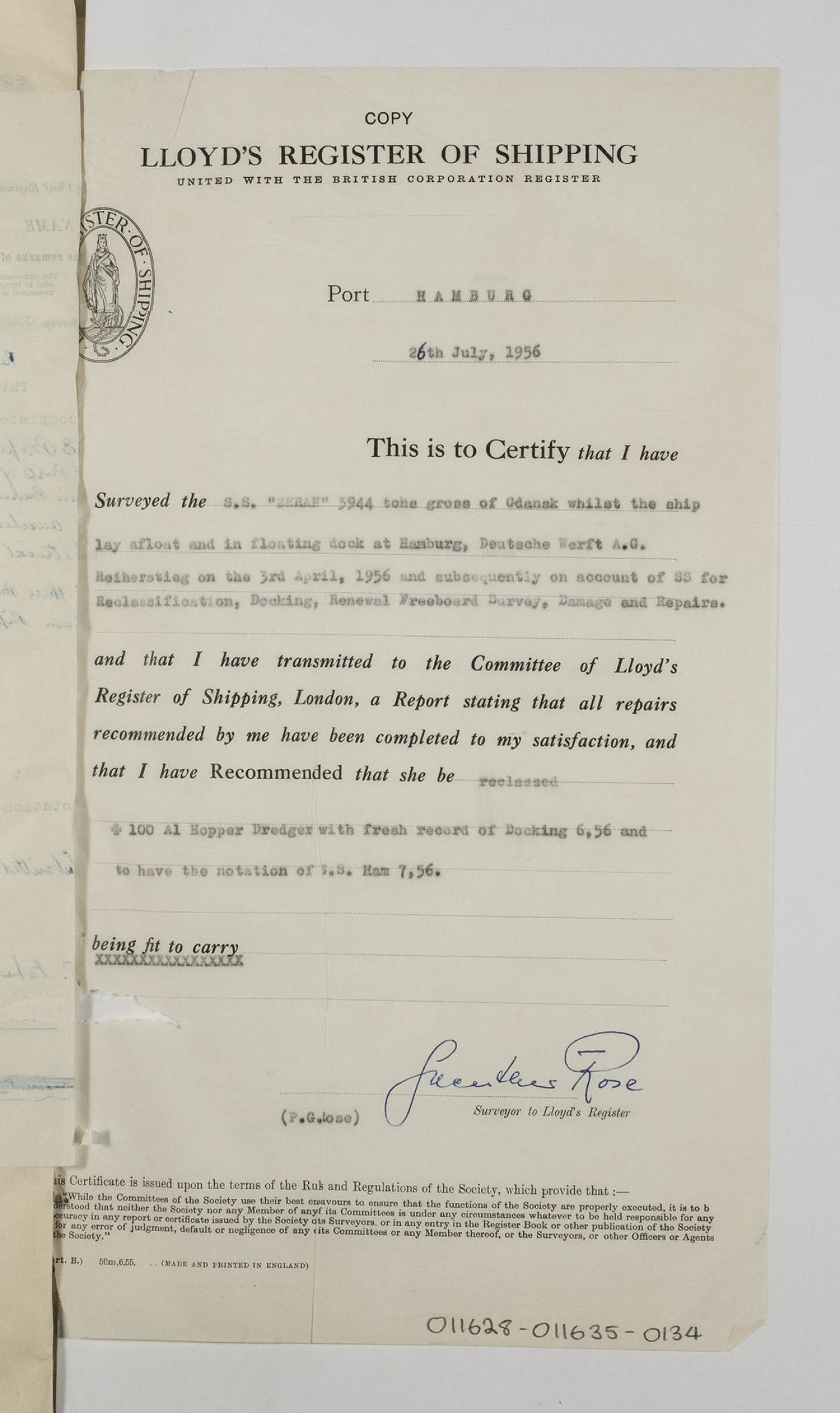 Report of Survey for Repairs, &c for City of Adelaide, 7th June 1887 (LRF-PUN-LON680-0248-R)
In this upload we have added more items for the historic City of Adelaide. She is the world's oldest surviving clipper ship and is also one of only three surviving ocean-going ships of composite construction to survive to this day; the other two being Cutty Sark and HMS Gannet. Moreover, she was a sailing ship that took emigrants from the British Isles, making her the last surviving purpose-built passenger sailing ship.
In addition to all these impressive titles, she is also the last remaining ship that participated in the timber trade between North America and Britain. This period coincided with conflicts in Europe, which led to refugees paying a cheap fee to board timber trade ships, bringing a large number of refugees to North America.
Interestingly, City of Adelaide was built before Lloyd's Register had published their Rules for Composite Ships, making her an important example showcasing the development of naval architecture in the mid 1800s.
City of Adelaide was an A-listed structure in Scotland, part of the National Historic Fleet of the United Kingdom until her departure from the UK in 2013.
To view all of the records for this vessel, follow this link.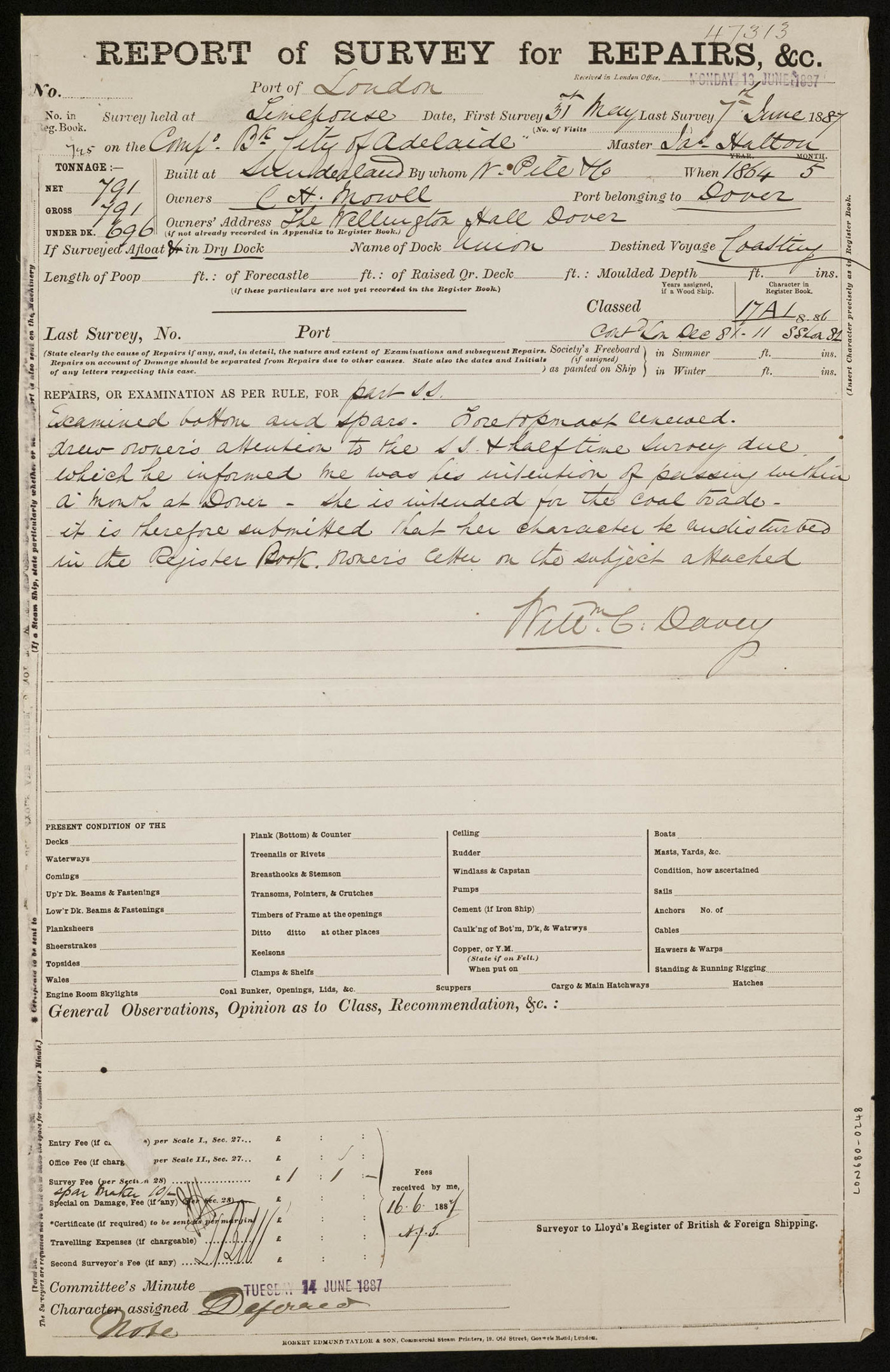 Record of Safety Equipment for Violando, 25th March 1955 (LRF-PUN-011595-011602-0131-R)
This record provides an itemised breakdown of the safety equipment held aboard the ship Voilando. The list offers a fascinating insight into the health and safety standards of a ocean-going ship more than 60 years ago. The vessel was constructed in Montreal in 1944 by the shipbuilders United Shipyards Ltd. Another interesting item for this vessel is this decorative inspection certificate, which was produced the classification society British Corporation.
To view all of our records for this vessel, click here.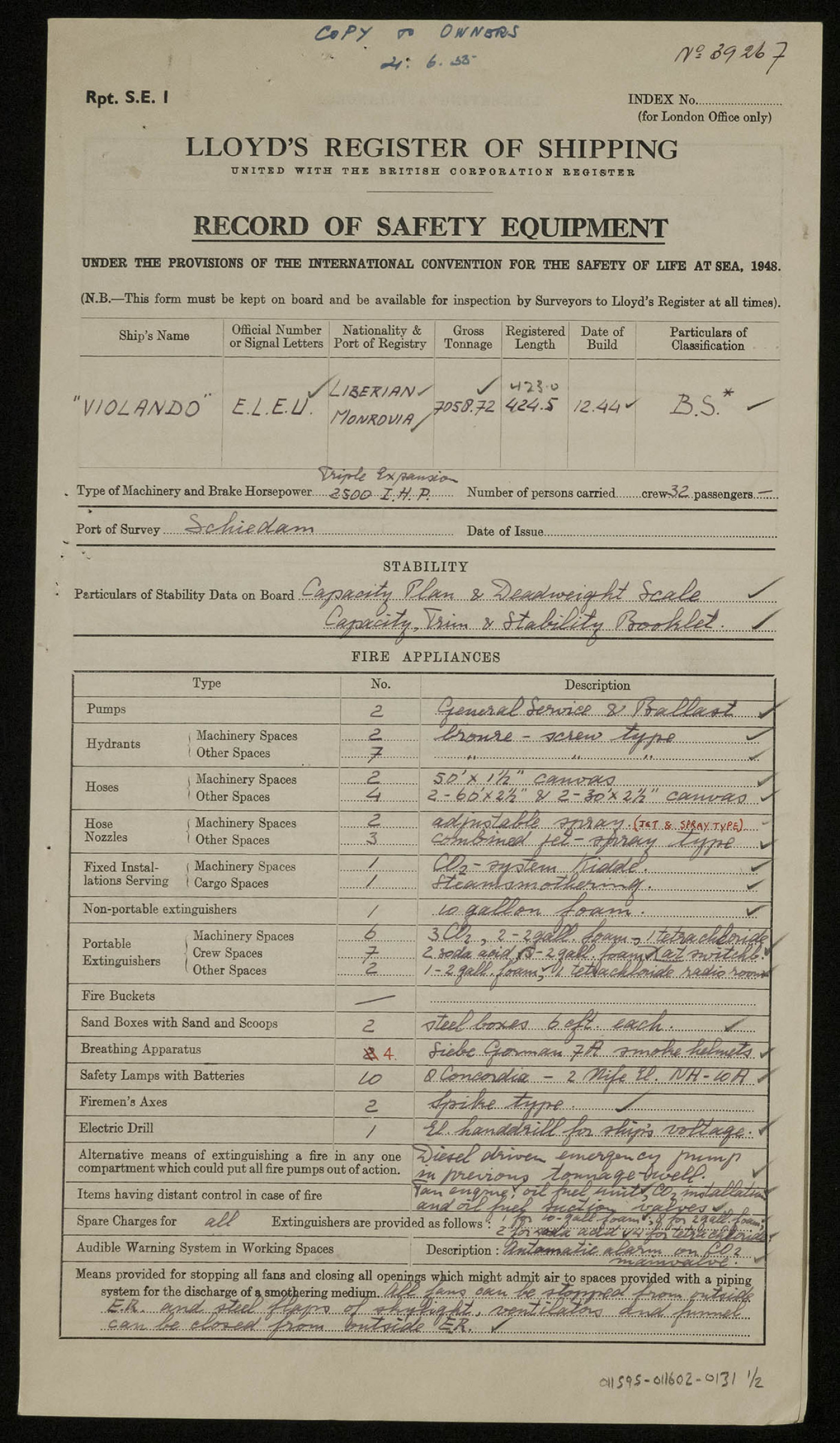 Newspaper clipping for D'Vora, Undated (LRF-PUN-009789-009795-0166-O)
This newspaper clipping contains a headline that we can all agree on: 'Every Captain dreams to command own ship.' The Captain in question is Raymond Duval who bought the coastal vessel from the Canadian company Mercury Fisheries Limited. The vessel was constructed in Beverley, Yorkshire in 1943 and served as minesweeper for the British Admiralty during the Second World War.
To view all 79 documents for this vessel, click this link.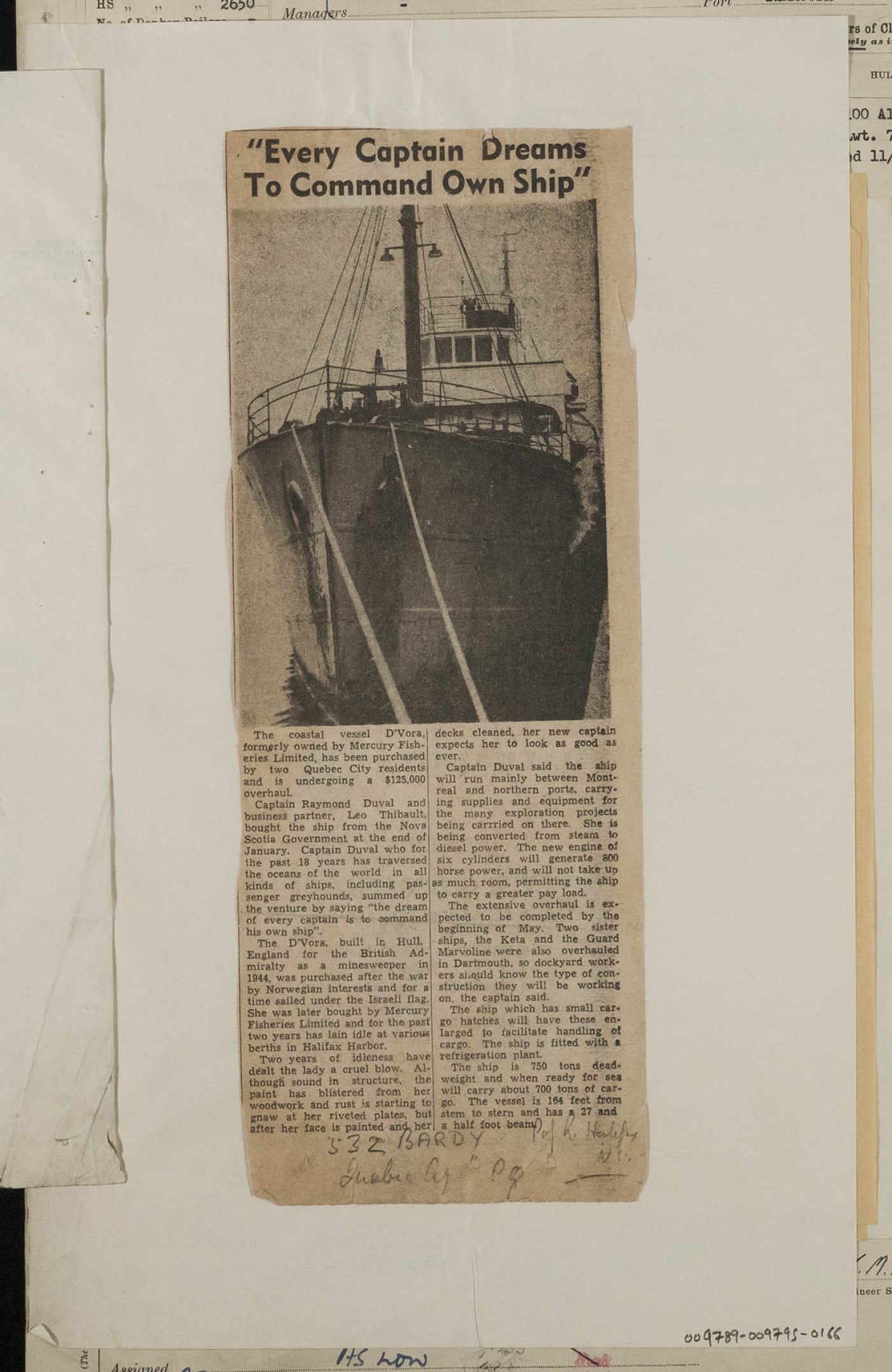 Certificate of Appointment of Thomas Drummond as Surveyor of the salting of Fenelon, 10th July 1876 (LRF-PUN-HAV1123-0016-C)
This certificate contains the earliest reference that we have found regarding to the salting of a ship: a wood preservation technique whereby you fill the spaces between a ship's planking and celing.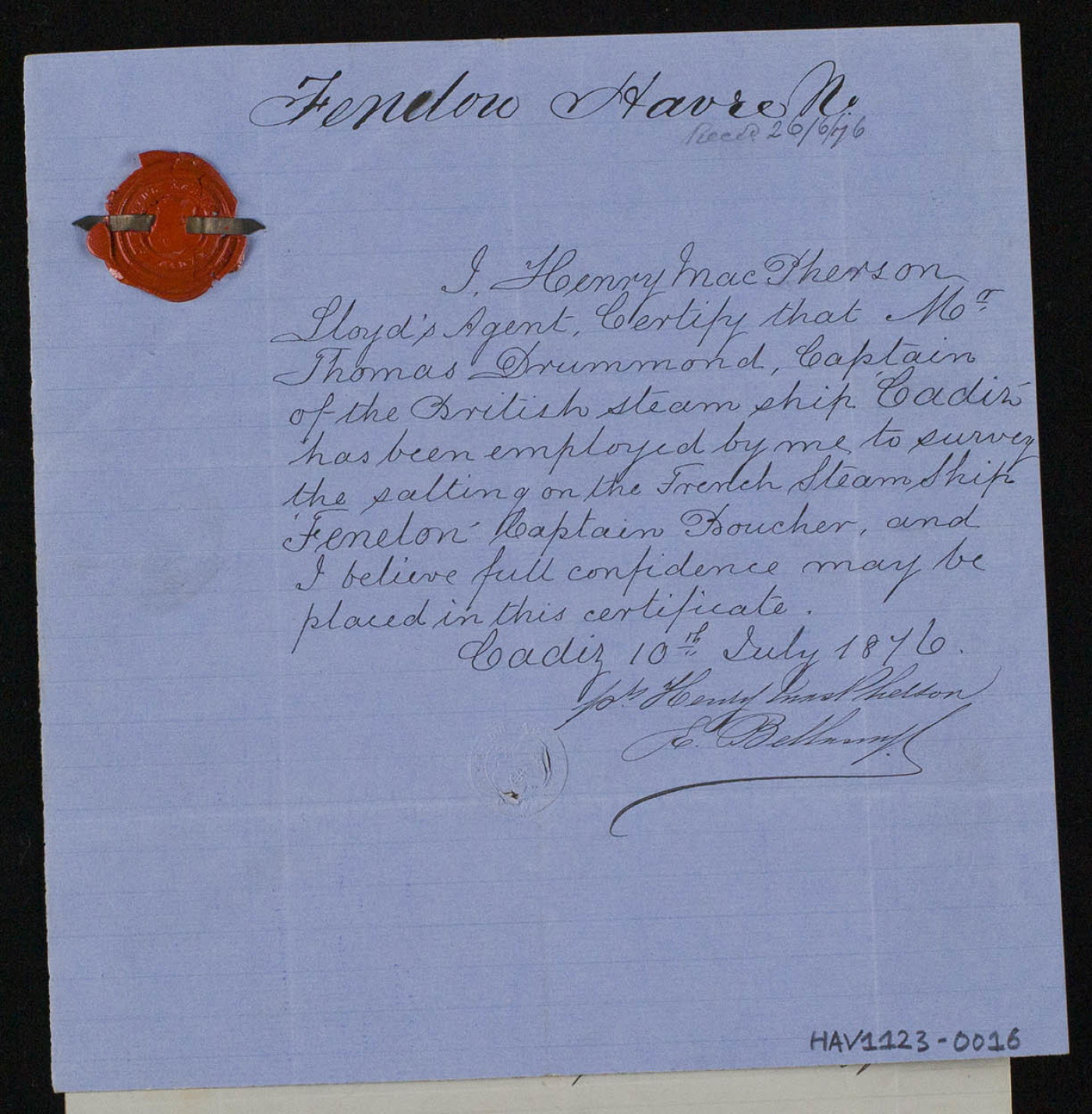 Photograph of Stern Frame of Kalmarsund IX, Undated (LRF-PUN-W1034-0044-G)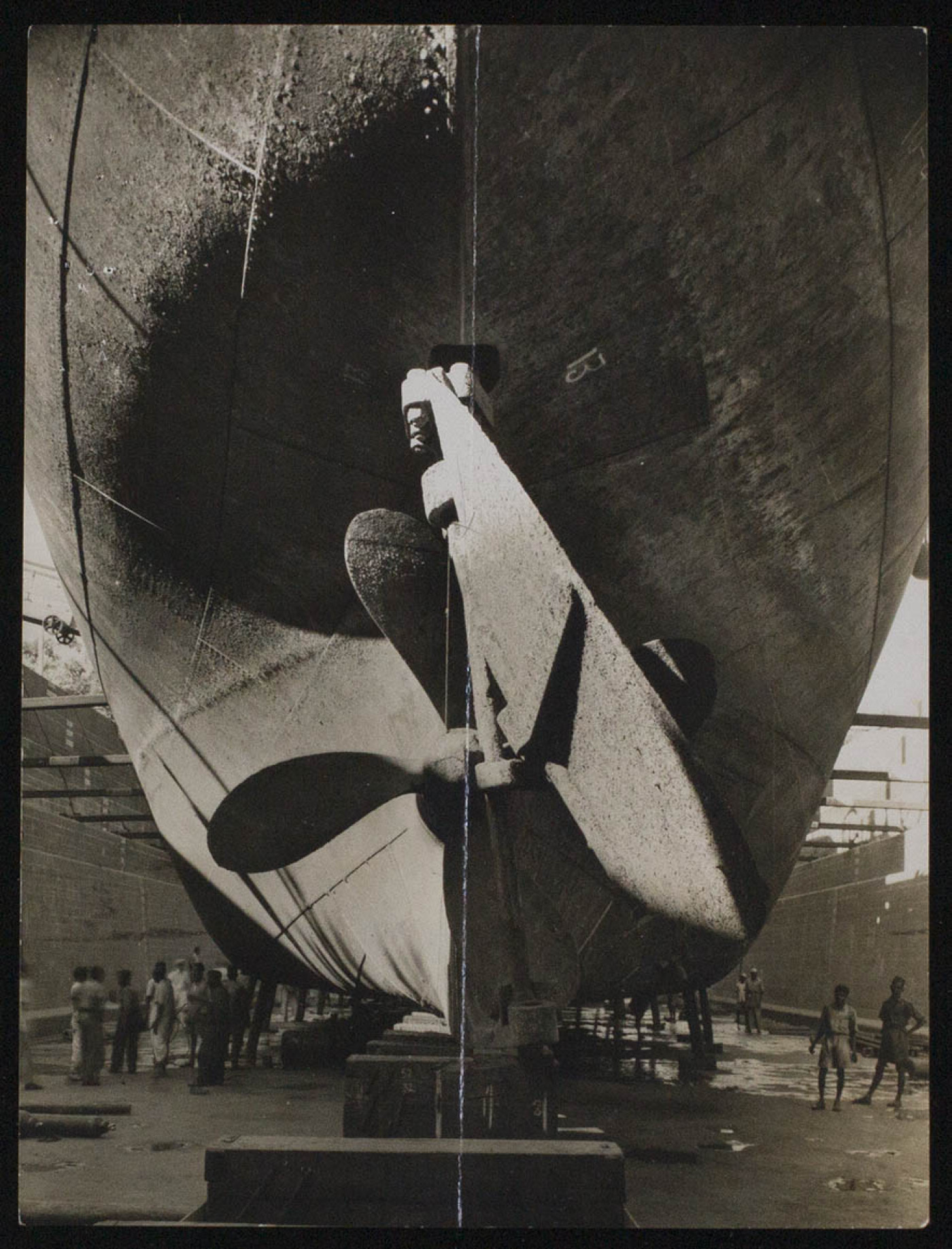 Report in Russian language of Survey for damage to Luben Karavelov, 12th June 1963 (LRF-PUN-013224-013231-0016-R)
One interesting aspect of this USSR Register document is that the vessel was originally called Woolwich. This area of South-East London is where our archive is held and where this document was digitised. At some point in the 1960s the vessel was purchased by the Bulgarian shipowners Navibulgar and renamed Luben Karavelov after the nineteenth century Bulgarian writer famed in the country for his revolutionary prose.
To view all 55 documents that we have for this vessel, click here.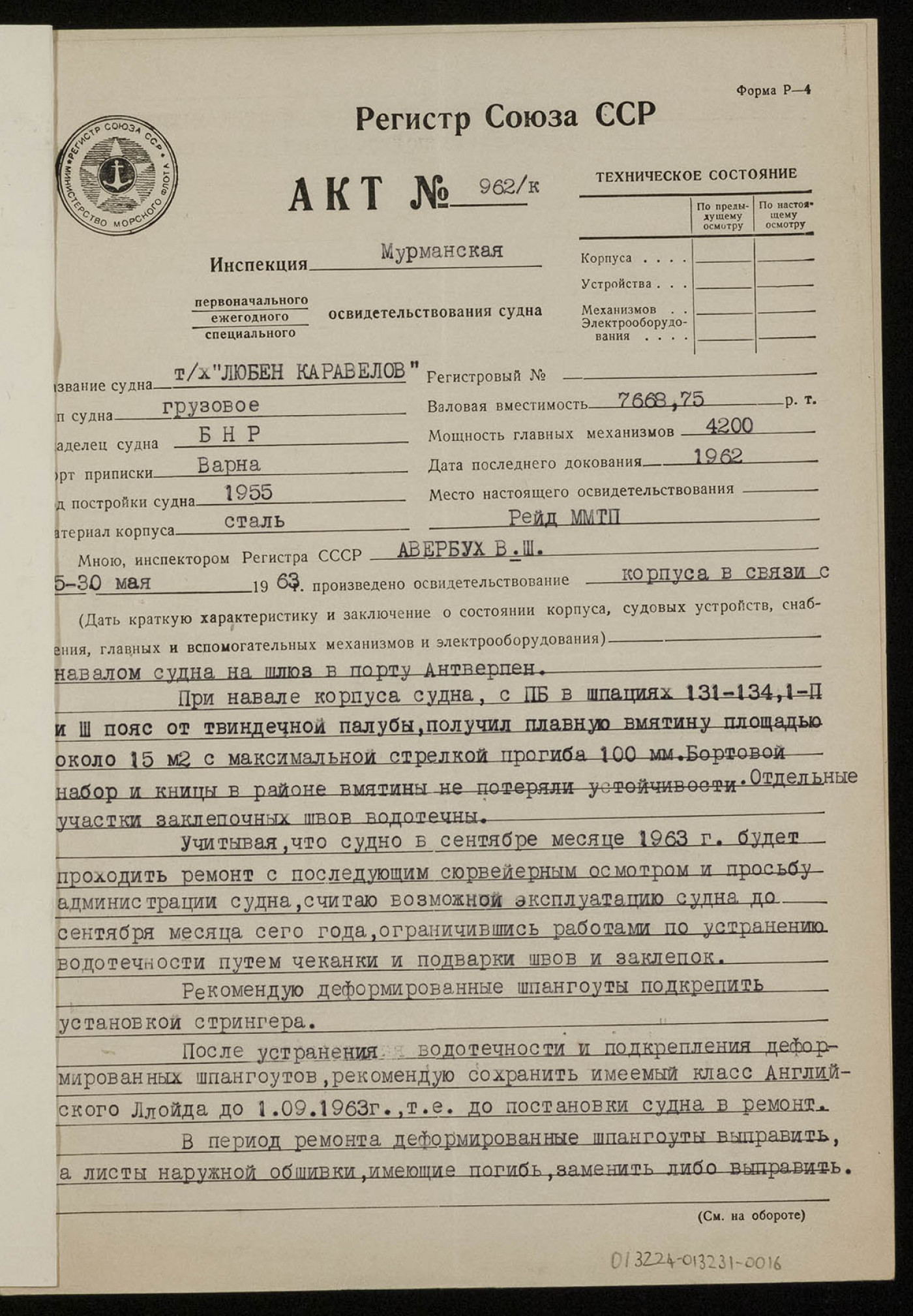 To stay updated about the release of future uploads, please sign up to our mailing list or follow us on social media - Twitter, Facebook, Instagram.