Location of death: Cagincourt
Rank: Private, 10th Royal Fusiliers. Second Lieutenant, 7th Battalion, the Queen's Royal West Surrey.
Position at Lloyd's Register: Clerical Staff, London office
Joseph Eric Russell was born on 24 October 1893 and was the youngest of four sons. He attended Dulwich College from January 1908 for two and a half years, before joining Lloyd's Register as a clerk in 1910.
He was an avid cricketer and was a member of the Lloyd's Register Cricket XI.
David Carter, author of The Stockbroker's Battalion in the Great War, provided us with information about Russell's service. As was commonplace across the country, Pals Battalions became increasingly popular and a way of encouraging more men to volunteer. Pals Battalions were made up of men from the same cities, towns, communities, work places, who joined up and fought together on the frontline. Though popular, they were later discouraged as it meant the male population of entire villages could be wiped out at one battle. The Stockbroker's Battalion was one of these Pals Battalions, made up of men who worked around the City of London.
Carter was able to provide us with information regarding Russell's military career.
10th Battalion Royal Fusiliers
Enlisted between 21st and 25th August 1914
29 August 1914: Took the loyal oath in Tower Ditch, Tower of London
3rd September 1914: Paraded with the Battalion in Tower Ditch, marched to Liverpool St Station and by train to Colchester
3rd September 1914 to 25th February: Trained at Colchester
26th February 1915 to 30 July 1915: Trained at Andover and Windmill Hill
31st July 1915: Arrived in Boulogne
11th to 25th August 1915: Armentieres
26th August 1915 to 3rd July 1916: Fonquevillers
3rd July 1916 to 7th August 1916: Albert, La Boiselle, Pozieres, Mamaetz Wood, High Wood
7th August 1916: Left 10th Royal Fusiliers for Officer training
7th Battalion, The Queen's Royal West Surrey
1st October 1916: Commissioned 7th Bn Royal West Surrey Regt
20th October 1916: Joined 7th Bn Royal West Surrey at Albert
18th - 19th November 1916: Included in list of Officers Missing after action
Between 18th and 19th November 7: RWS were involved in attacking trenches near Courcelette.
Russell was one of the officers reported missing during the action around Courcelette. The letters from his father explain what happened to him after he went missing;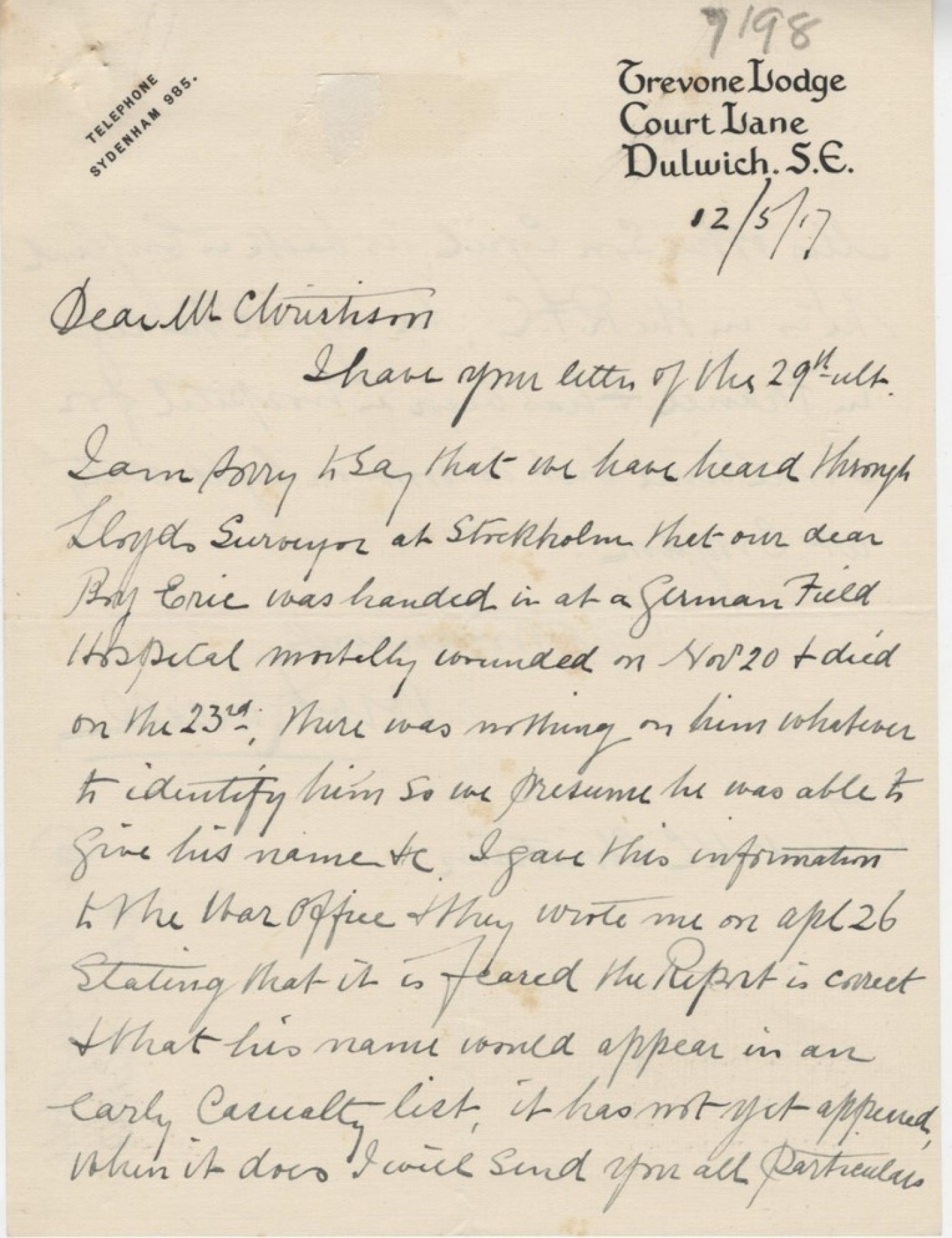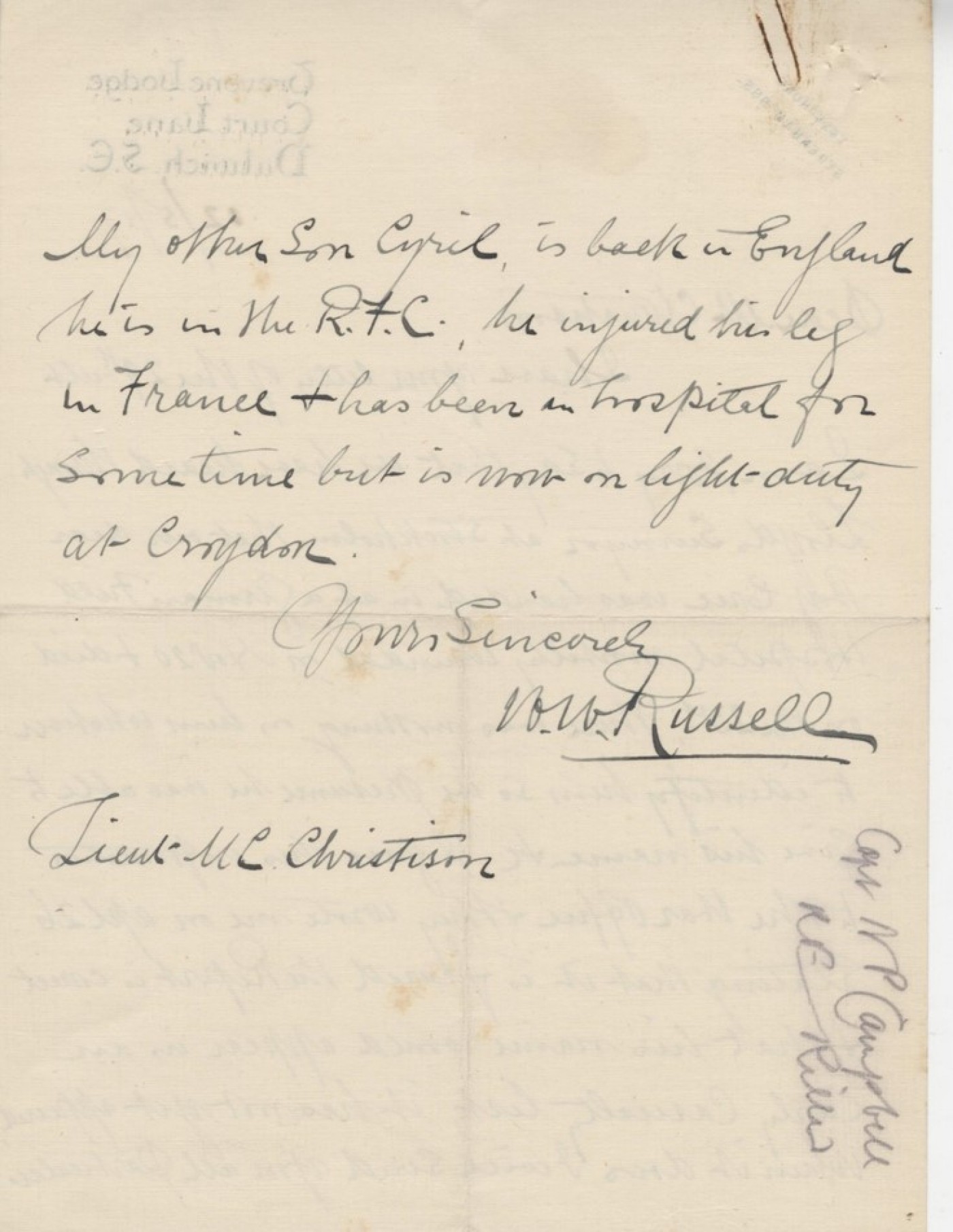 "I am sorry to say that we have heard through Lloyds Surveyor at Stockholm that our dear boy Eric was handed in at a german field hospital mortally wounded on November 20 and died on the 23rd there was nothing on him whatsoever to identify him so we presume he was able to give his name etc. I gave this information to the war office and they wrote me on April 26 stating that it is feared the report is correct and that his name would appear in an early casualty list, it has not yet appeared, when it does I will send you all particulars. My other son Cyril is back in England he is with the RFC [Royal Flying Corps], he injured his leg in France and has been in hospital for sometimes but is on light duty at Croydon"
His father then wrote again a month later after having confirmation of his son's death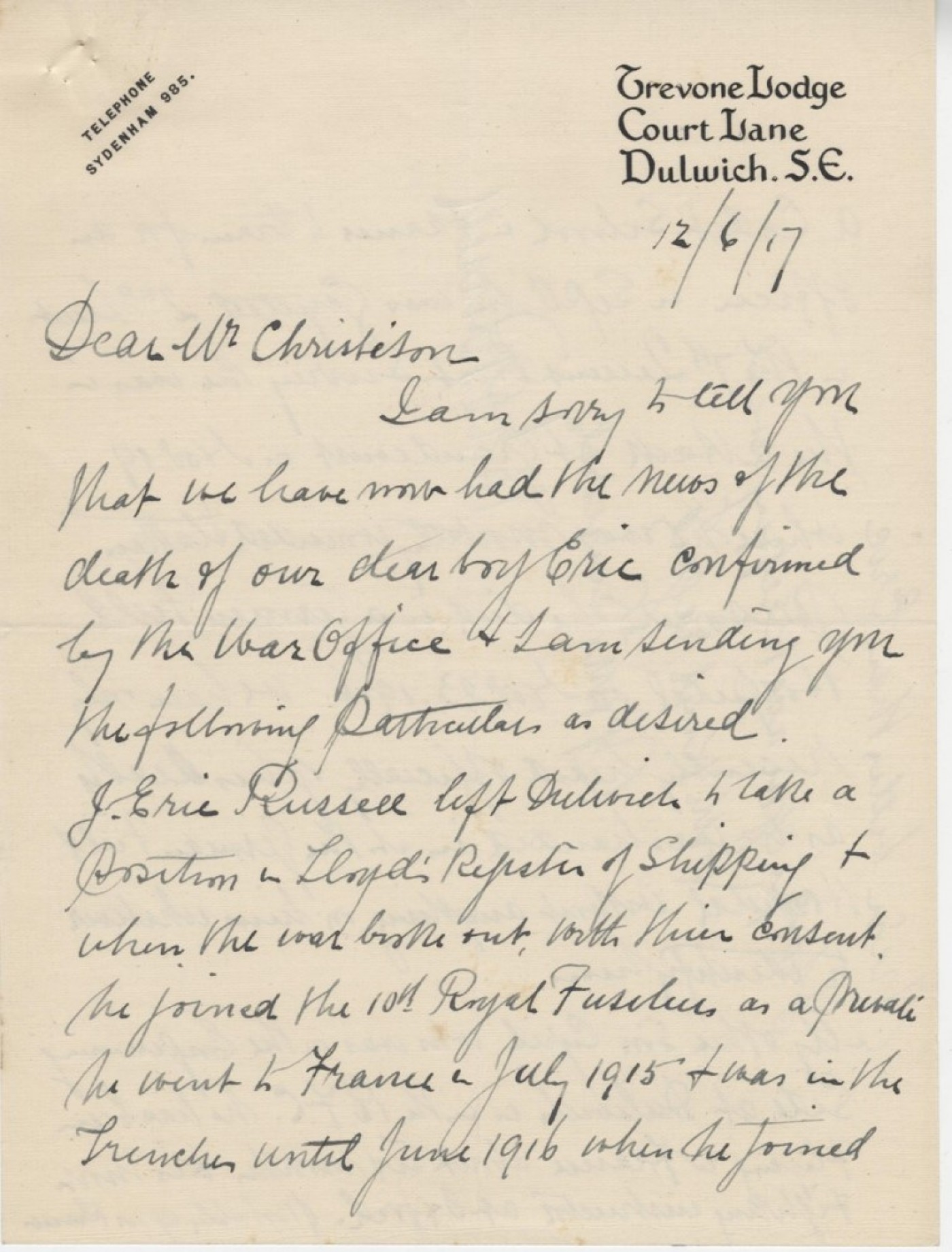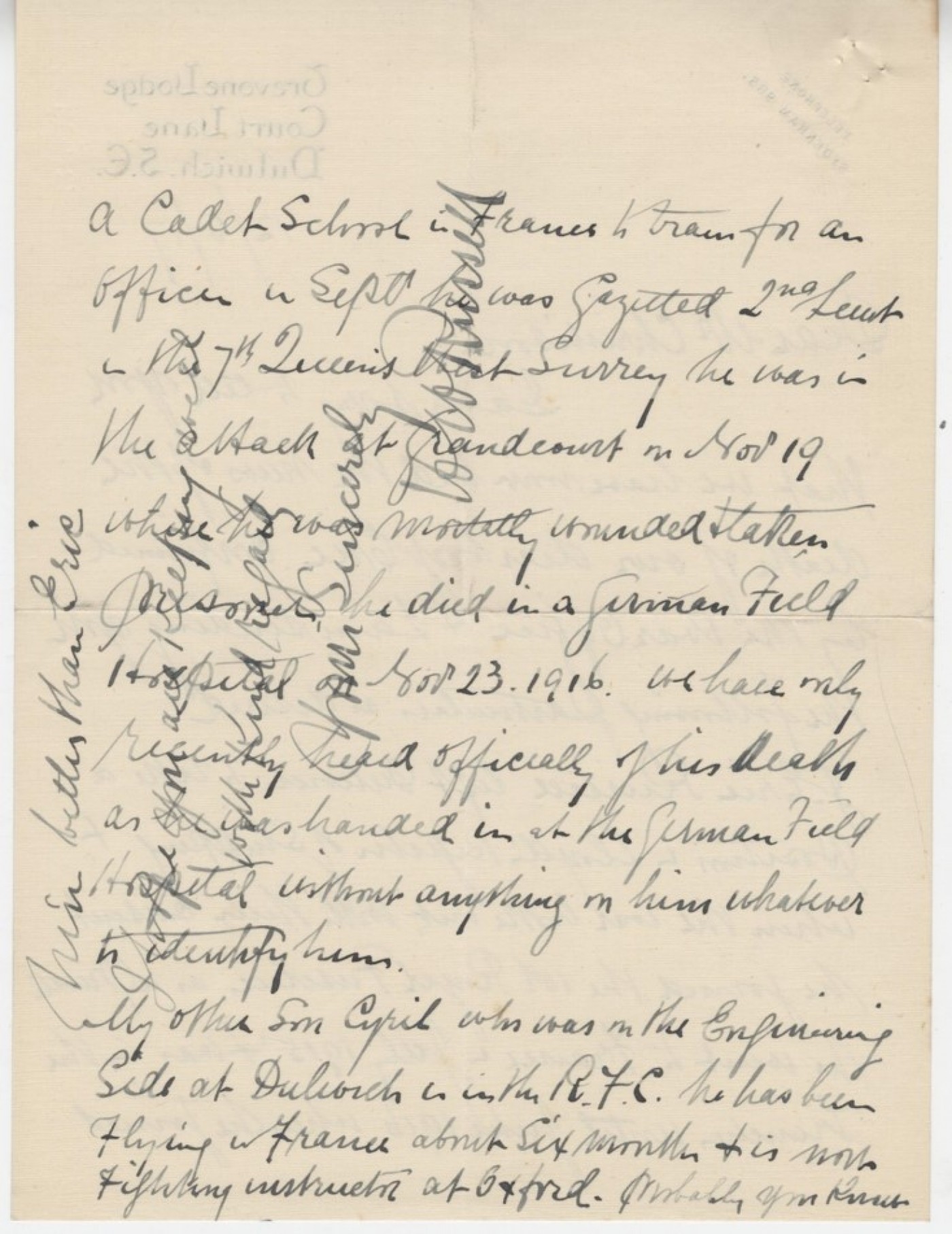 "I am sorry to tell you that we have now had the news of the death of our dear boy Eric confirmed by the War Office and I am sending you the following particulars as desired. J Eric Russell left Dulwich to take a position in Lloyd's Register of Shipping and when the war broke out, with their consent, he joined the 10th Royal Fusiliers as a private. He went to France in July 1915 and was in the trenches until June 1916 when he joined a cadet school .. And train for an officer in Sept he was gazetted 2nd lieut [sic] in the 7th West Surrey. He was in the attack at Grandcourt on November 19 where he was mortally wounded, taken prisoner he died in a German Field Hospital on November 23 1916. We have only recently heard officially of his death as he was handed in at the German field hospital without anything on him whatsoever to identify him."
Russell's brother Cyril died in March 1919 as a result of the Spanish Flu pandemic.
Russell's grave can be found at the Queant Road Cemetery, France. For further burial details, including Russell's grave registration report, visit his portal on the Commonwealth War Graves Commission website.
More information about Russell can be found on the Imperial War Museum's Lives of the First World War website, The National Archives or through the Dulwich College First World War memorial project.
Photographs of the letters have been published with kind permission of the Governors of Dulwich College.
If Joseph E Russell is one of your relatives or you know more about his life, get in touch at hec.info@lrfoundation.org.uk!